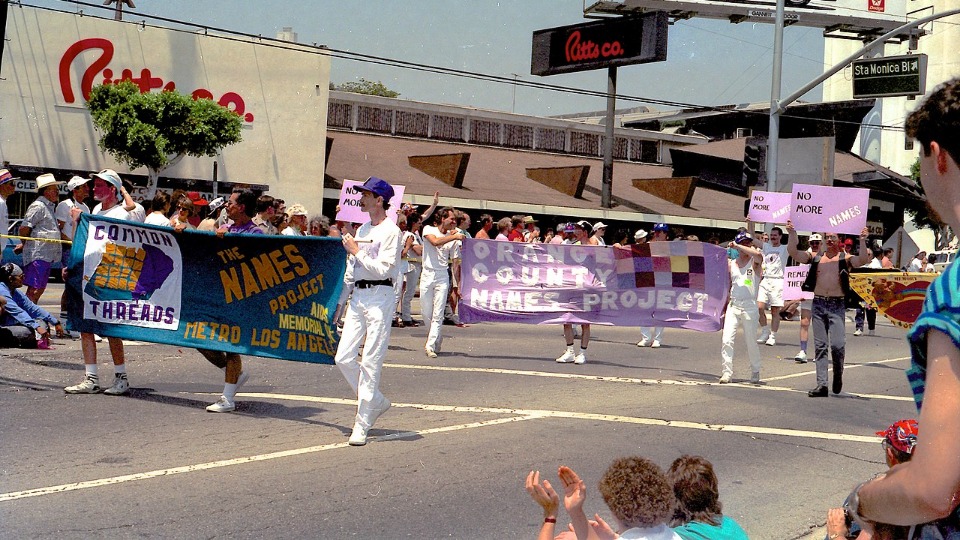 Steve Neil Johnson's collective magnum opus, The L.A. After Midnight Quartet, comprising four crime novels set in the gay community over successive decades, the 1950s, '60s,'70s, and '80s, has come to a stunning and satisfying end with The Red Raven. The last book took Johnson the longest to write, as he lived very much through the convulsions of the AIDS epidemic at its height, and it must have evoked many painful memories as he struggled to get this story right.
At some point toward the end of his writing this capstone book, Johnson was diagnosed with an inoperable terminal condition, which made him work all the harder to finish his masterpiece. The book was published October 16. He died on December 13.
In the first book of the series, The Yellow Canary, we meet the crusading attorney Paul Winters, once on track to become a great reform District Attorney, but sidelined after his gayness was revealed. He is partnered with David, a passionate community activist now with his hands full of AIDS cases and protests over funding and care. There's still a soft spot in Paul's heart for a former colleague, private investigator Jim Blake, who had also been kicked out of the police department for being gay. These three intermingle with a large supporting cast of highly differentiated characters whose evolution we trace from novel to novel.
The 1960s book, which took the earlier decade's first stirrings of gay consciousness and turned it into a mass social movement, is The Black Cat, followed by The Blue Parrot (you see a color and fauna pattern, mostly ornithological, going on here), and finally The Red Raven. How much advance plotting he did for the entire series as he set out is difficult to say, but it all comes together as one great long epic novel in four parts.
Johnson's website features an interview with the author (a self-interview, one may assume), in which he asks, "Should people read the L.A. After Midnight books in chronological order?"
"Hell yes," the author answers. "And it will kill me if you don't." (Could those wayward readers have been the source of Johnson's illness?) "The books build on one another and you will miss so much if you read them out of order." As an avid fan of his, I agree. These characters grow on the reader as we age alongside them.
The Red Raven is set in 1988, a good thirteen years since the events in The Blue Parrot. Winters spends a good deal of his time, much of it pro bono, representing AIDS patients as the disease ticks off its deadly toll in the community. His peaceful world is interrupted by a brutal bathhouse murder in the jacuzzi, and he is asked to protect the legal rights of the owners. Paul and Jim launch their hunt for answers, which in true noir tradition, places them in a succession of violent and dangerous situations involving a briefcase stuffed with blackmail money, violent actors attempting to get hold of it, a class of heterosexual swingers with ties to the profitable blood bank industry, the militant ambiance of 1980s AIDS activism, and willful government indifference (Reagan is in his last year of office), and open attempts to bribe Paul into silence to protect powerful vested interests. Throw in, too, a homophobic psychiatrist (with a gay son) strongly modeled on Charles W. Socarides, who used his professional status to convince many people that homosexuality can be altered by his brand of therapy.
Johnson acknowledges many of the sources he used to research the period, including works by Jonathan Ned Katz, John D'Emilio, Stuart Timmons, and Lillian Faderman. But he also had direct experience with the subject. When he lived in New York as a young writer, he worked with AIDS researchers in the early days of the crisis, including Mathilde Krim, who became the co-chair of the American Foundation for AIDS Research.
The quartet is not all Johnson wrote. Several other books preceded them. His first series featured gay Brooklyn homicide cop Doug Orlando. Based on those works, which became bestsellers, one critic called Johnson "our queer Raymond Chandler."
It's inevitable to imagine that Johnson, knowing The Red Raven would be his last literary message to the world, intended it as something of a testament, a spiritual summing-up of life, an attempt to find meaning amongst the crime, disease, and cynicism of disaster capitalism. The title derives from a small trinket, a key fob, given to Parker, a minor character, by the father who had long ago abandoned him. Having held onto it for years without quite knowing why—it was something from his father, at least—the dying Parker tossed it away finally as meaningless. Paul, visiting him in the hospital, picked it up from the floor and pocketed it.
In the final pages of the novel, "Paul shoved his hands in his pockets to warm them, and his fingers came to rest on his key ring. He pulled it out and cradled it in his palm. On the ring was the tiny painted wooden bird Parker had thrown away. Paul had kept it all these years. And strangely, he couldn't say why, it had sometimes brought him solace. He rubbed the talisman in his hand, feeling its smooth red surface. Maybe Parker was right. Maybe it had no meaning. Maybe none of it did. But, then again, what if Parker had gotten it wrong? What if every gesture of kindness or act of compassion meant something? What if every time someone stood up when others were afraid to, it had meaning? What if holding the hand of a dying man gave it meaning? Or lifting a glass to the lips of those too weak to drink for themselves? What if meaning came from striving for something better, whether you succeeded or failed? What if the struggle itself was enough?"
The literary world has lost an important voice that spoke not just to the LGBTQ community but to any reader who loves a good crime story with a redemptive ending. Steve Johnson's work survives him, and may it always lift up the hearts and hopes of all who strive for something better.
The Red Raven                                         
by Steve Neil Johnson
Clutching Hand Books, 2021, 255 pp.
ISBN 9798480549027
Available on Amazon.com:
Kindlebook $7.99, Paperback $12.99
or go to the author's website.