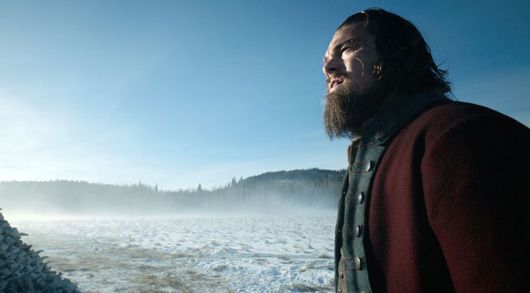 In The Revenant, Alejandro González Iñárritu has fashioned a powerful, soaring reverie of love, duty and survival . . . an environmentalist's epic which raises questions not just of family and relationships, but of the morality and impact of Western colonization.
Legendary guide Hugh Glass (Leonardo DiCaprio) and his mixed race son Hawk (Native American actor Forrest Goodluck) have led an English language trapping party through the harsh western wilderness. The rapacious trappers have little trust for each other. They are surrounded by rival French and hostile Indians, buffeted between immense snow covered mountains and dark unforgiving forests. They have lost most of their party through conflicts and to the elements.
Glass has led them through this abyss. But when he is severely mauled by a bear, the trappers must leave him behind to seek aid. Party leader Captain Andrew Henry (Domhnall Gleeson) leaves Hawk, Bridger (Will Poulter) and John Fitzgerald (Tom Hardy) to protect Glass until they can return with reinforcements. Bridger is earnest in executing his charge. Fitzgerald is treacherous.
When Hawk tries to protect his father, Fitzgerald kills him and buries his father. The Revenant is the story of Glass' near death survival and pursuit of Fitzgerald. But it is also a cavalcade of breath taking images of pristine wilderness . . . and man's destructive footprint.
DiCaprio and Hardy brilliantly hold the center of the struggle with performances elevating their characters to archetypes. DiCaprio's odyssey through the wilderness is a painful etching of European encounters with natives, animals and elements. Hardy gives full flesh to the amoral pragmatism of colonial foot soldiers, a villain of conditions more than free will.
Inarritu stages his drama in land that we've since reshaped for individual enrichment. But here Oscar Award winning Cinematographer Emmanuel Lubezki ("Birdman," "Gravity," "Children of Men") has recreated the beauty and harshness of the lost world encountered by the trappers. The extensive twilight shots of battles and camp sites are a world of murky confusion of allies and enemies with as much danger from one as the other. The score by Ryuichi Sakamoto ("Babel," "Black Rain"), Bryce Dessner and Carsten Nicolai carries gravity and majesty to operatic proportions.
Taken together with "Babel," "Birdman or (the Unexpected Virtue of Ignorance)" and "Biutiful," Inarritu's The Revenant has given us powerful explorations of relationships and family. Inarritu may draw back from polemical statements, letting his characters raise questions about what relationships mean. But he lays bare the emotional and physical tolls of these pursuits. To ignore his messages would be living as rootlessly as Tom Hardy's trapper. To live well in this world, we need explore their meanings . . . as well as merely enjoying the craft of our most accomplished and interesting director.
This article was reposted from the Huffington Post.
Photo: AP