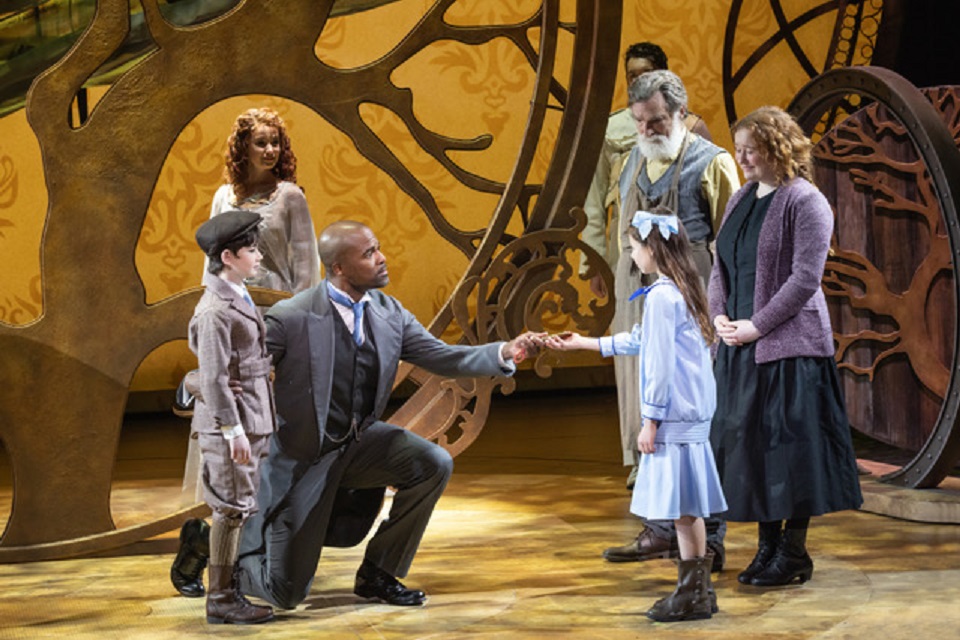 LOS ANGELES — A new production of The Secret Garden, which had over 700 performances on Broadway upon its 1991 opening, is playing at the Ahmanson Theatre in downtown L.A. Nominated for seven Tony Awards and winner of Best Book of a Musical as well as two Drama Desk Awards, this enchanting musical is based on Frances Hodgson Burnett's turn-of-the-last-century tale about understanding and compassion—for one another as the human creatures we are fated to live with, and for Mother Nature and its wondrously restorative properties.
Time hailed the original production as "elegant, entrancing… The best American musical of the Broadway season," while USA Today called it "a splendid, intelligent musical… It's all you can hope for in children's theatre. But the best surprise is that this show is the most adult new musical of the season."
The Secret Garden started life in 1989 as a Virginia Stage Company production at the Wells Theatre in Norfolk, Va. Once it premiered on Broadway, it captured three Tony Awards, including a win for 11-year-old Daisy Eagan (as the lead, Mary Lennox), who is still the youngest female recipient of a Tony Award for Best Featured Actress in a Musical. The musical went on to productions worldwide, including in Australia and in the UK by The Royal Shakespeare Company, breaking box office records before a West End run. The show is popular among many local and regional theatres.
For Women's History Month?
Especially notable about this work is that it is the rare brainchild of two great women of the American theatre. Is it purely by chance that this achievement is featured during Women's History Month? The original creators are Marsha Norman and Lucy Simon. Norman, a Tony Award and Pulitzer Prize winner ('night Mother, The Color Purple), crafted the book and lyrics, and Grammy Award-winning composer Lucy Simon, sister and early collaborator of Carly Simon, is responsible for the elegant, intriguing score.
Some years back they set about reimagining their musical for a new generation, tightening up the plot and reorchestrating for a dozen-or-so players. Sadly, Simon did not live quite long enough to see her work back on stage, although she was a full partner involved in every aspect of the revival. She died at the age of 82 in October of 2022.
The musical is based on the eponymous 1911 novel by Frances Hodgson Burnett (1849-1924), who is an interesting character in her own "write," and worthy of being remembered during Women's History Month. Frances lost her father when she was four, and her family suddenly experienced what the Victorians would call "reduced circumstances." In the year the U.S. Civil War ended, the family emigrated to America and settled in New Market, Tenn. In 1873 she married Swan Burnett, with whom she had two children. She began writing and found her talent mostly in books for children. She is remembered for Little Lord Fauntleroy (1885) and A Little Princess (1905), and then, famously, for The Secret Garden, a favorite among young girl readers. The latter novel draws freely from her experience of losing her first son Lionel, 16, to tuberculosis in 1890, and from the English gardens she cherished in her subsequent post-divorce homes back in the UK.
The author returned to the U.S. in her later years, settling in Nassau County, N.Y. A sculpture of her, by Bessie Potter Vonnoh, was erected in the Conservatory Garden in New York City's Central Park in 1936, depicting the two young Secret Garden protagonists, Mary and her leprechaun-like garden friend Dickon. She is buried in Roslyn Cemetery on Long Island.
Marsha Norman's reiteration of the novel into the book for a musical closely follows the young, orphaned Mary Lennox as she's sent from her home in India, where her father, Captain Albert Lennox (John Krause), had formed part of the British colonial rule, to live with her reclusive widowed maternal uncle by marriage, Archibald Craven (Derrick Davis), on his haunted English country estate. His late wife Lily (Sierra Boggess) was the sister of Mary's mother Rose (Ali Ewoldt). Lily died during childbirth at Misselthwaite Manor, but their son Colin Craven (Reese Levine) survived.
From birth, Colin had been diagnosed by his uncle, Dr. Neville Craven (Aaron Lazar), with a serious heart condition sure to be fatal if the young boy were overstressed. The doctor refused to allow anyone, even the boy's father, to enter Colin's room, where he conducted a years-long experimental treatment that no one was to interfere with. Colin had never left his bed, his legs too weak to support him.
As many readers of the novel will know, Mary, whom we meet when she's probably seven or eight, has many "anger issues" over the way her life has gone. But now that she is a virtual prisoner at this gloomy manse overlooking the misty, mysterious moor, she exercises her unapologetic curiosity as she is joined with the help of unlikely companions—house servants, denizens of the moor, her cousin Colin, the high soprano spirit of Lady Craven, and even the birds of the wetlands—sending her on a resolute quest to untangle the pieces of her family's past. Most important—and this is why the book has meant so much to so many readers—she discovers herself, her own desires, wants, and agency.
The key line in the show comes from Dickon (John-Michael Lyles), brother of Mary's personal maid Martha (Julia Lester). He's a kind of spry wood sprite who lives in the moor, something like a Green Man of British rural lore. "You give a living thing a little chance to grow," he says of the roses in Lily's long closed garden, to which Mary has found the key. But clearly, it's meant to question the way Mary and her cousin Colin are being brought up. By the end of the show, its simple folk wisdom is apparent.
"I am so incredibly thrilled to play Lily once again in our production of The Secret Garden," says Sierra Boggess, the Lily of this production," "one of the most iconic stories of our time; love and loss, death and rebirth, innocence, and healing. What I love about Lily is that even from the grave she won't give up until there is healing for those that can't find their way. With one of the most beautiful scores ever written by our beloved Lucy Simon, I hope to honor her with every note and give the world this story that we are so in need of at this time."
Direction and choreography are by Warren Carlyle, and music direction by Dan Redfield, who brings a luminous score to light, one that is highly attractive and listenable if not especially innovative. The performers allow their characters in this often dark story to soar in their compelling hit numbers. Special mention should be made of Ms. Lester as Martha, who has a knockout scene in Act 2.
Norman knew that seeing the musical on stage would be thousands of theatergoers who had loved reading the book, so she strays little from her source. Undoubtedly she felt she had little other option, but I found the storyline rather linear and predictable—and not because I remembered the book, which in fact I'd never read.
I also found the direction of Emily Jewel Hoder as Mary something of a one-note phenomenon. Of course, she has much to be peeved and unsettled by as she recovers from her parents' death of the dread cholera and then finding herself in this cold and sad, unwelcoming mansion. But it seems like until well into Act 2 she's just always haranguing and shouting at everyone—up to the moment when she enters the garden and she's given "a little chance to grow." Having said which, she is not yet 13 years old and she is a genuine powerhouse child star very much worth getting to meet at this age, knowing, as we must, that she has a gleaming career ahead of her.
The set (by Jason Sherwood) moves almost magically between India, the gloomy estate on the moor, and the barren, neglected garden that gradually comes to life under the tender care of Dickon, Mary, and the groundsman Ben Weatherstaff (Mark Capri). But the entire stage, populated by a sizable ensemble of 25, is dominated by a monstrous, angular S—a sort of reverse Z for Zorro—that soon wears out its welcome as we keep asking ourselves what it's supposed to mean. The costuming by Ann Hould-Ward is fine.
The Secret Garden is on stage until March 26. Tickets are available through CenterTheatreGroup.org, Audience Services at (213) 972-4400, or in person at the Center Theatre Group Box Offices (at the Ahmanson Theatre) at The Music Center, 135 N. Grand Ave., Los Angeles 90012. Performances run Tues. through Fri. at 8 p.m., Sat. at 2 and 8 p.m., and Sun. at 1 and 6:30 p.m. A preview video can be viewed here.
People's World has an enormous challenge ahead of it—to raise $200,000 from readers and supporters in 2023, including $125,000 during the Fund Drive, which runs from Feb. 1 to May 1.

Please donate to help People's World reach our $200,000 goal. We appreciate whatever you can donate: $5, $10, $25, $50, $100, or more.