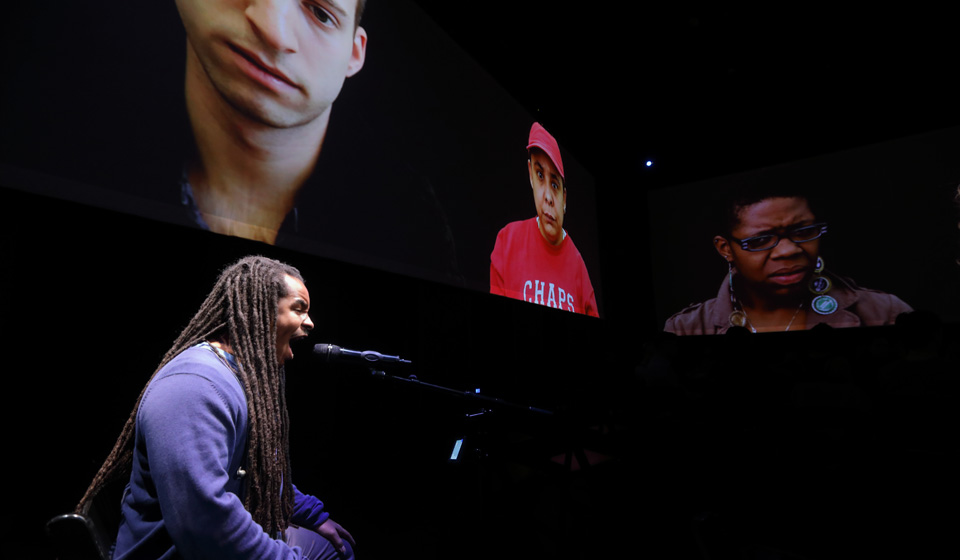 LOS ANGELES – Many today consider the medium of opera to be old hat for stuffed shirts. But composer Ted Hearne and librettist Mark Doten are helping to haul this venerable art into the digital era with the West Coast premiere of the multi-media The Source. Its innovative techniques are to opera what WikiLeaks is to journalism. In this one-act, 71-minute production, along with director Daniel Fish and other members of the creative team, Hearne and Doten strive to invent a style that aurally and visually expresses soldier Bradley Manning's courageous, alleged exposure of 734,000 classified documents to Julian Assange, who posted this top-secret treasure trove about the wars in Iraq and Afghanistan online for all the world to see.
The artists completely reconfigured REDCAT – the Roy and Edna Disney/CalArts Theater – that experimental nook just downhill from Walt Disney Concert Hall, into an unrecognizable space. The audience was divided in half, each group sitting facing one another. Above them were four large white screens, upon which close-ups of faces filmed at a library and at the Brooklyn Academy of Music (where The Source debuted in 2014) were projected. The visages of the randomly selected multi-culti subjects are grim, somber and angsty while they watch, as it turns out, what is probably WikiLeaks' greatest revelation in all of its document dumps, the so-called "Collateral Murder" video (more on this below).
I sat facing the screen through which the seven-piece orchestra could occasionally be glimpsed. Four vocalists – females Melissa Hughes and Samia Mounts, males Isaiah Robinson and Jonathan Woody – sat amidst the audience, intermittently lit by spotlights as they gave voice to an often dissonant score.
To tell intelligence analyst Manning's complicated story and the classified cat he let out of the bag, the creators draw upon a multitude of, well, sources, ranging from sampling (such as "Mack the Knife," from Weill and Brecht's Threepenny Opera, which was as avant-garde in 1928 as The Source is almost 90 years later), atonal music, computerized imagery, military and Internet jargon, and much more.
The libretto draws not only from the 483,000 Army field reports and quarter million-plus diplomatic cables Manning is believed to have transmitted to Assange for WikiLeaks, but also the whistleblower's own instant messages. The snatches of sung dialogue include phrases such as: "Are you a journalist?" (in a song called "Julian in a Nutshell"); "smear campaign"; "smoke when bird nears" and so on. In a post-show talkback with members of the creative crew it was explained that the latter term is military lingo referring to a helicopter and firing a flare. (Parlez-vous "Pentagon-ese"?)
A refrain from Manning's IM-ing is heard probably more than any other line: "i encrypt as much as i can" ("I" is lower cased in the libretto, which was distributed at the performances). This experimental work is, to say the least, quite cryptic, which is often the case with art that is abstract and breaks with convention. Soviet filmmaker Sergei Eisenstein often stressed the organic unity of form and content. But what may be even more cutting edge is using form to express content. One could say that some of the Post-Impressionists, such as Claude Monet and Georges Seurat, did that in their oils, using brushstrokes and other painting techniques to convey a sense of light.
The Source seeks to do just that as these operatic pathfinders strive to blaze new trails. The trick is to evoke the meaning and sensation in the spectators' minds that the creators aim at unfolding. While I can admire The Source's sorcerers' efforts, and encourage them on their imaginative quest to find up-to-the-minute means of expression, their work is so newfangled and complex that I confess I was lost much of the time. What were the vocalists warbling and why? Who were those people staring at me from the screens in extreme close-ups?
Finally, it came together in the grand finale, which actually ends in the most conventional way, and fittingly so: The witnesses appear to be watching "Collateral Murder," the crown jewel in the treasure trove of forbidden info Manning purportedly leaked.
This is aerial footage shot on July 12, 2007 from what I suppose is a U.S. chopper murdering unarmed civilians in Baghdad, which Manning purportedly leaked to Julian Assange, who showed it to the National Press Club in Washington, D.C., on April 5, 2010. The gripping footage was projected onto the screens at REDCAT, showing two Apache helicopters opening fire on unarmed Iraqis, including two journalists. Some of the Yankee soldiers are heard gleefully joking about the mass murder of at least eight men, including a Reuters newsman and the driver of a van that happened by during the incident. After injured Iraqis were offered help by the driver, presumably to take them to a hospital, an Apache opened fire again, killing him. What is not shown in the video as projected at REDCAT or revealed in The Source is that the good Samaritan was a father, two of whose children inside the targeted van were also wounded in the airstrikes that were covered up until WikiLeaks uncovered them.
The individuals punished in connection to this war crime include neither the servicemen who executed this atrocity, nor Pres. Bush, Defense Secretary Rumsfeld or the other war criminals who should be hauled before a modern-day Nuremberg Tribunal for ordering the invasion of a smaller nation that had not attacked America – say, where are Saddam's darned WMDs anyway?! Instead, Manning was convicted of violating the Espionage Act and sentenced to serve 35 years at Leavenworth, while Assange has found sanctuary inside of Ecuador's embassy in London for four years (in a case too complicated to get into here).
Recent news regarding Manning – who has renamed herself Chelsea Manning and is seeking to transition into becoming a woman – is that she tried to commit suicide behind bars on July 5th. Meanwhile, Assange remains a fugitive of justice as WikiLeaks releases hacked emails purportedly from high-ranking Hillary Clinton aides, and the Ecuadorean embassy, perhaps bowing to pressure, announced Internet access had been cut off to the world's most famous hacker. On the day I saw The Source, yet another U.S. serviceman was blown up by an Improvised Explosive Device in the endless Iraq War, perhaps the biggest foreign policy calamity in American history.
The Source is to be applauded for daring to tackle such controversial subject matter and for trying to find a communicative form commensurate with its content. The Source was presented under LA Opera's Off Grand banner, which complements the company's mainstage programming with the work of contemporary composers and artists, hoping to reach new and diverse audiences.
Although The Source's run is over, adventurous operagoers have other offbeat productions to look forward to as the form expands: A Halloween screening of German expressionist F.W. Murnau's classic horror film Nosferatu, featuring a new score created by Artist-in-Residence Matthew Aucoin; Philip Glass' Akhnaten in November; and the 2017 West Coast premiere of Kamala Sankaram's Thumbprint.
This review is dedicated to antiwar activist Tom Hayden -Aloha oe (farewell to thee), truly one of the greats.