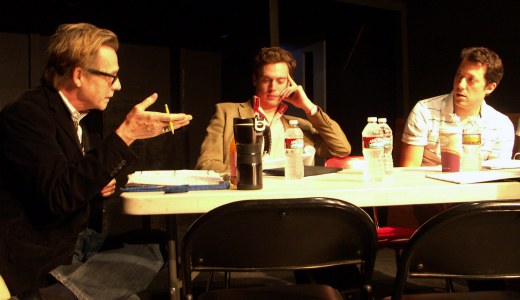 Hard on the heels of its rollicking revival of Marc Blitzstein's The Cradle Will Rock, The Blank Theatre Company is presenting the West Coast premiere of a bio-play about Harry Hay, card-carrying member of the Communist Party USA and a founder of the gay liberation movement. The Temperamentals is part of a significant emerging trend in contemporary American theater – progressive, left-leaning docudramas and other works about communists (as well as non-communist leftists). Most of these plays embrace their characters' politics with sympathetic portrayals.
Reds recently portrayed onstage as righteous and noble include Pablo Picasso, Pablo Neruda, Paul Robeson, Charlie Chaplin, Bertolt Brecht, Zero Mostel, various characters in Clifford Odets's agitprop Waiting For Lefty, Amy Herzog's After the Revolution and more.
Now we have Jon Marans' The Temperamentals, which unabashedly tackles the topic of Harry Hay's Communist Party membership, as well as that other grand American taboo and obsession: homosexuality. The five-actor, two-act, largely L.A.-based drama is called The Temperamentals (an old-fashioned code word for gay people). Its fact-based plot reveals that long before New York's 1969 Stonewall Riots, which are widely credited with kicking off the gay lib movement, Hay (Dennis Christopher, who appeared on Broadway opposite Elizabeth Taylor in The Little Foxes) co-founded the pro-gay Mattachine Society in 1950 with his then lover, Rudi Gernreich (Erich Bergen, who played Bob Gaudio in several Jersey Boys productions). Other original Mattachine members included Chuck Rowland (Mark Shunock), Bob Hull (John Tartaglia) and Dale Jennings (Patrick Scott Lewis).
The ensemble cast is well directed by Michael Matthews, eliciting worthy performances from each. Standing at the play's epicenter, Christopher delivers a convincing portrayal of a conflicted married man grappling with his own identity who finally comes – rather boyishly, buoyantly and flamboyantly – out of the closet, colorful shawls and all. Lighting designer Cameron Zetty and scenic designer Kurt Boetcher enhance The Blank's diminutive space with moody, gritty chiaroscuro.
Among other things, The Temperamentals is an entertaining history lesson. In a secondary role, Shunock portrays musical director Vincente Minnelli, supportive of the gay libbers' aspirations but too timid to publicly come out. (Interestingly, his daughter Liza performs at the same-sex marriage ceremony in last year's Sex and the City 2.) The 1948 third-party presidential candidacy of Henry Wallace is also depicted. There's a homophobic court case that reminded me of Oscar Wilde's 1895 sodomy and gross indecency trial. We see Hay teaching a music appreciation course at a Communist Party school. Intriguingly, Hay's amicable parting of the ways with a sorry-to-see-him-go party (which then had a no-gays-need-apply policy) is staged.
The Temperamentals' most noteworthy aspect is to remind us of the link between sexual revolution and the radical left. Marx and Engels critiqued marriage as a bourgeois institution, even as a form of prostitution, and Marxists such as psychologist Wilhelm Reich and Bolshevik Alexandra Kollantai advocated sexual, as well as economic revolution. Drawing upon Marxist formulations, Hay postulated that gays were an "oppressed minority." The personal is political, and when it comes to human relationships, one size clearly doesn't fit all. One wonders what the Mattachine founders would make of today's same-gender marriage (endorsed by the modern Communist Party), which may remain controversial in 2011 but probably was undreamt of 60 years ago.
The Temperamentals does theatregoers, members of the LGBT community and leftists a great favor by reminding us of these historical figures. In addition to being a secretive co-founder of the Mattachine Society and refugee from Hitler, Rudi Gernreich was a daring costume and fashion designer, who invented the topless bathing suit, the Pubikini, thong, and No-Bra Bra. Unlike Wilde Oscar, the idiosyncratic Harry Hay lived to a ripe old age, co-creating the Radical Faeries in 1978.
I first heard about Hay while researching blacklisted actor Will Geer (TV's Grandpa Walton), who married in 1934 but also had same-sex relationships, including with Hay. (Stuart Timmons's elegant biography The Trouble with Harry Hay: Founder of the Modern Gay Movement is the definitive source.) In 1934, Geer and Hay participated in the 83-day-long strike of the port of San Francisco, not mentioned in The Temperamentals. The play already covers lots of ground, but given recent worker uprisings in Wisconsin, etc., it would have been instructive to be reminded of San Francisco's landmark general strike.
The Temperamentals offers a simply illuminating, uplifting night at the people's theatre. It is performed Thursdays-Saturdays at 8 pm and Sundays at 2 pm through May 22 at the Second Stage Theatre, 6500 Santa Monica Blvd., Hollywood, CA, 90038. For info, visit the website. For tickets: (323)661-9827.
Image: L to R: Dennis Christopher, Erich Bergen and John Tartaglia during the first read-through of "The Temperamentals" (The Blank Theatre Company production) on Tuesday, March 1, 2011. Photo by Matthew Graber.