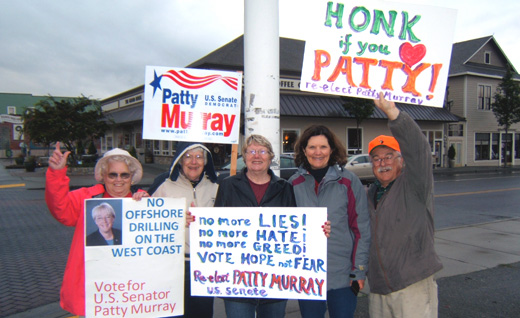 SEQUIM, Wash. – The highest profile election victory here Nov. 2 was the reelection of Sen. Patty Murray. She defeated Republican Dino Rossi by more than 100,000 votes.
I was asked to coordinate street-corner "waves" for Murray here in my hometown. We could tell Murray was doing well by the number of motorists, especially women, who honked and gave us the thumbs-up salute, far outnumbering the Republicans who gave us a sour look and the thumbs-down.
My wife Joyce and I spent one afternoon canvassing for Murray up on Bell Hill, where my family once owned a dairy farm. It is now crowded with luxury homes with panoramic views of the Strait of Juan de Fuca and Mount Baker.
One wealthy resident told me she had already mailed in her ballot, marked for Patty Murray, and was "praying for our country," that voters reject the lies of the rightwing demagogues. I told her that in my youth, I herded cows on what is now her front lawn.
The Charlie Wiggins vs. Richard Sanders race for a seat on the State Supreme Court is still too close to call. Sanders, the incumbent Supreme Court Justice, was ahead as votes poured in from east of the Cascades. During the campaign, Sanders proclaimed that African Americans are overrepresented in the prison population "because they commit more crime." He rejected all the evidence that a racist judicial system has anything to do with it.
His opponent, Wiggins, a Bainbridge Island lawyer with broad support of labor, women, African American and Latino organizations, slammed Sanders for this crude racism. When returns were tabulated from Martin Luther King County, which includes Seattle, Wiggins surged ahead of Sanders. Yet the race is still too close to call.
Mail balloting here may have been a factor in blunting the ultra-right juggernaut. Vote suppression targeted at the working class is the key to the Karl Rove Republican election strategy. But here in Washington State, more than 60 percent of registered voters sent in their mail ballots.
The law requires delivery of ballots twenty days before the election, giving voters nearly three weeks to fill out and get their ballots in the mail. And on Nov. 2, right at the 8 p.m. deadline, TV news showed footage of thousands of Seattle voters waiting in line at the handful of polling places to obtain a replacement ballot for the one they lost or mutilated.
It took until Nov. 8 for incumbent Democrat, Rick Larsen, to win a razor thin victory over his Tea Party-backed challenger, John Koster, in the 2nd Congressional District which stretches from north of Seattle to the Canadian border west of the Cascades.
I-1098, the Bill Gates Sr. "Tax the Rich" ballot measure, went down by a two-to-one margin, a measure strongly supported by the Service Employees International Union. My sister, Marion Burns, an SEIU member, was the union's highest signature gatherer for I-1098, gathering nearly 800 signatures to put it on the ballot. Several other tax and spending initiatives aimed at increasing revenues and preserving legislative budget power went down to defeat. Already Gov. Chris Gregoire is warning of deep, painful cuts in many urgently needed human service programs.
Yet voters rejected by a 70 percent margin a corporate, insurance company scam that would have privatized state Workmen's Compensation. Not a single county registered a majority vote for this measure. It reflected the determined grass roots campaigning by the building trades unions across the state.
Likewise, voters shot down two ballot measures that would have privatized state liquor stores. Workers in these stores are represented by the United Food and Commercial Workers (UFCW) which waged an equally determined campaign warning that privatization would destroy good jobs, undermine efforts to curb alcoholism and also deny the state tens of millions in tax revenues.
Many voters "split their ticket," casting their ballots for Rossi but rejecting privatization. Those seeking to fight back against the resurgent ultra-right need to study the contradictory message voters were sending. Voters were not voting for political gridlock, and certainly not for repeal of every gain won in the last two years. Polls show 70 percent support for extending unemployment compensation and against attacks on Social Security and Medicare.
Washington State voters helped put up a firewall against the ultra-right in reelecting Murray, blocking a GOP majority takeover of the Senate. Victory was won when the coalition of unions and other progressive organizations succeeded in getting out the vote.
The challenge is to broaden and deepen that coalition. That coalition needs to pay attention to rural voters who cast their ballots for Rossi by big margins even though rural Washington State is just as hard hit by the economic crisis as anywhere else.
Photo: Street-corner "waves" for Patty Murray in Sequim, Wa. Tim Wheeler/PW