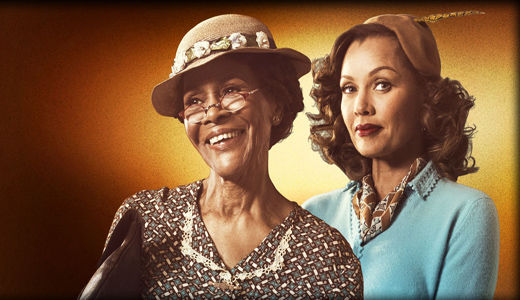 During the first scene of Act I of Horton Foote's The Trip to Bountiful, I have to admit I quickly got bored. No explosions! How about some costumed superheroes? Instead of gunplay or swordplay there was just wordplay. Lots of blah, blah, and blather-call it "Foote-in-mouth-disease." The show features what used to be called "an all-Negro cast," but where were the whooping, hollering, hoofing and crooning? Even worse, it starred an 80-year-old actress playing an old lady! To top things off, there appeared to be audio problems, making it difficult to hear some of the dialogue.
In terms of the Hollywood formula, Foote's stage adaptation got two things right: It features big Tinseltown names, as well as a work derived from another medium that it has bounced back and forth from. There's been a bounty of Bountifuls, starting with the 1953 NBC-TV play starring Lillian Gish, Eileen Heckart and Eva Marie Saint on the Philco-Goodyear Television Playhouse. A version of this teleplay was adapted for and performed on Broadway. Bountiful next returned on the big screen, with Geraldine Page scoring the Best Actress Oscar and Foote a screenwriting nomination for the 1985 movie co-starring John Heard and Rebecca De Mornay. Then there was a 2013 Broadway revival starring Cicely Tyson, Vanessa Williams and Cuba Gooding, Jr., and a 2014 Lifetime made-for-TV movie with Tyson and Williams reprising their roles and Blair Underwood in Gooding, Jr.'s part as Ludie Watts.
It's the latter cast that's treading the boards at the Ahmanson in Bountiful's current incarnation, which is directed by Michael Wilson, who previously helmed the Lifetime version. By the time they and Foote were done skillfully, subtly working their magic, I became ensnared in what could be called Foote's drama of everyday life featuring ordinary people facing the vicissitudes of existence. The production's captivating conundrums include the elderly Carrie Watts' (Tyson) desire to return to her tiny Texas hometown one last time before she dies. It is a testament to Foote's talent as a dramatist that he manages to pack his Lone Star odyssey with much of the tension of Odysseus' epic ancient journey across the Mediterranean, or the exploratory cross-continental quest of Sal Paradise and Dean Moriarty in On the Road.
For twenty years the uprooted Carrie has lived in the big city with her son Ludie and his disputatious, prima donna wife Jessie Mae (Vanessa Williams, who so deliciously dished malevolence from 2006-2010 as Wilhelmina Slater on the Ugly Betty ABC series). The two women clash-often over Carrie's pension check, which helps pay for the diminutive domain they inhabit together in a Houston apartment, the divided Ludie often caught in the middle of the two bickering women. As his mom yearns to return to the home of his boyhood, the hard working Ludie strives to keep peace in the household and to get a raise.
When Ludie and Jessie Mae, and then Greyhound ticket agents and a Sheriff (Devon Abner), attempt to prevent Carrie from returning to the place of her birth there is almost a mutiny on the Bountiful. In the process city slicker Ludie becomes a Luddite, waxing poetic along with his Ma about their good ol' hometown, and the simple joys of rustic life, from the singing birds on wing to the fields.
Like Geraldine Page, Lillian Gish obviously was white. So the themes of aching for home, of nature versus urban, confronting aging and so on, are universal. Thus the transition from a Caucasian cast to a mostly Black one is seamless, and the saga remains more or less the same: Being human trumps racial identity. Although set in the 1950s, Bountiful could take place today. (Of course, the fact that the sheriff is kindly instead of a violent gunslinger not only goes against the Hollywood strain, but serves to remind viewers that Bountiful is a work of fiction, after all.)
The Ahmanson production's scenic transitions filmicly flow with Jeff Cowie's impressive sets. The supporting cast, in particular Jurnee Smollett-Bell as Thelma, all shine along with the principals. In the absence of ultra-violence or comic book characters, once I gave it a chance I ended up loving this Trip to Bountiful, which did, after all, have a protagonist with superpowers. As the curtain falls Cicely Tyson as Carrie waves and says "goodbye," as if the actress who has touched us so much with poignant performances, such as The Autobiography of Miss Jane Pittman from forty (!) years ago, is bidding a fond farewell to the audience. The entire house rose at the premiere to give her and the cast a well-deserved standing ovation. Here's hoping that Ms. Tyson will be drinking from the waters of life-be they flowing from a once segregated water fountain or that mythic creek at Bountiful-for many years to come.
The Trip to Bountiful is playing Tuesdays through Fridays at 8:00 pm, Saturdays at 2:00 and 8:00 pm, and Sundays, Oct. 12 and 26 and Nov. 2 at 1:00 pm, and Sundays, Oct. 5 and 19 at 6:30 pm through Nov. 2 at the Ahmanson Theatre, 135 N. Grand Ave., Los Angeles, CA 90012. For more info: www.centertheatregroup.org/; (213) 628-2772.
Photo: Official site