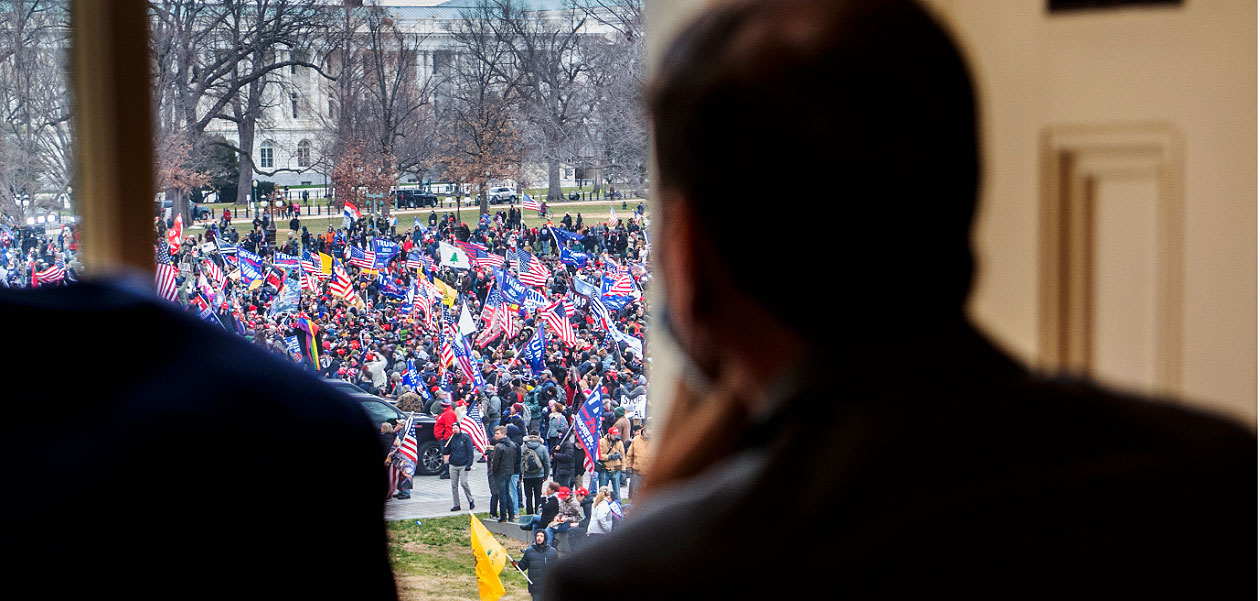 WASHINGTON—Who paid for the Trumpite insurrection on Jan. 6, 2021?
The House Select Committee investigating the Jan. 6, 2021, Trump-engineered coup at the Capitol was officially disbanded today as the Republican Party took control of the House. In all the voluminous evidence released by the House Select Committee investigating the Jan. 6, 2021 invasion, insurrection, and attempted coup d'état at the U.S. Capitol the question of who paid for the attack was not fully answered. Just bits and pieces surfaced, adding up to at least $4.3 million.
After all, trying to overthrow the U.S. Constitution to keep former Oval Office occupant Donald Trump in the White House wasn't cheap.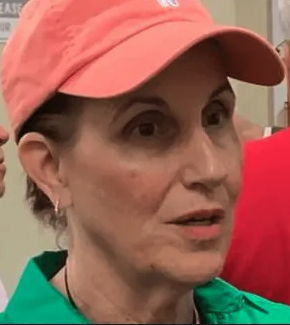 The short answer to who paid: One Republican big giver, Julie Fancelli, an heir to the Publix Supermarkets fortune, and a lot of little ones. She actually budgeted, and forked over, $3 million for the buses and other insurrection expenses. Small donors chipped in $1,126,279 more before the insurrection to its participants via GoFundMe, to pay expenses. Most of it went to the Proud Boys.
And when GoFundMe kicked the right-wingers off its site after Jan. 6, they migrated over to the less-secure GiveSendGo, a rightist "Christian" equivalent, and raised another $350,000. Overall, OpenSecrets.org, which tracks and analyzes campaign, political, and lobbying expenses and donors, sets that $4.3 million minimum. The only money traced to Trump's own campaign so far, $170,000, went to Jan. 6 pre-invasion rally organizer and Trump fundraiser Caroline Wren, not to the invaders.
The financial information, incomplete as it is, points to serious problems we face in this country. One is the ability of the corporate capitalist class to fund the radical right—and anything else it wants—while manipulating the campaign finance system, whose accountability the right-wing U.S. Supreme Court majority has wrecked, to cleverly cover its tracks. That includes manipulation via the Internet.
The second is the system itself. Thanks to that Republican-named Supreme Court majority, the dollars reveal that British historian Lord Acton's maxim is still true: "Power tends to corrupt, and absolute power corrupts absolutely." Trump said so before, explaining campaign contributions brought preferential treatment.
Due to the Court-backed allowance of secrecy in campaign donations, the figures for big givers, small givers, and the total are likely huge understatements. The insurrectionists' organizers got funding in turn from various Republican committees, such as the Republican (State) Attorney Generals Association, which despite its name is a SuperPAC which doesn't have to disclose the names of its donors. A post-election fight over funding broke out there.
Big givers, of both political parties, hide their donations, which can be unlimited, by funneling them through the SuperPACs, thanks to a pair of U.S. Supreme Court rulings, both authored by its right-wing Republican-named five-justice majority. Insurrection funders also used crypto-currencies, live streaming, and BitCoin to hide their money towards right-wing groups, the Southern Poverty Law Center reported.
In other words, the Republican-named Senate confirmed the Republican-named justices who turned on the secret money spigot that Republican givers, large and small, used to fund the Trumpite coup try.
In an indication to finding that the calculations are low, some insurrection expenses have never been itemized:
Arming the 1,000-plus invaders, plus stashing an arsenal in Northern Virginia and setting up truck bombs, which didn't explode, near the two parties' political headquarters on Capitol Hill.
Paying airfare from as far away as San Diego and funding a big block of hotel rooms at the upscale Capitol Hilton, three blocks north of the White House. Fancelli apparently paid for dozens of buses taking insurrectionists to D.C.
Speaking fees other insurrectionist leaders demanded for the pre-invasion Jan. 6 rally at the Ellipse. One was notorious "Infowars" hate peddler Alex Jones, who wanted $250,000.
Park permit fees paid by the rally sponsor Women For America First (WFAF). Its founders, the mother-daughter team of Texans Amy and Kyle Kremer, launched a "Stop the Steal!" Facebook campaign which drew 365,000 participants, the committee said. There are no figures for how much those participants gave. The lengthy permit, posted online, does not include fees.
A "war room" for Trump's schemers—including Rudy Giuliani, Michael Flynn, and Trump's legal team—at the even-more-upscale Willard Hotel, a block and a half east of the White House.
Cost a pretty penny
All this cost a pretty penny. The Trump campaign, which raised a total of $771 million for his re-election drive, paid an undisclosed amount for the Willard "war room." The available records do not say if any of the money went to the invaders and insurrectionists themselves.
But between the Southern Poverty Law Center's Intelligence Project—which tracks hate groups of all stripes, including their politics and their cash sources—and OpenSecrets, data show the invasion and insurrection cost at least $4.3 million.
The big source, $3 million of the total, came from Fancelli, an heir to the Texas-based grocery fortune. She was prompted by Jones's Dec. 20 show touting Trump's "Be There! It will be Wild!" tweet.
How big a GOP giver is Fancelli? In just the 2019-2020 election cycle alone, she forked over $1.7 million to various Republican Party committees, especially the Republican National Committee, on top of other millions in prior years.
"Fancelli's goal was clear," the Jan. 6 Committee reported. "She wanted to spend $3 million to 'get as many people there as possible.' The resulting budget allocated $500,000 to a busing program and a centralized ad campaign by the Tea Party Express to promote the event. Another $500,000 went to assisting WFAF and Jones in their organizational efforts.
Other well-connected Republicans helped in the fundraising for the massive Jan. 6 rally and its participants, the committee reported. They included the Trump fundraiser, Caroline Wren.
Wren told Stop The Steal leader Ali Alexander on Dec. 29, 2020: "I can pay for the buses and I have my team looking for available companies, so let me know what cities you need them in!" Alexander had tweeted to her about a "coalition of us working on 25 new charter buses to bring people FOR FREE to #JAN6 #STOPTHESTEAL for President Trump," the Jan. 6 Committee reported.
"If you have money for more buses or have a company, let me know. We will list our buses sometime in the next 72 hours. STAND BACK & STAND BY!" Wren concluded, thus using Trump's now-infamous call to action, uttered in the first presidential debate with Democratic nominee Joe Biden.
She got paid for organizing the rally on the Ellipse just south of the White House. OpenSecrets reported in August that Wren, who was listed as a "VIP Advisor" on the National Park Service permit for the Jan. 6 rally, received at least $170,000 from the Trump campaign for that liaison role. She attended the rally, as a VIP, but did not invade the Capitol.
Fancelli's money paid for the buses—and for her own private air travel to the Jan. 6 Ellipse rally, from Tampa, Fla., to Texas to D.C. She did not go to the Capitol, either she told the House committee.
The Southern Poverty Law Center's investigative unit added further details, especially about small-dollar donors and contributions via BitCoin and crypto-currencies, whose donors are even harder to track. GiveSendGo's givers were exposed when the "Christian" fundraising site was hacked, four times, the SPLC said.
"Radical right groups solicit donations in ways similar to methods used by mainstream political campaigns, but they sometimes seek out funding mechanisms which have fewer or more relaxed policies around who can use their services," SPLC explained.
"Such 'alternative finance' organizations help extremists raise funds without being removed, or de-platformed" by more-established and traditional funding mechanisms, such as GoFundMe, it added. That's what happened to crowd-funding by the right-wingers after GoFundMe kicked them off its platform following the insurrection. They migrated to GiveSendGo.
"GoFundMe removed pro-Trump activist Matt Braynard's 'Voter Integrity Project' campaign from its site shortly after the election, but he quickly relaunched it on GiveSendGo," SPLC reported. But by the time GoFundMe dumped Braynard, on Nov. 7, 2020, his project, affiliated with Stop The Steal, had already raised $675,512.
"When GoFundMe cancelled [sic] you, I knew your project must be particularly devastating for the powers that be that want to take control of America so I decided to go all in!" a donor who gave Braynard $3000 commented on GiveSendGo.
If Stop The Steal was the big right-wing winner among online donors before the insurrection–$918,438 for three campaigns it ran—the Proud Boys took the lead after Jan. 6, SPLC reported. Their online fundraising totaled $160,617 for four campaigns. That included $18,951 for "protective gear and communications." Their goal for that drive: $5,000.
Also used conventional funding models
"Sympathizers and proponents of the insurrection also used conventional fundraising models like political action committees (PACs), donation websites, limited liability corporations (LLCs) and email pleas," SPLC reported. One of Trump's post-election attorneys, Sidney Powell—whose lies in court have been so flagrant that she's been sanctioned, "started a PAC called Defending the Republic which raised $14 million to promote lies about a stolen election."
And "hard right political operative Roger Stone solicited donations on stopthesteal.org. A law firm that backs one of Stone's proteges, Ali Alexander, registered an LLC (limited liability company) called Stop the Steal on Nov. 13, 2020, as extremists started to gather with regularity across the country to express anger over Trump's defeat by Biden."
"Enrique Tarrio, former leader of the Proud Boys, solicited cryptocurrency to help with his legal fees" trying to defend his involvement in the insurrection and prior violent pro-Trump marches in December—including one that vandalized the exterior of a historic Black church in downtown D.C.
"He managed to raise $4,900 from three donors. Although this is smaller than the $113,000 he was able to solicit on GiveSendGo, the cryptocurrency donors will likely remain anonymous, unlike the thousands of users who were unmasked in the GiveSendGo data breaches," SPLC noted.
Before the insurrection, Tarrio ran for Congress in Southern Florida's District 27 in 2020, raising $8,993 and spending $9,018 in the Republican primary. His money came from small donors, said OpenSecrets. He lost, and the Republican winner, Maria Salazar, unseated Democratic incumbent Donna Shalala.
There's one more unknown figure: Livestreaming revenue. SPLC reported "a number of people who helped create the atmosphere of deception which preceded the attack…did so by streaming live videos on YouTube, DLive, or Entropy, generating revenue through infrastructure embedded in those websites."
Prominent among the live stream users: Two Proud Boys members, plus anti-Semites Timothy 'Baked Alaska' Gionet and Nicholas Fuentes. Trump invited Fuentes to dinner, along with the anti-Semitic rapper Ye, formerly Kanye West, in late November.
"All generated funds through live stream broadcasts in the runup to or during the insurrection. The dynamic created by these websites incentivizes extremists to give the audience what they want because satisfied viewers return for more content and are more likely to give donations during broadcasts.
"Gionet, a racist and anti-Semitic internet performer who also live streamed through YouTube from the 2017 deadly Unite the Right rally in Charlottesville, Va., even took his DLive virtual audience into" Democratic House Speaker "Nancy Pelosi's office as he and other extremists moved through the Capitol building that afternoon," SPLC explained.
"DLive lures in the youth-skewed video gaming community through its gamified user interface which enables streamers to rack up cartoon emblemed tokens traded on a blockchain, like cryptocurrency." DLive suspended Fuentes and Gionet after the insurrection.
But let OpenSecrets, which has also dug into the insurrection's finances, have the last word:
"Since Trump's campaign and joint fundraising committee funnelled millions of dollars through layers of opaque firms and shell companies where the ultimate payee is hidden, the public may never know the full extent of the Trump campaign's payments to organizers involved in the protests," it said.