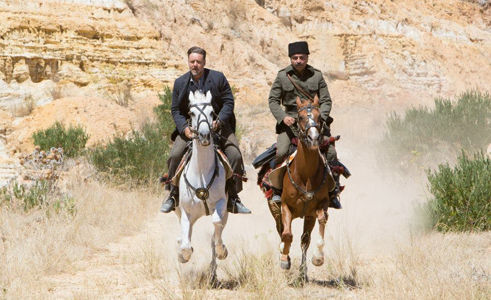 The machine gun was invented in 1884, but it didn't really come into its own until World War I, one of the deadliest conflicts in history. Tens of thousands of Axis and Allied forces were slaughtered, largely with machine guns, in the Battle of Gallipoli, which lasted from April 25, 1915 until January 9, 1916.
World War I's unprecedented mass murder and mayhem, set into motion by incendiary events in South East Europe, inspired many of cinema's greatest anti-war movies, including All Quiet on the Western Front, La Grande Illusion, Paths of Glory, King of Hearts, Oh! What a Lovely War, and the heartbreaking and horrifying 1981 film Gallipoli.
My movie buddy and I went to see this movie because it is Australian, and we've consistently been impressed with Australian movies. We weren't disappointed in "The Water Diviner."
The main character is an Australian farmer who tragically loses his three sons at Gallipoli. After the war, with nothing left to lose, he goes to Turkey to try to find their remains, "So they can be buried, at home, with their mother." As he is good at finding water in the desert, he assumes that he can find their bones in the wide battlefield.
In the foreground of the story, our Australian finds some help from former enemies. Most of the bad guys are British bureaucrats. Like a lot of good movies, though, the background is as good or better than the immediate doings of the main characters. At the end of World War I, the losing Ottomans found their mighty empire carved up, mostly by the British.
The only way that our tragic hero can accomplish his goal is by cooperating with his new Turkish friends against the bureaucratic obstacles of the English. That makes for a pretty interesting movie. Several characters are especially interesting. It's also very well acted and directed; and it's superbly filmed in Australia and Turkey.
"The Water Diviner"
Directed by Russell Crowe
Written by Andrew Knight, Andrew Anastasios
Russell Crowe, Olga Kurylenko, Jai Courtney, Yilmaz Erdogan
Rated R, 111 minutes.
Photo: The Water Diviner Facebook