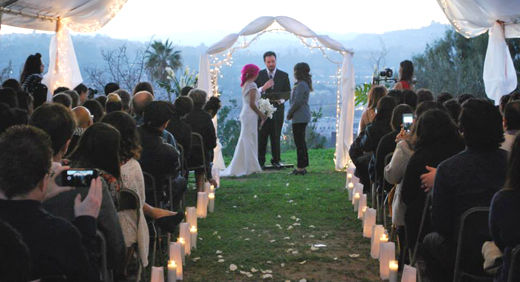 LOS ANGELES – "Tell me what you are thinking right at this moment," he asked me, not wanting to allow me to think further than what popped into my mind. I responded saying that I am saddened for the woman who I had thought would have been so very lucky to have him by her side. I continued that now the only difference is that it won't be a woman but a man who will be the lucky one, to have such a loving and warm spirit by his side.
There were tears in his eyes when he told me that he was gay, fearing that I would reject him, not knowing that the love I have for my brother-in-law would not change because of who he was. Those first years were very difficult for him and the family: Their love for him and for each other was being challenged. How would all this turn out? Who of the family would accept him? Would this cause the family to permanently take sides on the issue of homosexuality?
Yes, there were controversy, opinions, concerns, mostly founded on stereotypes. Rejections and acceptance were both in the mix. His eldest sister accepted him fondly, and her answer to the question about God was so profound. "If he asks me why I accepted that my brother that was gay," she said, "I will ask him, Why did you make him this way?"
Mom's response was, "He is my son and where my son is, I will be there by his side," and she was. If the family wanted to gather on holidays with their mother, they would have to work through their fears and concerns, and accept their brother. This was her position and they did. The love they had for him and the unity of the family propelled them to get over the many stereotypes that surfaced during those first years.
Last Saturday, the family gathered for what would be a very special day. My niece, who was guided by her uncle during her earlier years of expressing her sexual orientation, was getting married. A four-year romance would become the celebration not just of two people being joined together in marriage, but that of a family's triumph over injustice and discrimination against a community that did not fit the "norm" of society but nonetheless existed.
In the previous few weeks, everyone expressed their love and acceptance through their generosity, ensuring that the happy couple would not lack for funds, food, decorations, and a place to hold this now wedding of the century for our family.
The brides welcomed all the guests one by one, thanking them for coming to celebrate their union. Friends and family who had not seen each other for some time greeted one another with the usual hugs and kisses. Fun and laughter could be heard everywhere, as the guests waited for the ceremony to begin. Officiating at the ceremony was my nephew, son of my sister-in-law, who was prepared to respond to God if he would really have objected to her continued love for her gay brother.
When the celebration had spun into full swing, I took my brother-in-law aside and told him to take a moment and look at what he had done. That it was because of his bravery that this wedding for his niece could happen; that although there were difficult and painful moments along the way, we could see the fruits of his labor in the fact that everyone here is filled with love and joy for this couple; and that certain members of the family made a special point of attending, as their way to send a loud message that we recognize that everyone is entitled to love who they want.
Change happens. A toast to the changemakers!
Photo: Rossana Cambron/PW