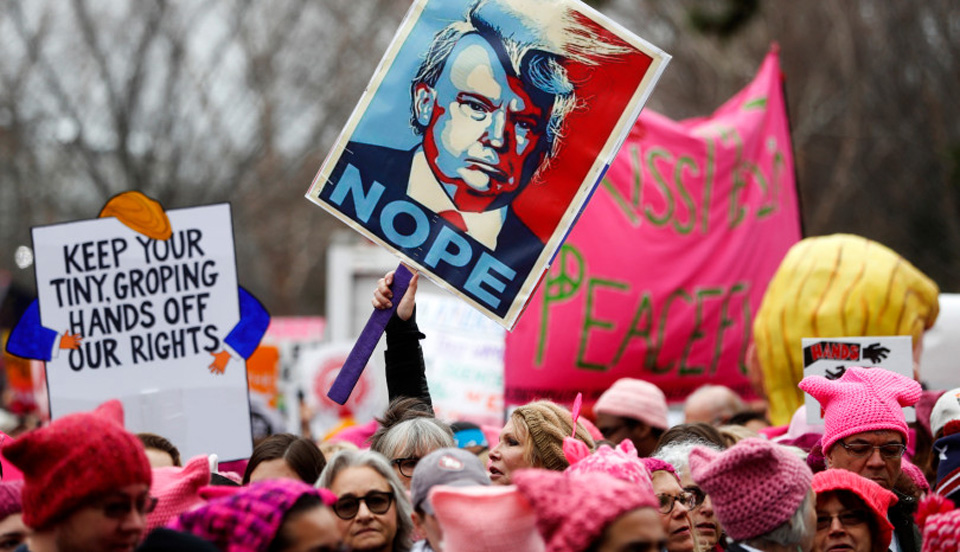 The massive worldwide women's march on Jan. 21 showed that interest in women's equality is at an all-time high. There has never been a better time to take advantage of the momentum to further the cause.
Some might now wonder, what next?  In an age when misogynistic attacks seem to be coming every day, how do we prioritize which issues to work on in regards to women's equality?
Gender oppression manifests itself in social, economic, and political oppression. There are several arenas where we should struggle against misogyny, because it has a structural presence in our entire society.
The oppression of women isn't limited to gender; is also enhanced by other forms of oppression.
These can include (and can be combined with) race, age, orientation, disability, gender identity, and of course, class.  The examination of the special problems of women must also take into account where oppression that isn't often visible may be occurring—listening to the experiences of women in these identities is crucial.  Including the views and voices of women when doing work in any of these areas will be crucial to resistance.
Recognizing the misogynistic basis of Trumpism isn't difficult when we look at which targets have been under heavy fire in the administration's first days. The following is only a partial list:
Threat to defund Planned Parenthood;
Indication that the Violence Against Women Act will not be renewed, and that grants that protect against domestic violence will eliminated.  (Undocumented women have already been withdrawing charges of domestic violence out of fear of deportation);
Attacks on the Affordable Care Act will result in stripping away benefits and protections for women's health care;
Transgender "bathroom bills" and attacks on the rights of transgender children in K-12 settings;
Threat to eliminate head of household tax filing status, which will disproportionately target single women with children;
Threat to separate mothers from their children at the border and deportations separating families, mothers from their children;
Attacks on the social safety net will impoverish already vulnerable aging women, one of the most impoverished sectors of the U.S.
In the short-term, all of those threats must be fought as they emerge.
For the long-term, we must also consider a structural approach to gain solid protections to make women less vulnerable to a wide-scale array of discriminatory attacks.
Here are three areas of action where we can exert pressure. If successful, they will have long-term effects in shifting the balance of power:
Restoring the Voting Rights Act
Since women have gained the right to vote, women have voted for a greater expansion of the social safety net.
More women vote, and more women of color vote for more progressive candidates, as witnessed in the 2016 election. Ninety-four percent of Black women voters and 68 percent of Latinx women voters voted for Hillary Clinton
Black and Latino people are more supportive of issues like socialism, according to polling, which will include many women voters who already have a track record of progressive voting in conscious coalitions.
Restrictive voter ID laws prevent minorities from voting, and restricting minorities from voting creates an electorate less favorable to women's issues.
Moving along restoration of voting rights is going to take Congressional action.  Although there is bipartisan support for the Voting Rights Amendment Act, no hearings for it have been scheduled. Create pressure by contacting your member of Congress and senators to tell them you support getting the process started.
Fighting against racist voter suppression should be a top priority on the road to the 2018 elections, as should supporting organizations that work to expand access for women of color in the midterm elections.  Some great organizations are Black Girls Vote and We Won't Wait.
Ratifying the Equal Rights Amendment
The fact that the U.S. Constitution lacks an Equal Rights Amendment for women means that discrimination against them on the basis of sex still has theoretical support in the law.
Supreme Court justices, such as the late Justice Antonin Scalia, and the present nominee, Judge Neil Gorsuch, who consider themselves constitutional originalists, felt comfortable with this interpretation of the Constitution.
The "three state strategy" is the planned path forward for ERA ratification, as the number of states needed was just short by three states during the first attempt to reach the threshold needed.
The Nevada State Senate and Assembly just ratified this month so now only two more states are needed. Illinois and Virginia are considered good candidates for the next two states to ratify the ERA, as each have passed it one state chamber already.
If you are in those states, pressure your state assembly member to take up a vote on it and pass ratification.
There is a bill in Congress to nullify the 1982 deadline that was passed several years ago to stop the process from going forward.  Pressure your member of Congress to sponsor the bill, and move the it to the floor.
Robust participation in Election 2018
In the 2018 elections, 10 Democratic senators are up for re-election in states that were carried for Trump.  This is going to be a vulnerable target, especially since this election will come before any attempt at fairer redistricting in 2020.
The Democratic Congressional Campaign Committee is targeting 59 House GOP members in an attempt to unseat them.  But the GOP also has a list of 36 Democratic seats they are looking to flip, so there will be a need to protect seats as well.
One interesting development since the Women's March is that 4,000 women have contacted Emily's List to find out how to run for office. This number is unprecedented. Women presently make up a very small proportion of elected officials; women of color are also woefully under-represented in office.
Support efforts to overturn GOP gerrymandering.  President Obama and former Attorney General Eric Holder are leading the fight on redistricting, which will take place in 2020. (DemocraticRedistricting.com)
Democratic Party women already in office have been leading the charge in the resistance—including Democrats U.S. Rep. Maxine Waters, Calif.; Sen. Kamala Harris, Calif.; Sen. Kristen Gillibrand N.Y.; and Sen. Elizabeth Warren, Mass.  Two women on the GOP side have broken ranks with their party to vote against some of the most controversial cabinet appointments, Sen. Susan Collins, Maine and Sen. Lisa Murkowski, Alaska.  Cultivating strategic alliances and exploiting divisions in the current GOP power base will be crucial to stopping restrictive and misogynistic laws.