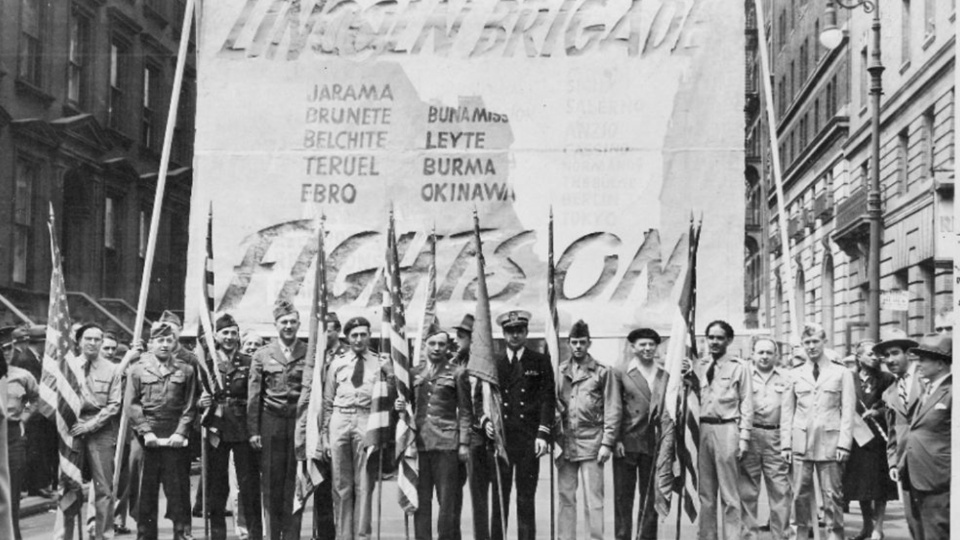 After attending an Abraham Lincoln Brigade Archives workshop, Charlie Christ joined ALBA as an intern to work with Chris Brooks on the biographical database. "The Lincolns were incredibly diverse, representing the full spectrum of the American and international community. Yet as I dove deeper into their lives, one trend, in particular, struck me—their indelible impact on the labor movement."
I began my internship with ALBA in May 2022 as part of the Data Renewal Project team. My task was updating the extensive volunteer database and entering meta-data to unveil details and connections of Lincoln Veterans previously obscured to researchers. Students and scholars alike will be able to search by birthdate, occupation, college, political affiliation, the ship they sailed to Spain on, and if they were killed in action, wounded in action, or became a prisoner of war. This position was a match made in heaven for me—a longtime admirer of the Abraham Lincoln Brigade, a history student captivated by the Spanish Civil War, and more recently, an idealist fascinated by the American labor movement and the "fighting left" of the 1930s. This makes an admittedly tedious job—editing thousands of Volunteer records—a labor of immense love. But more important, this internship has been a way to connect with a chapter of American history worth being proud of.
The Lincolns were incredibly diverse, representing the full spectrum of the American and international community. They were overwhelmingly immigrants or the children of immigrants. They were African American, Irish, Jewish, Puerto Rican, Cuban, Canadian, Croatian, German, Italian, and Russian—just to name a few. Some were young, as I discovered last week when I stumbled upon a Veteran who was only 16 years old! And some were nearly 60 by the time they braved the treacherous mountain odyssey across the Pyrenees to enter the fight. As impressive as their diversity was, it was not nearly as impressive as the values, backgrounds, and beliefs that united them in the battle against fascism, beliefs so profound that hundreds paid in blood, both in Spain and during the Second World War.
As I dove deeper into their lives, one trend, in particular, struck me—their indelible impact on the labor movement. After editing nearly one thousand profiles, it was impossible to ignore the prevalence of Lincolns belonging to the Industrial Workers of the World (IWW), the American Federation of Labor (AFL), the Department Store Employees Union, Maritime Unions, Teachers Unions, and many more. I also noticed a correlation between political affiliation and labor activity; most Lincolns belonging to the Communist Party prior to 1936 had some involvement in the labor movement. This is hardly surprising: the American Communist Party was a steadfast ally of the working class, and they worked hand in hand with other left-leaning political groups to improve the conditions of working people.
While there are many Lincolns that could be mentioned, I'll highlight two that caught my attention recently:
In 1932, a 17-year-old named Irv Fajans took a job at Macy's, joined the Young Communist League, and became an organizer for the Department Store Employees Union. He was a strike leader who fought to unionize thousands of underpaid retail workers across New York City. They demanded an eight-hour workday, higher pay, expanded benefits, and many rights already secured by blue-collar unions across the country. Fajans took a break from labor activism to fight fascism in Spain and then again in Italy during the Second World War; he was wounded in both conflicts. Later on, he edited an anthology on the Spanish Civil War (though he resigned the position in a debate about including a piece by Hemingway). He then went to film school. Most notably, he worked with a group of blacklisted Hollywood filmmakers to produce Salt of the Earth, a revolutionary movie depicting the struggle of Mexican-American miners during a strike in New Mexico. This movie was banned in the U.S. immediately after release; its "subversive" themes of racial, gender, and worker equality were far too "communist" to be shown to the public.
Born on Labor Day in 1914, Ralph Fasanella wielded the brush of the labor movement, depicting quintessential scenes of working-class life in his paintings, from night-time factory scenes of NYC to the Bread and Roses Strike in Lawrence, Massachusetts. In Spain, Ralph wielded a rifle in the fight against fascism. After returning to the States, he became an organizer for the United Electrical Radio and Machine Workers of America. In fact, this is how he learned to paint—he took an art class hosted by the union. This seems novel now, but in their heyday, unions were houses of culture, offering a variety of classes and community activities for members. Ralph spent the next 30 years working at his brother's gas station, painting religiously. His work was discovered after a 1972 New Yorker article launched him into the mainstream. As he grew older, Ralph visited schools in NYC, talking with high school students about painting, about the struggle of the working class, and about the importance of America's immigrant heritage. One of his paintings hangs permanently in the Great Hall of Ellis Island.
There were many other Lincolns involved in the labor movement. And if I'm being honest, I found these two while editing the Veterans with last names beginning with F! And it was difficult narrowing it down to just these two! However, Fajans's work on Salt of the Earth and Fasanella's paintings offer powerful representations of hope, of worker solidarity, of racial and gender equality, and the unbreakable power of a united working class. These two men were activists until the day they died. I found their stories inspirational, especially at a time when the working-class struggle continues, and a revival of the Labor Movement is desperately needed to challenge the gross inequities plaguing our nation.
I hope that in some small way, my work with ALBA will make it easier for anyone to reach into the past and discover their stories. I hope it will save many aspiring historians hours of time. And I hope others will discover what I did: the historical legacy and sacrifice of the Abraham Lincoln Brigade offers us a blueprint to build a newer world. One fair to the workers, immigrants, women, people of color, and the LGBTQ+ community. This is the world the Lincolns fought to create.
The original article in the March 2023 issue of The Volunteer can be viewed here. People's World has made slight modifications to conform to PW format and style.
We hope you appreciated this article. At 

People's World

, we believe news and information should be free and accessible to all, but we need your help. Our journalism is free of corporate influence and paywalls because we are totally reader-supported. Only you, our readers and supporters, make this possible. If you enjoy reading 

People's World

 and the stories we bring you, please 

support our work by donating or becoming a monthly sustainer today

. Thank you!