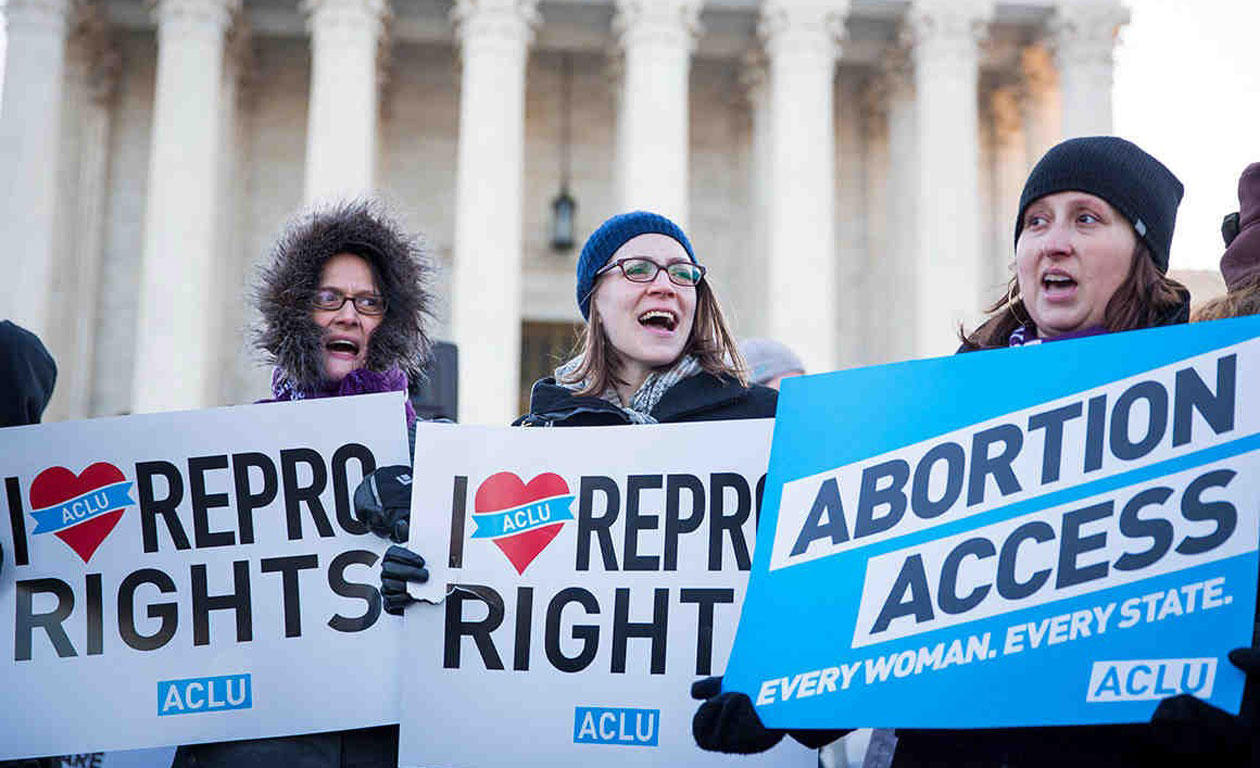 WASHINGTON—If Democrats keep control of the House and gain just two seats in the Senate, something well within reach two weeks from now, there will be a clear path to making Roe the law of the land again and halting the GOP drive to take away a host of other constitutional rights.
It was early summer—late June—of 2022 and the MAGA Republicans were riding high.
Democratic President Joe Biden's popularity ratings were low. Inflation was at 8%. The narrowly Democratic Congress was spinning its wheels, hamstrung by Republican Senate filibuster schemes, aided by renegade Democrats Joe Manchin of West Virginia and Krysten Sinema of Arizona
Voters were in a sour "What have you done for me lately?" mood, blaming everything on Biden and congressional Democrats—the very politicians who, with no help from across the aisle, helped pull the nation back from the coronavirus pandemic and from an economic crash that would have rivalled the Great Depression.
The Dems also played a major role in the fight for democracy. Though voters seemed to forget it, violent MAGA Republican extremists, orchestrated by former Oval Office occupant Donald Trump, invaded the U.S. Capitol, scheming to overthrow the Constitution, all to keep Trump in power.
Then, in late June 2022, the Republican-named majority on the U.S. Supreme Court, 5-4, took the constitutional right to abortion away and threatened other rights as well—LGBTQ rights, contraceptive rights, gay marriage rights. It had already eviscerated voting rights and severely weakened worker rights, too.
Hundreds of thousands took to the streets, denouncing the ruling, which three-fourths, at least, of the U.S., disagrees with. And they knew who to blame, and it wasn't just the majority justices. It was the Republicans who nominated and seated them.
The rage hasn't stopped since. Unprecedented numbers of women and their supporters are registering to vote for the first time. Even Democratic President Joe Biden tapped into it, in an October 24 late-afternoon tweet:
"If we elect two more Democratic senators and keep control of the House, here is my promise to the American people: The first bill I will send to Congress will be to codify Roe v. Wade. When passed, I will sign it in January—50 years after Roe was decided the law of the land," he promised.
"We are up against MAGA Republicans who are poised to strip our rights, as women and as voters," Unite Here Secretary-Treasurer Gwen Mills told a press conference in September, after door-to-door campaigners reported to her that voters were denouncing the abortion decision and the Republican invasion, even before canvassers started to speak.
"They are all seeking crucial offices in the states," Mills said of the MAGA Trumpites. "We're obviously not going to sit by and let that happen." Defending constitutional rights—including the right to abortion—and the Constitution itself "is the right message" and unionists, going door-to-door "are the right messengers."
"A worker's voice is important at the workplace and at the ballot box," AFL-CIO President Liz Shuler said at a recent panel discussion. "So we're in a unique worker-to-worker campaign so they"—union members, families and allies—"get complete information" on issues they care about. That includes abortion, she told a later congressional session via zoom.
Freedoms under attack
"Our freedoms are under attack. Our freedom to vote is under attack. Our freedom to organize is under attack. Our right to health care, and especially our right to reproductive health care, is under attack.
"The time to rise up is now."
Congressional Democrats, and Democratic candidates, certainly have heard. In debates, on the campaign trail and in TV ads, the Dems defend the constitutional right to abortion, and hang abortion bans around the Republicans' necks.
The Republicans, having stridently supported everything up to total bans in all circumstances—catering to the MAGA crowd and male misogynists—are running for cover. They're backtracking furiously, pulling or denying prior statements or "modifying" their positions to state they'd make the usual Republican exceptions for rape, incest or to save the life of the pregnant woman. And, on top of that, they are blaming the Democrats for inflation as they offer either no solutions or solutions, like more tax cuts for the rich, that would actually make inflation worse.
Nevertheless, they're being called out on their flip flops or their outright opposition to abortion rights.
"We have a governor"—Wisconsin Republican gubernatorial nominee Tim Michels—"saying we're going to criminalize abortion, we're gonna throw doctors in jail and we're not going to have any exceptions for rape or incest," Democratic Gov. Tony Evers said in a recent debate between them.
"My opponent is radical on this issue. Roe v Wade has worked in Wisconsin for 50 years and we should go back to it," referring to the High Court's 1973 legalization ruling.
The flip flops began when 58% of voters in deep-red Kansas, in a turnout during the heat of August that rivalled those of presidential election years, voted for the existing abortion protections in the Sunflower State's constitution.
In a swing district congressional special election around Albany, N.Y., the Democrat eked out a win by emphasizing his pro-abortion stance—and his MAGA foe's strident opposition. Campaign ads from Democrats nationwide, sometimes featuring ob-gyn M.D.s, emphasize the harm to women, especially women of color, of a ban.
"It is personal to have our bodies suppressed, our votes suppressed, our labor ignored," Fatima Goss Graves, the Black woman who's Executive Director of the National Women's Law Center, told a recent pro-abortion mass march in D.C.
"This is a state-by-state battle," said Planned Parenthood Action Fund President Alexis McGill Johnson in a recent release. "This is an opportunity for abortion to save our democracy, because we are on the ground now connecting people to the reality that the majority of people across the nation believe that Roe should have been the law of the land.
"It's an opportunity to educate people about how the opposition has gerrymandered and put people into power that are completely out of touch with where the majority of their constituents are, and they can make these decisions without any accountability."