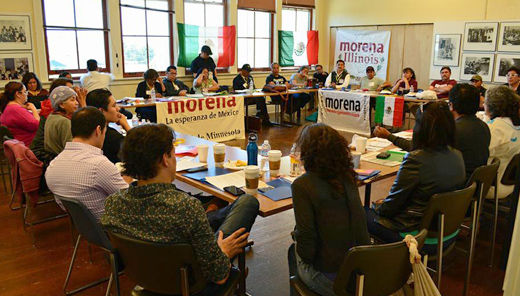 SEATTLE – Representatives of Morena En el Exterior (members of Morena living outside of Mexico) came together May 7-8 in Seattle to create a plan for uniting the various Morena committees throughout the U.S. and Canada. This unification plan will support the political party in Mexico as well as social justice movements in Mexico. Further, it will have an impact on social justice movements affecting the Mexican community outside of the Mexico.
Morena (National Regeneration Movement) is a new broad left party that is one of 10 political parties, came in fourth with 8.37 percent of the national vote, winning in 14 electoral districts (giving it 35 congressional seats). This was the best showing ever for a first year party. As part of Morena's constitution, all elected officials agree to donate 50 percent of their wages towards a program that provides a university education free of charge to underprivileged youth.
Participants agreed that Morena is not just a political party, but also a social movement; this requires a plan that both supports the electoral process in Mexico and addresses issues that affect the Mexican community outside of Mexico.
A particular highlight of this assembly was the high level of unity in evidence, along with the participation of current social movement organizations in the Seattle area. Participants were treated to a workshop where they learned about the local immigrants' struggle and the effective actions used in the defense of those in detention centers.
The assembly was preceded by a panel discussion which brought together four public figures: Nestora Salgado, a political prisoner recently released from a Mexican jail following intense international pressure; Professors John M. Ackerman and Irma Erendira Sandoval, who are progressive intellectuals from the National Autonomous University of Mexico; and current socialist Seattle city councilwoman Kshama Sawant.
Referring to the challenge of ending corruption in Mexico, Professor Sandoval said: "Corruption is not just a question of low levels filling their pockets. It is an institutional structure that requires institutional change. The real challenge is at the top, not at the bottom. The tentacles [of the effort] to privatize adds to this institutional corruption."
"People of Mexico are very much aware of the fact that 150,000 people have been lost to drug lords and 25,000 have been disappeared, but the U.S. refuses to acknowledge it. The U.S. blames the human rights problems on corrupt local governments and Narco culture. But they, along with the elite in Mexico, are creating the conditions of chaos-[allowing officials] to be able to continue Plan Merida, the selling and sending of arms to Mexico. They also want to separate Mexico from the leftist trend that has swept the rest of Latin America." said Ackerman. "But there is hope: the recent uprisings in the disappearance of the 43 Ayotzinapa students, and the release of Nestora largely due to organized pressure by the Mexican community living inside as well as outside of Mexico, are indications that the people will no longer tolerate it."
The two-day assembly discussion centered on developing an organic and flexible structure. Participants discussed a plan for mobilizing and building support for Morena, both in Mexico and abroad. In addition, they committed themselves to addressing the challenges and the problems facing the Mexican community abroad, and to giving the struggle for gender equality a higher priority. Finally, they decided to develop an effective approach towards recruitment, growth and integration of new members.
"I believe we are in a construction period. It is a movement that is, as of yet, not well defined. We are all of the left and are challenged to adapt to new situations without renouncing our principles," said Roberto Ferreyra of Morena Illinois.
"What we learned was that in order to win a just immigration law, the immigrant movement needs to unite with other social movements," said Rafael Muñoz, Comite Fuerza y Unidad, Los Angeles. "As Mexicans living abroad we realize that we are a political and economic force for Mexico. And we want to build an organization strong enough to counter the injustices our people face daily. That organization, we believe, is Morena."
Photo: Rossana Cambron | PW