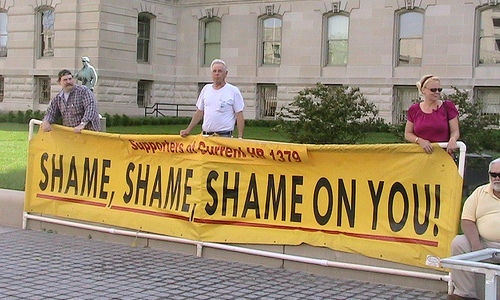 When Sen. Tom Coburn of Oklahoma left for his "Spring Break" on March 29, he also left some 200,000 jobless Americans without badly needed money to provide for their families.
That's the consequences of the GOP senator's actions. Like a thief, who snuck into your home catching your family off guard, Coburn slipped into the Senate chamber while Democratic lawmakers celebrated the passage of health care. He then moved a sham bill, which effectively blocked a new round of extending unemployment insurance.
The federal unemployment subsidy is set to expire April 5. Congress doesn't return from its recess until April 12. Senate Majority Leader Harry Reid said lawmakers will approve the extension then, and apply it retroactively.
Under the fig leaf of trimming deficit spending, Coburn demanded the benefits be paid for out of already committed stimulus monies. Kentucky GOP Sen. Jim Bunning pulled a similar trick February when he blocked extending jobless benefits. The move, and his language, set off a firestorm of opposition, hurting the carefully crafted "Joe-six-pack" image of the GOP.
This time, the Republicans conspired to try to blame the Democrats for the extension expiration. But most news reports saw right through the scam. Oklahoma City's KFOR-TV ran a news story blaming Coburn for leaving thousands of unemployed Oklahomans high and dry.
"It's unbelievable he would hold up benefits to the most needy. He says our country can't afford it. But unemployed people spend their benefits right away, putting it into the economy," said Myrna Burman of the Oklahoma State AFL-CIO.
"Unemployed people aren't rich, like Coburn. He's never experienced what it is to lose a job, lose a paycheck and not be able to provide for you family," she said in a telephone interview.
Oklahomans seemed to agree with Burman. On KFOR's website 112 comments followed the story "Senator Coburn blocks unemployment bill," pointing out similar realities.
Raymond from Hinton, Okla., wrote:
"Yes we need tough measures. Like sending Tom Coburn out to live on the streets with all the other people that no longer have income!!!!!!!! Maybe it's time to elect Coburn out of office and find someone who knows what it is like out here. "
And Valerie of Oklahoma City wrote: "My unemployment benefits ran out almost a month ago, and I was only getting $132/week…That's not a lot of money…I need this extension while I'm still looking for a permanent, full-time job. Shame on you Sen. Coburn!!"
The battle to provide jobless benefits for the high number of unemployed is just part of the larger fight to create good paying jobs.
The labor movement, along with civil rights groups, women and student organizations, are demanding action, not only to extend unemployment benefits – and COBRA subsidies – through the end of the year, but to create jobs. And reach those communities hardest hit the prolonged recession.
"Two months in a row of these unnecessary and painful disruptions are two too many. When Congress returns to D.C. in two weeks, it must quickly finalize the extension of unemployment insurance benefits and COBRA subsidies through the end of the year. But that is just the beginning of a meaningful jobs agenda," writes National Women's Law Center Vice President Emily Martin in a recent op-ed. The law center is part of the Jobs For America NOW coalition.
Martin urged the passage of the Temporary Assistance for Needy Families emergency fund through 2011, and the jobs creation bill recently introduced by California Rep. George Miller, called Local Jobs for America Act.
This bill would, Martin writes, "create and save one million jobs in local governments and non-profits, employing teachers, police officers, librarians, and child care workers across the country. It's past time to make a real commitment to job creation and support for the unemployed."
Photo: Building trades workers rally for unemployment insurance in Indiana. Kaitlin DeCero/http://www.flickr.com/photos/labor2008/ / CC BY 2.0