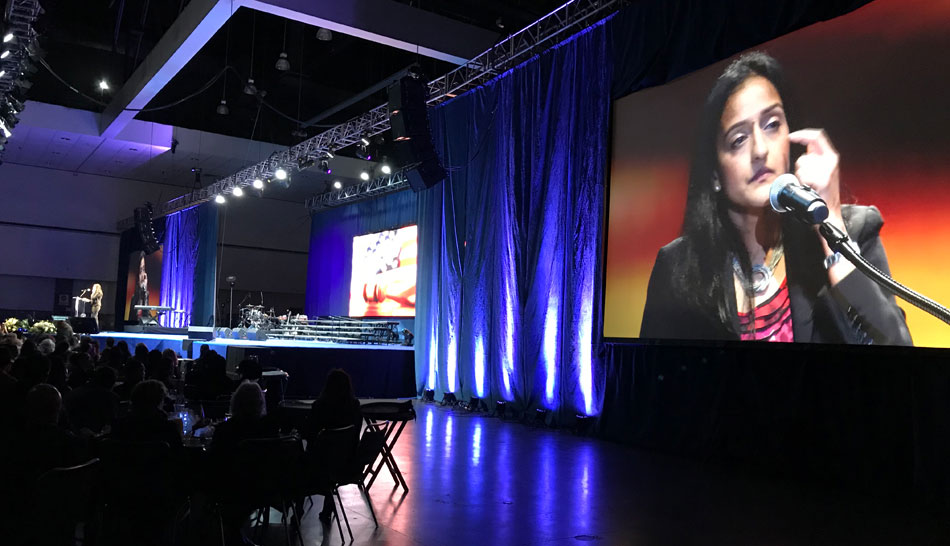 LOS ANGELES—Early last Saturday morning, January 20, as a few blocks away the Women's March was starting to gather forces, the Los Angeles County Federation of Labor, AFL-CIO held its annual Dr. Martin Luther King, Jr. Labor Breakfast at the Convention Center. The event drew a crowd of over 1000 community leaders, labor leaders, and elected officials, showing off the wide range of racial and ethnic diversity for which L.A. and the United States overall are famous.
Multi-platinum Grammy Award-winning recording artist Faith Evans opened up the event with nearly 100 singers from the West Angeles Church of God in Christ Mass Choir in the Black national anthem, "Lift Every Voice and Sing." The choir came on again midway in the program with a mind-bending virtuoso display of hiphop "backbeat" performance, and at the end when they offered an ecstatic upbeat gospel version of the standard civil rights anthem "We Shall Overcome." Projected images recalled not only Dr. King but other singular figures in the movement, as well as moments of struggle by masses of working people in America.
U.S. Senator Kamala D. Harris, California's junior senator, was stuck in Washington, D.C., dealing with the government shutdown and unable to appear in person as announced, but shared a video message with the audience. "We must embrace our commonality," she told the audience, citing such concerns as unions, LGBT rights, healthcare, the war on drugs, the Dreamers, and others.
Rusty Hicks, president of the L.A. County Fed, introduced this year's keynote speaker, Vanita Gupta. As president and CEO of the Leadership Conference on Civil and Human Rights, Vanita Gupta is carrying on the groundbreaking work she did under President Obama as head of the Civil Rights Division at the Department of Justice. The growing breadth of Civil Rights in 2018 honors what Dr. King achieved, and it was the theme of this year's Breakfast.
Gupta reveled in the "honor to join the L.A. County Federation of Labor for their celebration of Dr. King's legacy. The Leadership Conference has its roots in the labor movement, and we are keenly aware that workers' rights are civil and human rights. Workers' rights are about the fight for good and fair jobs that pay a decent wage—jobs that you can raise a family on. The fight for safe housing, economic security, quality education, and strong, healthy communities. These are the building blocks of the American dream. That is why we will stand together with our brothers and sisters in the labor movement, and fight together—for fairness, for inclusion, for justice; on the streets, on the job, in the courts, and in the press," she said.
Gupta also underlined the multiplicity of struggles the current administration is forcing Americans to acknowledge all together as part of the larger fight against the corporate right wing. She reminded her audience that "Right to Work" was originally a creation of the Jim Crow South. Voting rights, collective bargaining and "strong unions are essential to fixing the rigged economy," Gupta said.
Gupta tried to deflect the focus away from "who occupies the Oval Office." It's the "determination of those who resist injustice that counts…. There is nothing automatic about that determination. Each generation must decide for itself what is worth fighting for." She concluded, "I know we will not stop short of victory. Sí se puede!"
President Hicks spoke movingly about his own family history, and introduced both his wife and his mother in the audience. Many of his life lessons he claimed to learn baking and selling cookies as a kid alongside his grandma, who is still with us in her 80s. He spoke of the critical role of food, of breaking bread, in bringing people together. Shortly, of course, he drew our attention to the tasks ahead:
"In 2018, we won't let a Supreme Court case like Janus tell us we can't have a voice on the job. We'll train more organizers to preserve a worker's fundamental right to form a union. We won't sit quietly by while Republicans in Congress take away our healthcare and give more tax breaks to the rich. We'll help more union members to run for public office, take back the House in 2018, and send every last anti-worker Republican home for good," he said.
"We won't let Trump's midnight tweets of racism and misogyny take us back to our nation's darkest days. We'll lock arms with our allies to stamp out evil wherever it may be—on the job, in our community, and especially Washington, D.C." To a huge round of applause, he cited the recent vote, announced just the day before, that employees of the Los Angeles Times had chosen 5-to-1 to form a bargaining unit for the first time in the newspaper's over century-long history.
Juana Melara, Time magazine's Person of the Year, is a Long Beach hotel housekeeper and member of UNITE HERE Local 11. She stood at the podium with a worker delegation of three women (Danielle Jones, Emma Worthington, and Lori Condinus), to introduced Maria Elena Durazo, general vice president of UNITE HERE, and former leader of the L.A. County Fed, who is running for the California Senate this year.
"Like most housekeepers," said Melara, "I have been harassed by male guests more times than I can count. Men have exposed themselves to me, put their hands on me and asked me to perform sexual acts on them. I am here today because I refused to take it. I fought back. I want women to know that they are not alone. Together we can stop the abuse."
The widely admired Maria Elena Durazo took the stage. "I think Dr. King would be pleased that today's civil rights movement has grown. Grown to defend Muslims targeted by Donald Trump's travel ban, to defend the Dreamers that Trump continues to threaten, to defend transgender soldiers that Trump wants to reject, to defend women that Trump sexually harassed and assaulted, and janitors and housekeepers. Dr. King said, 'Injustice anywhere is a threat to justice everywhere.' And today's celebration of his life, his legacy, his movement celebrates how far we've come to include…all of us," she said.
After the breakfast, many of the attendees could be seen heading over to the massive Women's March in downtown L.A. This year's turnout was between 500,000 and 600,000, nearly equaling last year's day-after-inauguration 750,000 demonstrators. This writer headed home to pack for a flight to Las Vegas to cover the National Women's Rally the following day.
The year 2018 will be one of hope and hard work—and victory in November. The united labor movement is solidly committed to the challenge ahead.