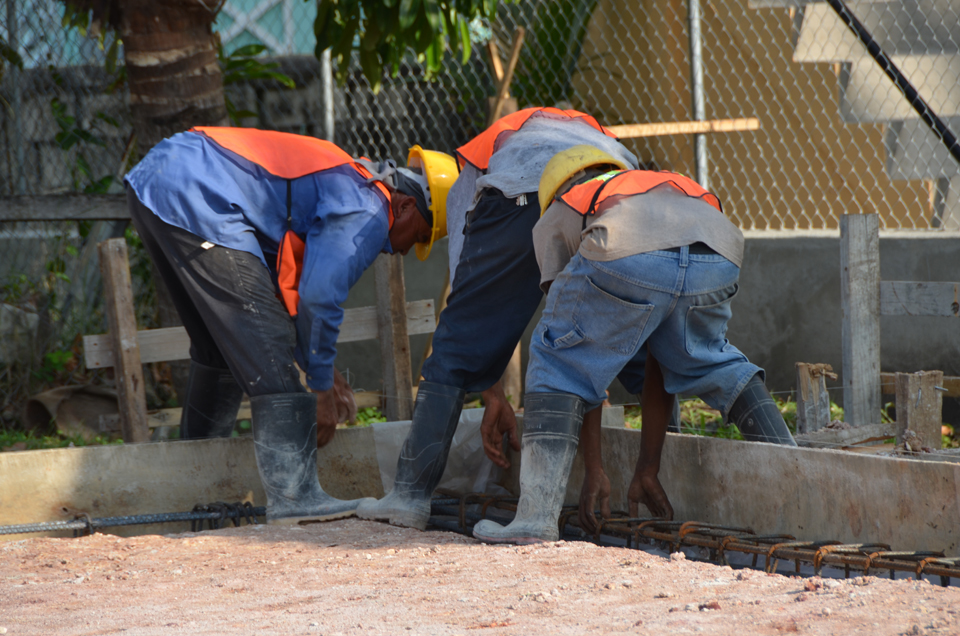 It's 6:00 a.m., still chilly, and hundreds of construction workers, coolers in hand, leave the safe confines of their cars to join a stream of carefully spaced humans on to the future site of Oracle's newest office building in downtown Austin. They're standing apart, they're wearing bandanas and masks and the air is heavy with uncertainty.
The electricians walk toward their gang box, careful not to crowd. It's a geometry problem to hold the required daily safety meeting while trying to maintain a 6-foot separation. They unload their power tools and personal tools out of the box onto a cart. Nowadays, there's little of the customary shooting the shit.
These days, rumors spread as fast as a virus. By lunchtime, just about everyone has heard that four drywallers were sent home with fevers, but not before working on site for a couple of hours. The atmosphere is quiet, fearful.
When the electricians' steward, Dallas Dean, sees a drywaller being sprayed down in a thick mist of alcohol he thinks it might be time to go beyond waiting and watching. Dean, 39, wonders why he and hundreds of coworkers are being put at risk to build luxury office suites for the tech giant Oracle? "Nothing essential is going on there," he says. "It's basically going to be a glorified sales office," an apprentice adds.
Dean is aware that across the nation governors have shut down "non-essential industries." He knows they've ordered millions of workers to stay home to protect themselves and their families, and most of all to slow the spread of the virus. So why aren't he and his crew staying at home?
What's "essential" about basic commercial construction?
"To me, 'essential' means public works, linemen, garbage, sewer, 24-hour service, electricity for homes," he told People's World. "But basic commercial construction? NO!"
Dean, a journeyman with 15 years in the trade, takes issue with the view that social distancing is easy – or even possible – on a construction site. The elevator on the eight-story project is packed to the max, he says, with workers and materials moving all day long. "We're pulling wire, working together mounting heavy panels," Dean says. "It's all day. We don't know who we're putting at risk – our families or members of the public." The workers sit apart to eat lunch. But how many hands touch ladders, gang boxes, blueprints, shared power tools during the day?
Dean decides to take a poll of his workers to see if they think they should stay on the job. "The result of the survey," he replied with a grim laugh "was me being escorted off the site."
A new rumor spreads – that he has been fired. "The contractor said if I was going to take a poll, a foreman would have had to be with me as I spoke to each worker."
Thanks to the intervention of the union, Dean was back on the job this week. Despite the danger, he thinks he needs to be there, to make sure his fellow workers know their options. He wants them to have all the information they need to access the benefits of the CARES legislation. That package – passed last week by Congress under heavy pressure from the labor movement – means that workers can count on substantial wage replacement while not working due to the pandemic.
Dean especially appreciates that his union, the IBEW, negotiated an agreement with NECA, the electrical contractors association, allowing for workers who feel unsafe at work due to the pandemic and stop coming to work (whether through a lay-off, furlough or quit) can apply for unemployment, and per the agreement, the contractors are not to retaliate or dispute their unemployment claims.
Dean's instincts – and courage – as a steward to act collectively, not individually, set an example for leaders at other levels of the labor movement.
In these dangerous times, doesn't real leadership require that leaders pause non-essential construction, not carve it out as an exemption?
It is historic that an unprecedented package makes it possible for workers to stay home and get paid enough to get by. The IBEW agreement with NECA expands workers' rights. These are good and important steps. But are they enough?
Across the nation, construction workers are up in arms that the definition of essential has been stretched to include all construction. Their lives are being put at risk to maintain the flow of profits to construction billionaires.
In Los Angeles, 3,000 people are reporting for work every day to build the $5 billion SoFi Stadium, according to a report in the Los Angeles Times.
Is it really critical for these workers and their families to be sitting ducks for a virus that kills 1 out of 100 of the people it infects in order to get a sports and entertainment center ready for a Taylor Swift concert in July?
Is this a public good that overrides the impact on public health of thousands of folks being asked to be out there circulating instead of staying home?
Construction exemption maintains profit flow
Who are the beneficiaries of the special exception granted to construction companies from the stay-at-home directives?
The general contractor for the $5 billion Oracle job is Austin Commercial which has a $2.4 billion annual revenue. Efforts to get a comment from its CEO, David Walls were unsuccessful as phones went unanswered at its corporate office in Dallas. Oracle, Austin Commercial's customer, rakes in $40 billion a year according to Forbes. Oracle founder Larry Ellison is sheltering at home in his 249-acre Rancho Mirage, California, estate.
The general contractor for the SoFi project is Turner-AECOM- Hunt, a $20 billion company with 86,000 employees. Michael Burke, its CEO, could not be reached at the company's Los Angeles office. Perhaps he too is sheltering at home?
Do these billions of dollars in clout have anything to do with Dallas Dean and his hundreds of co-workers staying in harm's way?
Individual workers on any job have a hard time taking individual action. This is doubly true in the construction industry. "Any day you don't work is a day you don't get paid," David, a New York ironworker told People's World. Dylan, an apprentice on a job site in Chicago agreed. "We're used to going to work sick – that's just what we do."
More than other union jobs where seniority rules, building trades workers' job security depends on staying off the contractor's shit list. Most of the workers interviewed for this article asked that their identities be protected. Even with union representation, workers are especially vulnerable to employer retaliation, not getting picked for the next job. This is triply true for women and people of color.
Building trades unions DO have legitimate concerns about shutting down construction sites. In the construction world there are multi-employer funds that support the workers' pension and other benefits. "If everyone stops working at once, will they have reserves to keep people on health care? In this bad stock market would they have to liquidate holdings at great loss to pay out benefits?" a building trades leader asked People's World.
What about penalties for not finishing a job on time? A job on hold is still costing money – debt service, maintaining the site, etc. There are substantial costs for delay in constructions even for a brief shutdown. Investors, developers, big general contractors, and smaller sub-contractors all have money on the line and are subject to penalties for late completion.
Building trades workers, like workers of any industry in a capitalist economy, find their interests intertwined with those of their employers. They may be mad as hell at the company, but they still don't want to see them go under – and those employers don't hesitate to cynically use those intertwined interests to their advantage.
Boston mayor and building trades step up
Nevertheless, Boston Mayor Martin Walsh, himself a former union laborer and building trades leader, has defied pressure, with the support of area building trades union leaders, to keep non-essential construction sites active. In March, Walsh ordered a pause to all construction projects in the city in order to protect workers' safety "and to slow the spread of the virus so that area medical facilities do not become overwhelmed," according to the Boston Globe. Brian Doherty, Building Trades general agent, issued a statement of support: "Our public health community has made clear that social distancing is the only way to combat this virus."
"Our members understand the significance of getting this under control and they'll do everything to support the mayor's decision to minimize the effects of coronavirus," Tom Flynn, executive secretary-treasurer of the New England Regional Council of Carpenters, told the Boston Globe.
Meanwhile Associated General Contractors of America CEO Stephen E. Sandherr pushed back with a statement that the shutdowns "will do more harm than good for construction workers, community residents, and the economy." Sandherr's office was also not answering the phone, no doubt bravely sheltering at home with his family.
Practically the entire city of Chicago is on lockdown, including the lakefront and even dog parks, so why is Dylan working? "I am on a non-essential job site,"  says Dylan, a building trades worker in Chicago, who feels pressure to report to work every day at the future site of a luxury high-rise in downtown Chicago. "It's being left to the individual's decision," Dylan says. "But the challenge in public health is not an individual decision. We don't want to be part of spreading the virus." It feels wrong to be out there commuting knowing that social contact is what keeps the virus spreading.
It was hard to miss the tone of panic in a report from a young electrician on another Chicago construction job who shared this story: "Floor guy tested positive last week. GC didn't tell anyone till the end of the day! Closed the site for one day on Monday but didn't disinfect the area he was working in till Friday. We all touched everything by now. It's only a matter of time we start spreading all over the site then to our homes." The terrified worker adds: "Our site is non-essential."
Dallas Dean in Austin points out the contractors' hypocrisy: "They tell us 'Safety is our #1 priority, but still come in to work.'"
"Like free stuff? So do we. Here at People's World, we believe strongly in the mission of keeping the labor and democratic movements informed so they are prepared for the struggle. But we need your help. While our content is free for readers (something we are proud of) it takes money — a lot of it — to produce and cover the stories you see in our pages. Only you, our readers and supporters, can keep us going. Only you can make sure we keep the news that matters free of paywalls and advertisements. If you enjoy reading People's World and the stories we bring you, support our work by becoming a $5 monthly sustainer today."