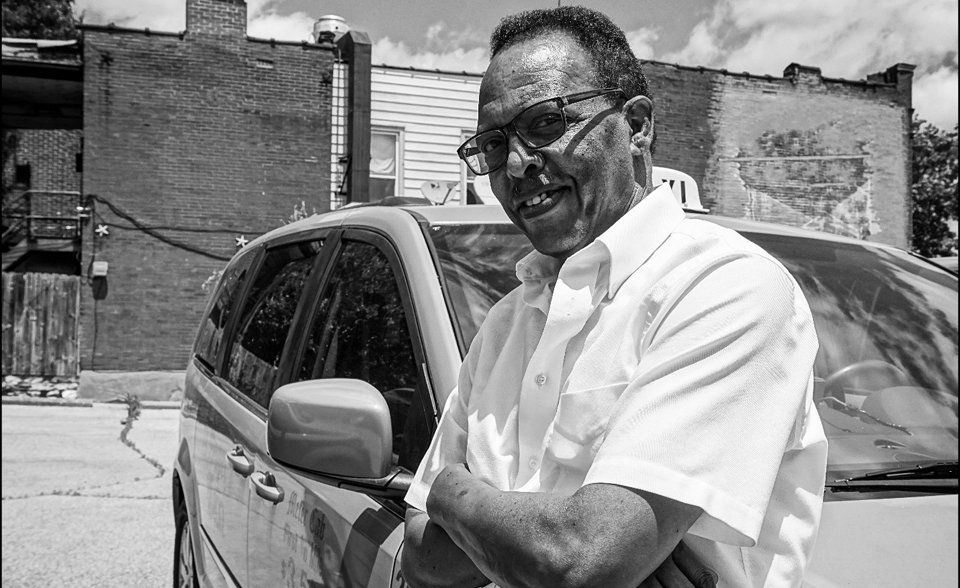 Whoever travels for work or pleasure will eventually find themselves lost, turned around, or needing a ride. Instinctively, they will walk to the edge of a sidewalk, extend their arm up and out, yelling "taxi."
Often, the face sitting behind the steering wheel, smiling, and welcoming you, asking "where to?" will be the face of an American immigrant or African American. And with the state of the nation—the surge of racism, police brutality, and "America First" mentality—it is not safe for Black Americans and immigrants living within the U.S. borders.
As nationwide uprisings continue in the wake of George Floyd's murder, pushing change—not reform—of a corrupt and violent institution (law enforcement), the public narrative continues to deftly shift from protesting injustice to the destruction of property, and lawless acts—the voices of communities in pain are drowned out by the politicization of suffering.
M.G. Tekle watched and waited for the windshield repair work to be finished on his cab when I caught up with him, and we started to chat. He and his family left war-torn Eritrea 30-years ago and settled in St. Louis. Needing to feed and house his family, whilst learning the City of St. Louis layout, Tekle decided the best way to do both was by driving a cab.
He started a regular cabbie with his eyes set on someday owning his own cab company.
Today, he runs a small fleet, still drives, but now is always worried about being Black behind the wheel.
As the mobile shop van and windshield repair techs took off, Tekle walked around his cab, taking a deep look at the finished glass installation. We continued our talk of current events and recent examples of injustice when I asked a question: How do you feel?
Here's what he said:
What happened in Minneapolis shouldn't have happened…They (the four former-Minneapolis officers) knew what they were doing, they knew it was excessive, that it was violent, but they kept going and killed an innocent Black because they thought they were untouchable. The only response to such a crime is protest.
And who do you think is responsible? Of course, the police, but it goes all the way to the top. It's the president who is promoting violence and giving them justification for their violent tactics against Blacks and peaceful protestors, he is responsible for taking an already bad situation and making it worse…with no mention of how to fix it or make it right. The president is all for promoting law and order, but he refuses to hold accountable police officers who commit crimes against people of all skin color. Would he hold them accountable if they killed a white person?
I'm scared for my children, I'm old and have lived a fairly good life, but my children have their whole lives ahead of them, and it isn't right that we, that they, leave home every day, terrified of doing or saying anything that would cause the police show up…we risk our lives by driving down the street, or walking to the store.., I left my home country for the U.S. because I wanted a better life for my family…but now…I'm starting to rethink that. 
So how do I feel? 
Scared, but hopeful thanks to the determination of the young demonstrators calling for change.