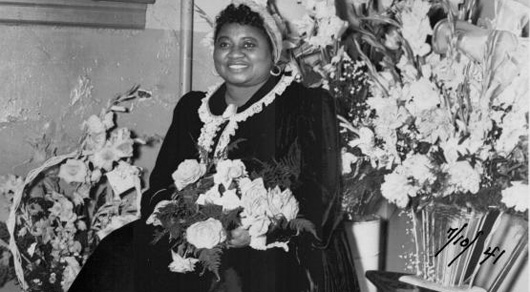 On February 29, 1940, Hattie McDaniel, actress, singer-songwriter, and comedienne, best known for her role as Mammy in Gone with the Wind (1939), won the Academy Award for Best Supporting Actress, making her the first African American to win an Academy Award.
In addition to acting in many films, she was the first black woman to sing on the radio in the U.S. McDaniel appeared in over 300 films, although she received screen credit for only about 80. In 2006 she became the first black Oscar winner honored with a U.S. postage stamp.
Hattie McDaniel was born June 10, 1895, in Wichita, Kan., to former slaves. She was the youngest of 13 children. Her father, Henry McDaniel, fought in the Civil War, and her mother, Susan Holbert, was a singer of religious music. In 1900, the family moved to Colorado. Hattie graduated from Denver East High School.
Her first film appearance was in The Golden West (1932) as a maid; her second was in the highly successful Mae West film I'm No Angel (1933), as one of the black maids West camped it up with backstage. McDaniel had a featured role as Queenie in the 1936 version of Show Boat, and sang a verse of "Can't Help Lovin' Dat Man" with Irene Dunne, Helen Morgan, Paul Robeson, and the black chorus. Later in the film she and Robeson sang "I Still Suits Me," a song written especially by Jerome Kern and Oscar Hammerstein for the film.
It was McDaniel's role as the house slave who repeatedly scolds her owner's daughter, Scarlett O'Hara (Vivien Leigh), and scoffs at Rhett Butler (Clark Gable), that won McDaniel her Academy Award. "I loved Mammy," McDaniel said when speaking to the white press about the character. "I think I understood her because my own grandmother worked on a plantation not unlike Tara." Her performance alarmed some whites in Southern audiences, who complained that she had been too "familiar" with her white owners. But that was largely the character that Margaret Mitchell portrayed in her novel.
When McDaniel tried to take her "Mammy" character on a road show, black audiences did not prove receptive. While many blacks were happy over McDaniel's personal victory, they also viewed it as bittersweet, believing that the film celebrated the slave system and condemned the forces that destroyed it. For them, the unique accolade McDaniel had won suggested that only those who did not protest Hollywood's systemic use of racial stereotypes could find work and success there.
The Twelfth Academy Awards took place at the Coconut Grove Restaurant of the Ambassador Hotel in Los Angeles. Ironically, McDaniel and her escort were required to sit at a segregated table for two.
She made her last film appearances in Mickey (1948) and Family Honeymoon (1949). She remained active on radio and television in her final years, becoming the first black American to star in her own radio show with the comedy series "Beulah." That show was controversial: Critics felt it perpetuated negative stereotypes of black men as shiftless and lazy. She reportedly replied to her critics, "Why should I complain about making $700 a week playing a maid? If I didn't, I'd be making $7 a week being one."
Victory on "Sugar Hill"
Outside of her acting career, McDaniel was also an activist. McDaniel was the most famous of the black homeowners in Los Angeles who helped to organize the black West Adams neighborhood residents to save their homes. Loren Miller, a local attorney and owner/publisher of the California Eagle newspaper, represented the minority homeowners in their restrictive covenant case. McDaniel had purchased her white two-story, 17-room house in 1942. Some of her unhappy white neighbors referred to the original racial restriction covenant (also known as "redlining") that came with the development of tony West Adams Heights back in 1902 which restricted "Non-caucasians" from owning property, and took their case to court.
Superior Judge Thurmond Clarke decided to visit the disputed ground, popularly known as "Sugar Hill." The next morning, he dismissed the case, saying, "It is time that members of the Negro race are accorded, without reservations or evasions, the full rights guaranteed them under the 14th Amendment to the Federal Constitution. Judges have been avoiding the real issue too long."
Hattie McDaniel died on October 26, 1952, at age 57, in Woodland Hills, Los Angeles.
Adapted from Wikipedia (including photo).