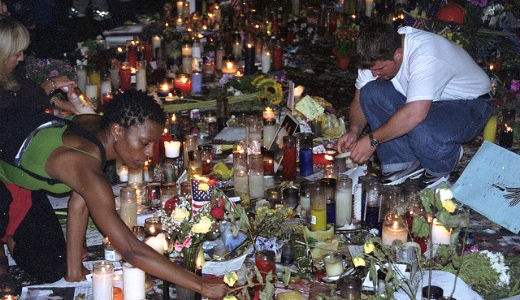 During National Hispanic Heritage Month (September 15 to October 15) we recognize the contributions made and the important presence of Hispanic and Latin Americans to the United States and celebrate their heritage and culture.
Hispanics have had a profound and positive influence on our country through their strong commitment to family, faith, hard work, and service. They have enhanced and shaped our national character with centuries-old traditions that reflect the multiethnic and multicultural customs of their community. Although there is much, especially in the use of the Spanish language, to bring together the various nationalities that are represented in the U.S. today, Latinx are careful to observe important cultural and social differences among the nations.
It also cannot be ignored, especially in communities of laborers who come to the U.S. to pick vegetables and fruit and engage in construction work and service jobs, that a significant number do not even speak Spanish at all, or only as a second language. Their primary language may be a Maya dialect, Mixtec, Zapotec or any of dozens of other tongues native to the Americas. Pro-Indigenous sectors of various movements for justice and social change passionately object to the terms "Hispanic" and even "Latino" because these emphasize only the European side of people's identity, when so many are of mixed racial and ethnic background.
During his career as executive secretary-treasurer of the Los Angeles County Federation of Labor, from 1996 until his death, the pathbreaking labor leader Miguel Contreras (1952-2005) changed the face of American labor. Whereas traditional craft unions had generally disparaged immigrant workers as a threat to the organized labor movement, Contreras argued that this thinking pitted workers against workers. Both groups, he argued, should be organized and united. Although his ideas started catching on spottily at first, now overall the U.S. labor movement is agreed on the necessity to organize all workers, bring them together and make the movement stronger.
The roots of Hispanic Heritage Month go back to 1968. It begins each year on September 15, the anniversary of independence of five Latin American countries, all in Central America: Costa Rica, El Salvador, Guatemala, Honduras and Nicaragua. Mexico, Chile and Belize celebrate their independence days during this period. Día de la Raza – also Indigenous Peoples Day, and also less and less frequently the holiday known as Columbus Day – is October 12.
The term Hispanic or Latino – or the new term Latinx, which designates people of Latin American origin but inclusive of all gender variations – refers to Puerto Rican, South or Central American, or other Spanish culture or origin regardless of race. On the 2010 Census form, people of Spanish, Hispanic and/or Latinx origin could identify themselves as Mexican, Mexican American, Chicano, Puerto Rican, Cuban, or "another Hispanic, Latino, or Spanish origin."
Brazilians, from the largest country in Latin America both in terms of land mass and population, speak Portuguese, as Brazil had been colonized by Portugal, which is "Hispanic" in the sense that Portugal shares the Iberian Peninsula with Spain. Portuguese is a distinct Romance language closely related to Spanish.
Today, 55 million people or 17% of the American population are of Hispanic or Latinx origin. This represents a significant increase from 2000, which registered the Hispanic population at 35.3 million or 13% of the total U.S. population. Each year an ever greater percentage of the voting population is Hispanic, and this vote is eagerly sought after in many states and electoral districts. Over the last thirty years the percentage of the Latinx vote has dramatically risen in favor of Democrats. The Republican Party has become obsessed with demonizing immigrants, and Mexicans in particular, to its severe electoral detriment. This year the Latinx vote is widely predicted to go to Hillary Clinton and downticket Democrats.
Share in this special annual tribute by learning and celebrating the generations of Hispanic, Latinx and Indigenous Americans who have positively influenced and enriched our nation and society. Celebra!
Sources: Hispanic Heritage Month and others. A calendar of events around the country is available here.