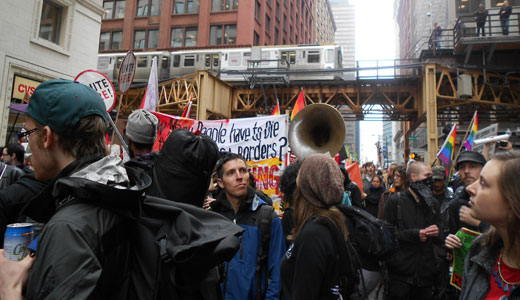 CHICAGO – Thousands of union members, immigrant rights activists and Occupy protesters held May Day rallies and a march from Union Park here into the downtown streets.
The rallies and march were testimony once again to the apparent success labor, immigrant rights and others have had in recent years re-claiming May Day as the day on which workers commemorate and celebrate their struggles.
"This is the real Labor Day," said Bob Reiter, secretary-treasurer of the Chicago Federation of Labor. "They moved Labor Day to September just to pacify the labor movement – to try to separate us from our brothers and sisters around the world who celebrate Labor Day on May Day."
In the crowd at the kick-off rally at Haymarket Square was Armando Robles, the UE leader who led two historic worker takeovers at a windows and doors manufacturing plant in this city over the last five years.
"I am here because all the people of the U.S. are under attack from the U.S. corporations," he said.
Four years ago when the company that ran his plant suddenly laid off workers, saying it was shutting down, Robles led his fellow unionists in a takeover of the plant. The action made national news..
The plant remained open and everyone with workers getting back pay. Then, on Feb. 24, the company again announced it was closing and Robles led a second plant takeover winning a 90-day extension.
Currently, Robles says, a number of workers are in the process of turning the facility into a worker-run cooperative venture.
The leading role of labor in cementing unity amongst various movements represented in the May Day actions and in resurrecting celebrations of May Day itself was perhaps best expressed by a postal worker who addressed the crowd.
"The fact that May Day is the real Labor Day is not lost on letter carriers," said Mack Julion, president of Branch 11 of the letter carriers union in this city.
"Forty two years ago we were poor and many of us were on food stamps but because of our union we are in the middle class today. But they are trying again to keep us down and we will not stand for it," he declared.
Turning to face the CFL's guest of honor, Benedicto Martinez Orozco, who is a leader of the Mexican union, Frente Autentico de Trabajo, he said:
"Letter carriers stand with you. We have a common foe, Wal-Mart's attack on workers knows no boundaries; they are no good for Chicago or for Mexico and the Letter Carriers stand with you, with all the immigrants in America, with all the civil servants and with all the workers. An attack on one is an attack on all."
Julion was referring to recent exposes in the press about corruption and bribery by Wal-Mart in Mexico, child labor practices by Wal-Mart there and theft of overtime pay from workers by Wal-Mart here in the U.S.
At noon thousands massed in Union Park, the take-off point for a march that wound its way through Chicago's streets into the downtown area.
Hotel workers came outside when marchers passed their hotels and waved enthusiastically at the huge delegation of workers from UNITE HERE.
The non-union workers at a Corner Bakery did the same thing.
On Jackson Blvd. a 19-year-old bike messenger, Rosario Gonzalez, wheeled his bike into the march. "I was just going to be an observer," he said "but when I saw this was for immigrant rights I decided to come in. Now I see all these signs for workers rights. Which kind of march is this?" he asked.
He took another look around and said "Oh well, I guess its all the same thing," and continued to march the rest of the route.
Despite the on and off rain the thousands who ended up in Federal Plaza, according to police, were more than double the number who started the march two hours earlier in Union Park.
Photo: Blake Deppe/PW