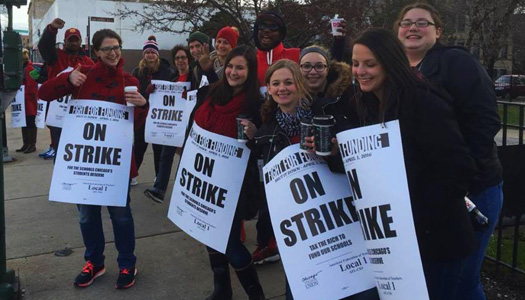 CHICAGO – Chicago 's teachers, augmented by sizeable contingents of parents, students and coworkers from all walks of life here, have shut down the city's school system today in a "Day of Action" that involves widespread protests all over the nation's "Second City."
Teachers picketed outside all of the public schools in Chicago's Hyde Park section this morning with demonstrators on 56th Street shouting, "Who do we love? Teachers. Who do we fight for? The children."
Among the many participants in the citywide strikes and job actions against Republican Gov. Bruce Rauner's budget cuts are workers and community members angry about Nabisco's decision to ship 700 good-paying union jobs out of its South Side Oreo cookie plant here to Mexico.
Nabisco workers marched four blocks from their plant to the nearby Parkington School this morning where they joined some 40 teachers and students picketing the school. They carried signs emblazoned with the initials for the Bakery workers union and the slogan "Shut down Chicago."
"We are so gratified by the backing we are getting from them and from the community," said Kindergarten to 8th grade music teacher Sabrina Townshend as passing cars honked their support.
At the traffic intersection of Garfield and 55th teachers and students who had come from picketing local schools waved strike signs as the parade of passing cars and buses there also honked their support.
Union officials say there are picket lines at virtually every school in the city.
Also part of the "Day of Action" are demonstrations for higher wages for fast food workers and rallies at City Hall, the Cook County Jail and Chicago State University.
Randi Weingarten, president of the American Federation of Teachers, is in Chicago to support the strike.
Chicago teachers voted earlier this month to walk off the job today and shut down the schools in their fight for a new contract. The union's 27,000 members have been working without a contract since June 30 of last year.
The Chicago school system is the nation's third largest with some 400,000 students.
Photo: CTU strike.   |   Chicago Teachers Union Facebook page