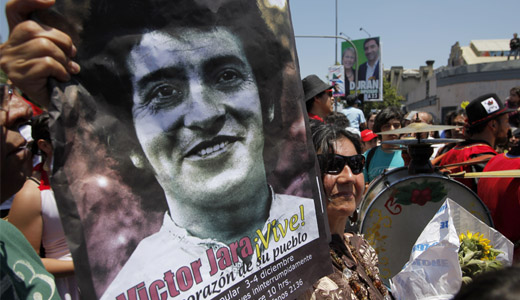 During a three-day wake in Chile, thousands paid tribute to legendary folksinger Victor Jara who was brutally murdered in 1973 by the military coup regime led by dictator Augusto Pinochet.
On Saturday an estimated 6,000 mourners accompanied Jara's remains in a four-mile procession that ended in a cemetery in the nation's capital, Santiago, where he was buried for the second time.
Chilean President Michelle Bachelet hailed Jara as a great poet, singer, social justice activist, actor and a man essential for understanding Chile's national identity.
"Finally, after 36 years, Victor can rest in peace," said Bachelet, who was herself persecuted under the Pinochet dictatorship.
"But there are also lots of other families that want to rest in peace, and that is why it's important that we keep pressing forward in the search for truth and justice, so that Chile can rest in peace," she said. "Victor is with us!"
Bachelet joined thousands of Chileans who filed past Jara's coffin. Many of those present had lost loved ones at the hands of the military.
The coffin was draped in his signature black and red woolen poncho and wreathes of red roses and carnations were placed around it. Many who arrived to pay their respects brought guitars and played Jara's songs to celebrate his life and music.
Jara is revered as a champion of Chile's working people and a national symbol of resistance during the dark years of the Pinochet regime. He came from humble rural roots and rose to become one of the country's beloved musicians and well-known theater director in the 1960s and early 1970s.
At the time Chile was witnessing a growing movement of radical ideas that led to the presidential election of popular socialist candidate Salvador Allende in 1970.
Jara was part of the Nueva Cancion (New Song) movement, which sought to infuse music with social commentary. During most of his adult life Jara was an activist with the Chilean Communist Party. Today he remains a hero for many not just in Chile but also throughout Latin America and the world. Jara was a staunch supporter of President Allende and used songwriting, music and his own fame to stand up for the rights of working people and social justice causes.
Some of Jara's best-known songs are simple ballads chronicling the lives of Chile's poor and downtrodden, its factory workers and its farmers. Others, such as "El Derecho de Vivir en Paz" (The Right to Live in Peace), refer to the international events of Jara's era, such as the Vietnam War.
Many believe Jara helped pave the way for Allende's democratically elected rise to power. During the three years of Allende's administration Jara supported the president and his progressive reforms.
Allende and Jara were murdered within days of each other following the 1973 coup. Jara was arrested, detained at the Santiago football stadium with 5,000 other supporters of Allende, tortured and murdered a few days later.
Jara's widow Joan arranged a hasty, clandestine burial in Santiago's general cemetery before fleeing into exile.
Last June, his corpse was exhumed in an on-going investigation to clarify the circumstances of his murder. A former army draftee, Jose Paredes Marquez, an 18-year-old conscript at the time, has been charged with Jara's death.
Marquez told investigators that an army officer known as "The Crazy One" played Russian roulette with Jara at the stadium-prison. The officer allegedly held a gun to Jara's head, spinning the cylinder and pulled the trigger repeatedly until a single bullet was fired. According to Marquez, soldiers were then ordered to finish the job by firing more than 40 bullets into Jara's body.
Marquez twice signed declarations describing his sworn testimony. However, after finding a lawyer and getting transferred to a military prison he has since recanted his story and denies any involvement.
Speaking at the ceremony this weekend, Joan Jara, now 82, said, "This strange funeral for Victor 36 years after his death is an act of love, of grief for all our dead. We know that among this multitude there are many families that suffer the pain that our family suffers."
She told the Associated Press, "The guilty ones are Pinochet for giving license to kill and torture – and all the other people who were part of it and enjoyed it, killing with gusto."
Even if Jara's murder is finally solved, his widow says Chile can't achieve justice without addressing the thousands whose lives were lost for political reasons before Pinochet finally ceded the presidency in 1990.
"There's a tendency to say, and even government leaders say this, that we're working for justice particularly in the emblematic cases," she said. "Victor is an emblematic case. I can have hope that we can discover the truth and perhaps even achieve justice, that those responsible could be sentenced. But it's not right that so many other cases are left unresolved."
More than 3,000 people were killed or disappeared during military rule in Chile from 1973 to 1990.
The Santiago stadium has since been renamed after Jara as a memorial.
Photo: A woman holding a portrait of Victor Jara attends his funeral procession in Santiago, Dec. 5. (AP/Claudio Cruz)