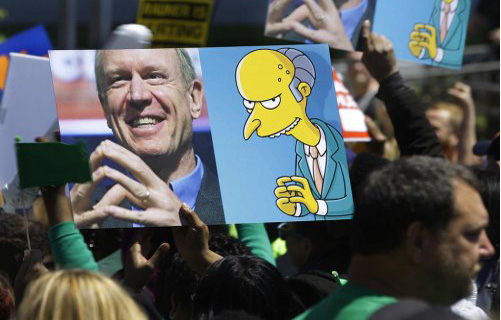 SPRINGFIELD, Ill. – Mike Staley, a retired member of the Operating Engineers Local 649, knew when the call came for action he would be there. So did thousands of others.
Staley and over 10,000 union members joined together on May 18 to rally against right-wing Illinois GOP Gov. Bruce Rauner's attack on working families and organized labor.
"I am here because it is important to support my kids and my grandkids, because if the attacks continue, they will not be able to make a living," Staley said. "And I am reaping the benefits of my union's healthcare and pension. I am a proud union member and proud to be marching with my brothers and sisters."
The 'Rauner Is Hurting Illinois' march and rally spanned out over six full city blocks as organized labor, the community, and religious organizations marched from the historic old State Capitol, past the governor's mansion and finally arriving at Illinois' current State Capitol.
Union members were there to give Rauner a lesson in solidarity and to fight against his 'turnaround agenda' which has held the state budget – and its citizens-hostage for the past 11 months.
The budget battle between the Democratic-controlled General Assembly and Rauner has been costly for the state, but has mostly affected the poor and indigent who rely heavily on the state for help. Social service agencies in some cases have been forced to close or cut staff, funds for people with special needs and their caretakers have dried up and people are scrambling to take care of their families.
It's also been similar, though more extreme, than conflicts between right-wing governors and legislatures and workers and their allies in other states around the country.
From the moment Rauner was sworn in on Jan. 12, 2015, he has made it clear he wants to eliminate or weaken collective bargaining, get rid of prevailing wages, overhaul the workers' compensation system, and cut state worker's pensions and salaries – all part of his 'turnaround agenda' which he says is to make Illinois more "business-friendly." He's been using the state budget, which was due last July 1, to push that scheme.
Union members decided enough is enough. Marchers arriving at the State Capitol were greeted by Illinois AFL-CIO President Michael Carrigan, who declared. "We are here at the State Capitol to deliver a message" to Rauner. The message? "Our state is in a very bad crisis.
"Agencies are closing their doors and laying off dedicated workers, universities are facing massive cuts that affect their core mission, infrastructure projects have stalled, state government has shut down as Rauner tries to force workers to go out on strike, local governments are cutting services. Medical providers and other vendors have payments owed.
"All this devastation is due to one man, a multi-millionaire who thinks a few should impose their views on the whole state…he doesn't care how much damage he does to you in the process."
Jeff Maher, a Galesburg firefighter and member of Associated Fire Fighters of Illinois, stepped to the microphone as the 10,000 union members chanted to Rauner, 'Do Your Job!' "I am here today because I disagree with Governor Rauner who has a total disregard for the safety of our children and the security of our families," he said. "When a politician pledges to serve, they must also pledge to protect."
Logan Hall, an IBEW Local 702 member, knows the Rauner agenda is hurting everyone and affecting communities statewide. "Great jobs build great communities, he is trying to destroy everything we have built in this state…Let's get this state back to work!"
The rally also drew members of the General Assembly, who have stood firmly beside working families and organized labor for the past 11 months. As Senate President John Cullerton and House Speaker Michael Madigan spoke, workers chanted, "Thank you!"
The rally comes on the heels of Rauner vetoing-for the second time-SB580, which created the option for binding arbitration in contract negotiations with state employees. The governor walked away from negotiation with AFSCME Council 31 last year. The council represents the overwhelming majority of state workers.
Rauner has asked a judge to declare an impasse in negotiations so he can impose his final contract offer, which includes a 4-year pay freeze, cuts in overtime and an increase in health care costs for employees. Rauner also wants to privatize positions as he sees fit.
AFSCME Council 31 members showed up en masse. "I've never been to a rally of that size and magnitude. The energy from the crowd and the speakers were incredible. I was proud to be a part of such an amazing event," said Kevin Kennedy, president of AFSCME Local 3586 of Peoria.
"It was great to see every union in Illinois coming together in opposition to the Rauner anti-union agenda," said Tim Lavelle, a Council 31 staff rep. "We stood in a unified voice against the Rauner plan to reduce middle class income by granting tax breaks to the rich."
Union solidarity – public sector and private sector-was evident. "We are here to support all the local men and women here in the state of Illinois for fair wages hours and conditions," said Paul Flynn, business manager of IBEW Local 34 in Peoria. "We are making a solemn pledge we are not going to back down, we're not going to give up,  we are going to keep up the fight every day and we are going to make Illinois work for all of us," Carrigan said.
Illinois Working Together, a coalition of labor organizations chaired by the Illinois AFL-CIO and the Chicago Federation of Labor, sponsored the "Rauner is Hurting Illinois" March.
The coalition included representatives from 35 unions.
Sharon K. Williams is Editor of The Labor Paper.
Photo: Unionists rally against Rauner in Springfield, May 18, here comparing him to a greedy cartoon character from "The Simpsons."  |  Seth Perlman/AP