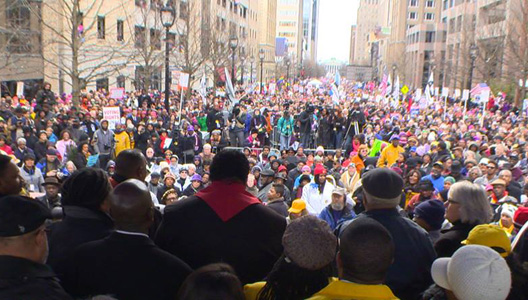 DURHAM, N.C. – The North Carolina NAACP and its allies in the labor and other movements will be at the state capitol Tuesday, May 27 to lobby lawmakers to rescind laws they say are hurting the state's most vulnerable.
At what they are calling the Forward Together Moral Movement People's Lobby and Advocacy Day, people from across North Carolina will demand that state legislators reverse course and expand Medicaid, restore the Earned Income Tax Credit, the extend unemployment benefits, increase support for teachers and public schools, pass stronger regulations regarding coal ash and pass a tax code that ends windfalls for the rich.
"Last Monday, we entered the General Assembly with tape over our mouths to dramatize Speaker Thom Tillis' and Senate Leader Phil Berger's tyrannical attempt to silence public petitions in the People's House," said Rev. Dr. William J. Barber, II, president of the NC NAACP and architect of the Forward Together Moral Movement.
"We said it then, and we will say it again, that was the last time we will be silent when our brothers and sisters are suffering under these extreme policies and laws. This Tuesday, we will go into the People's House ready to make our voices heard on behalf of thousands of North Carolinians. By visiting each and every North Carolina legislator in person, we hope to remind them that their political choices are more than just policy debates – they are hurting real people."
At the People's Lobby and Advocacy Day, volunteer lobbyists will gather at 9 am on Halifax Mall behind the General Assembly building to listen to a policy briefing from scholars and to receive advocacy instructions. The assembled will break into smaller lobbying teams around 10:30 am and head into the General Assembly to visit the offices of state legislators to advocate for repeal. The volunteer lobbyists will reconvene at Halifax Mall at 12 pm for a "Poor Man's Lunch" where they will stand and break bread in solidarity with the working poor.
The Forward Together Moral Movement has also released a new video on May 19's Moral Monday rally and action.
Photo: Forward Together Facebook Page.