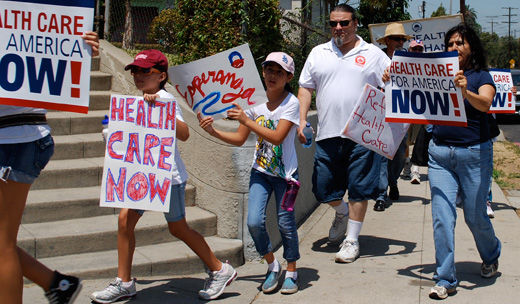 WASHINGTON – The presidents of the Teamsters, the United Food and Commercial Workers and Unite Here have asked congressional Democratic leaders to redo the 2010 health insurance law to prevent firms from converting workers from full-time to part-time jobs, and then dumping the workers from health insurance.
"Time is running out: Congress wrote this law; we voted for you," UFCW President Joe Hansen, Teamsters President James Hoffa and Unite Here President D. Taylor wrote in a recent letter. "We have a problem; you need to fix it. The unintended consequences of the Affordable Care Act (ACA) are severe. Perverse incentives are already creating nightmare scenarios."
The top one, they told Senate Majority Leader Harry Reid, D-Nev., and House Minority Leader Nancy Pelosi, D-Calif., is that employers are already shifting workers to part-time jobs and then escaping paying for health care coverage.
"When you and the president sought our support for the Affordable Care Act, you pledged that if we liked the health plans we have now, we could keep them. Sadly, that promise is under threat," the three, whose unions have more than 2.5 million members, said.
"Right now, unless you and the Obama administration enact an equitable fix, the Affordable Care Act will shatter not only our hard-earned health benefits, but destroy the foundation of the 40-hour work week that is the backbone of the American middle class."
Workers suffer a double hit, the three said: "Fewer hours means less pay while also losing our current health benefits."
The union leaders' letter comes at a critical time for implementing the health care law. The Obama administration announced earlier in July that the deadline for business compliance with the law would be postponed for a year, to help iron out the difficulties of such a huge undertaking.
That prompted the radical right GOP House majority to approve – for the 39th time – legislation to kill the entire ACA.
The three union leaders also echoed the first union president to dissent, Kinsey Robinson of the Roofers, who, months ago, called for ACA repeal or reform. "Our concerns over certain provisions in the ACA have not been addressed, or in some instances, totally ignored," Robinson said then. The "rush to achieve its passage" produced "unintended consequences inconsistent with the promise that those who were satisfied with their employer-sponsored coverage could keep it," he explained.
Hoffa, Hansen and Taylor said the White House has stonewalled them, too.
"Since the ACA was enacted, we have been bringing our deep concerns to the administration, seeking reasonable regulatory interpretations to…help prevent the destruction of nonprofit health plans. As you both know first-hand, our persuasive arguments have been disregarded and met with a stone wall by the White House and the pertinent agencies."
And the unions resented that treatment while "other stakeholders" – they singled out business – "repeatedly received successful interpretations for their grievances."
Hansen, Hoffa and Taylor also shared Robinson's concerns about the ACA's impact on multi-employer plans, which unions and management jointly run in construction, food processing and other industries.
So does the International Brotherhood of Electrical Workers, spokesman Jim Spellane said. IBEW President Ed Hill does not seek ACA's repeal, but is talking to leaders about changes. IBEW ran ads and posted a website white paper about ACA.
"These provisions jeopardize our multi-employer health plans, have the potential to cause a loss of work for our members, create an unfair bidding advantage for those contractors who do not provide health coverage to their workers, and in the worst case, may cause our members and their families to lose the benefits they currently enjoy as participants in multi-employer health plans," Robinson warned then.
Hoffa, Hansen and Taylor told Reid and Pelosi workers would suffer the double hit. "Under the ACA as interpreted by the administration, our employees will…not be eligible for subsidies afforded other citizens. Many will be relegated to second-class status and shut out of the help the law offers to for-profit insurance plans," they said.
"Finally, even though non-profit plans like ours won't receive the same subsidies as for-profit plans, they'll be taxed to pay for those subsidies. Taken together, these restrictions will make non-profit plans like ours unsustainable, and will undermine the health-care market of viable alternatives to the big health insurance companies.
"We can no longer stand silent in the face of elements of the Affordable Care Act that will destroy the very health and well-being of our members along with millions of other hardworking Americans," their letter concludes.
Photo: California health care march. CCBYNCSA2.0