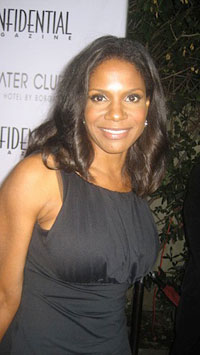 LOS ANGELES – During her one night only concert on Oct. 26 at the Dorothy Chandler Pavilion here awesome Audra McDonald revealed herself as not only possessing a stellar soprano voice, but also a sparkling wit, winning personality and a strong social consciousness and conscience. This was the first time she was back at L.A. Opera since co-starring with Patti LuPone in Kurt Weill and Bertolt Brecht's Rise and Fall of the City of Mahagonny in 2007.
McDonald's repertoire was, in her words, "a hodgepodge of musical theater…from 1927 to 2011." Accompanied by an on-stage trio, McDonald performed standards by Broadway masters; songs from movie classics; as well as numbers by relative newcomers still carving out a space for themselves in the musical world. In the first category the five-time Tony winner regaled the nearly sold-out throng with spirited renditions of tunes by Irving Berlin, Frederick Loewe and Alan Jay Lerner, and Stephen Sondheim.
Other pieces by lesser known, up and coming composers/lyricists displayed a great sense of humor, not only in content but in delivery, too. Gabriel Kahane combined Craigslist classified online ads with the rarefied genre of German art songs for solo voice and piano called Lieder, and the result as rendered by La Audra was a deliciously droll concoction called Craigslistlieder. A witty song called "Baltimore," about a dad warning his daughter to avoid dating certain types of men-including "navel gazing actors"–had us in proverbial stitches, thanks to Marcy Heisler and Zina Goldrich's lyrics.
McDonald's banter with the audience and pianist/music director Andy Einhorn, bassist Mark Vanderpoel, and percussionist Gene Lewin-she jokingly referred to them as "my white boys"-was likewise lighthearted. Early in the concert she advised ticket buyers who wanted to sing along, "Don't you dare-this is my concert!"
The statuesque two-time Grammy Award winner, clad in a full-length black gown striped with golden bands, also showed she has a romantic sensibility in songs such as Frank Loesser's "Can't Stop Talking About Him." She also has a philosophical side, performing Jule Styne, Betty Comden, and Adolph Green's "Make Someone Happy" from Do Re Mi as a sort of credo McDonald introduced by urging audience members to "love one another." In this more wistful, reflective mood McDonald tickled the ivories herself in honor of her father, a pilot who died a few years ago in a plane crash, accompanying herself as she sang Cabaret co-creators John Kander and Fred Ebb's "Go Back Home" (which is also the name of her first album in seven years, released on the Nonesuch Records label) from The Scottsboro Boys.
McDonald took the time to explain to the audience who the Scottsboro Nine were-African-American youths wrongfully accused of and incarcerated for allegedly raping two white women during the 1930s, one of Depression-era America's greatest cause célèbres. She went on to rather boldly defend same-sex marriage from the stage, declaring, "I am a beneficiary of the Civil Rights movement," and strongly defending equal rights for all, to much applause.
Pronouncing herself to be a fan of Judy Garland, McDonald stated that after Garland's untimely death in 1969, some of her gay fans were holding a party to honor her in Greenwich Village, when the police raided the bar, called the Stonewall. Saying that this "Stonewall Riot" was the start of the gay rights movement, during her encore McDonald serenaded her enraptured listeners with Garland's signature tune, "Over the Rainbow," by Harold Arlen and Yip Harburg. (What McDonald did not say is that Harburg was a socialist who was later blacklisted.)
For a second encore, McDonald gave us "Summertime," from Porgy and Bess, for which she won her first leading actress Tony in 2012.
Next up for McDonald is a co-starring role as the Mother Abbess in a live NBC-TV broadcast on Dec. 5 of Rodgers and Hammerstein's beloved antifascist classic The Sound of Music. Her one-night-only gig at the Dorothy Chandler marked the Los Angeles leg of her four-month, 22-city North American tour.
The new book co-authored by L.A.-based reviewer Ed Rampell, "The Hawaii Movie and Television Book," published by Honolulu's Mutual Publishing, appears Nov. 25. See: http://hawaiimtvbook.weebly.com/.
Photo: Audra McDonald (watchwithkristin/CC)