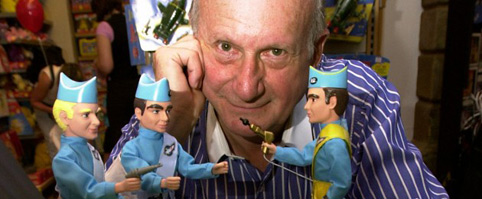 For those of us of a certain age, memories of childhood Christmases might well include presents from the imagination of Gerry Anderson. Whether it was a plastic Fireball XL5 rocketship, or a diecast Dinky Thunderbird rescue craft, or even a Lady Penelope tea set, the 1960s were saturated with the magic of Anderson's clever, colorful TV programs. This Christmas brought the sad news of Anderson passing away at age 83.
Most of what Anderson is known for are low-budget television series that starred puppets. Filmed in "Supermarionation", these would be simple affairs if anyone else had been at the helm. But Anderson and his many talented young craftsmen and film makers poured enormous ingenuity and ambition into what they made, and the work always rose far above anything ordinary. Not only were the puppets and surroundings given enormous attention in design and detail, the storylines unfolded in stylish futuristic settings that involved remarkable special effects and incredible visual concepts. The miniature work impressed everyone. When Stanley Kubrick began working on 2001: A Space Odyssey in England he was so impressed by what Anderson was producing that he attempted to lure the effects team away to work on his epic.
After his national service the young Anderson, the son of Jewish, Socialist parents, served as a film editor. He then formed a small independent company with a few others and waited for fame and opportunity, which arrived in the form of a primitive children's program for independent television. Hardly an auspicious beginning, The Adventures of Twizzle was the foundation for what would become a series of innovative enterprises. The plan was to produce puppet films so good that the small company would gain notice and move onto bigger and better projects. What the early shows led to were bigger and better puppet shows. This may have proven a dead end for lesser souls, but the Anderson camp applied their ample talent and vision to fashion pop culture sensations appreciated by all ages.
With science fiction series tailor-made for their swinging space-age era, efforts like Fireball XL5 and Stingray, went on to become hugely successful outside their native Britain, with sales to US television networks and many other countries besides. Stingray was one of the first series filmed in color in the UK, with an eye to overseas sales (color broadcasts were many years away for British viewers).
Thunderbirds, premiering in 1965, is the ultimate Anderson series. It ranks with pop culture treasures such as the Bond films and the Beatles as a perfect product of the 1960s. Each episode had a cinematic approach, with fast-paced action and the trademark effects that captivated audiences (and still does). By this time Anderson had developed a fortunate relationship with independent television mogul Lew Grade. With Grade's backing Anderson built a small empire that reached beyond television into toy merchandising, publishing, and licensing of other television properties. It was almost a Walt Disney approach, though in truth the Anderson shows were produced on a modest trading estate in suburban Slough. Anderson at this time was collaborating with his then wife Sylvia, who not only helped devise the program formats, but helped develop the colorful characters and even voiced the famous Lady Penelope character from Thunderbirds. Sylvia brought an element of impeccable taste that complemented Anderson's ability to recognize and organize technology and talent.
As the 1960s became the 1970s, Anderson left puppets behind to embark on the sort of live action productions he'd always wanted to make. UFO was to become another classic series. This was followed by the far more ambitious Space: 1999, the most expensive television program produced at the time. But Anderson's projects fell out of favor and fashion as the years went by, despite science fiction enjoying a resurgence.
However, many who "grew up" working on Anderson's projects went on to greater success, especially in the special effects field. Both Derek Meddings, who would helm the effects for the Superman, Batman and James Bond films, and Brian Johnson, who supervised effects for Alien and The Empire Strikes Back, started on the puppet series only to later win Oscars. The influence of Anderson extended to the many who watched his programs and felt inspired to enter creative fields. Many imaginative TV series and films we enjoy today can be traced to imaginations sparked by the Anderson series.
Anderson's previous television work has attained an enduring cult appeal, and when the puppet series were screened in the 1990s by the BBC they reclaimed a national audience, winning viewership over contemporary offerings and launching successful merchandising all over again, with the kids of parents who watched the shows as children themselves causing Christmas panics for Thunderbirds toys that sold out due to massive demand.
Sadly, Anderson had sold his interests long ago, so he was unable to reap financial gain from new toys and video releases. But Anderson has gained in stature over the years as a visible figure who has often appeared to discuss his celebrated work. His humor and humility made him a comfortable figure to fans of his TV series. The legacy of his television work ensures that Gerry Anderson will be both missed and fondly remembered.