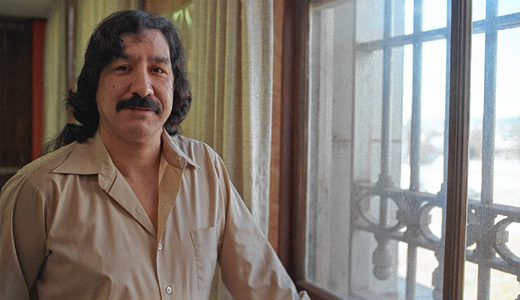 When I first got active in the labor and social justice movements some 35 years ago, there were a few slogans that seemed omnipresent: "Free Nelson Mandela"; "Free Mumia Abu Jamal"; "Free Leonard Peltier and all political prisoners".
Mandela eventually won his freedom. Victims of the FBI's infamous and secret COINTELPRO program were also released, such as Black Panther Eddie Conway, who after 44 years was eventually freed. Abu Jamal still languishes in jail, but he and the lawyers and broad grassroots movement working to free him have succeeded in getting the death penalty sentence commuted.
But time is running out for American Indian Movement activist Peltier. It is a now or never moment to win his freedom. That's why he and supporters have filed a petition for clemency with President Barack Obama. In a moving and eloquent letter, marking the 41st anniversary of the tragic firefight that led to the deaths of two FBI agents, Ronald Williams and Jack Coler, AIM activist Joe Stuntz and the eventual imprisonment of Peltier, he wrote of his "great remorse" for lives lost and the grieving of loved ones. He also wrote this sobering sentence, "I believe that this President is my last hope for freedom, and I will surely die here if I am not released by January 20, 2017."
Peltier is not in good health. He suffers from diabetes, high blood pressure, and a heart condition. He has maintained his innocence for four decades. President Obama, who has taken important initiatives regarding Native American rights and sovereignty, is Peltier's "last hope."
Writing a letter of support for Peltier in June 23 edition of The New York Review of Books, Martin Garbus and Rose Styron put the push for clemency in the larger context of justice for Native people.
"The clemency petition is not about Leonard's guilt or innocence-it is about all of the issues that Leonard Peltier has come to represent during four decades in prison, including, among other things, the historic injustices against Native Americans; the distrust between Native American communities and federal law enforcement agencies; the poverty and polarized conditions on Pine Ridge Reservation in the 1970s, which were exacerbated, in part, by an ineffective federal response; the ensuing violence that drove Pine Ridge to become the scene of many murders of Native Americans; and the circumstances that led up to and followed the June 26, 1975, shootout, in which two young FBI agents and one young American Indian lost their lives," they wrote.
As we go into the July 4th weekend, take a moment to send a letter to President Obama, voicing your support for freedom and justice for Peltier: http://www.freepeltiernow.org.
Photo: AP