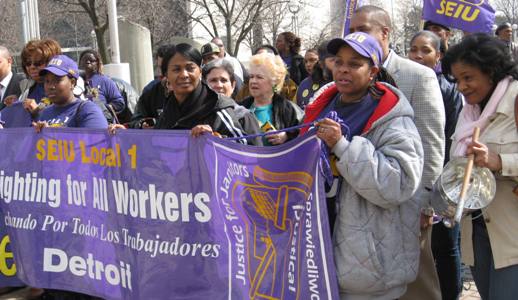 DETROIT – From the Detroit Metro Airport, to Ford's world headquarters, General Motors Renaissance Center and the Buhl Building in downtown Detroit here, the work they do makes it possible for others to keep doing theirs.
They clean those buildings and many more and their agreement with seven different contractors expires this June.
"They" are the hard-working janitors and members of Service Employees International Union.
Preserving health care coverage will be a key bargaining issue. "We don't want to see drastic cuts coming to very low paid workers. Any more cuts would send these folks into poverty," said Erica Kimble, Detroit City Director for SEIU Local 1. "Health care is something we will preserve and we will march to keep it," she stated as several hundred workers marched through downtown Detroit this week to kick off SEIU's 2010 contract campaign.
Rod Bashir is vice-president of the multi-state local and hails from Chicago. He also happens to serve as an elected official in a small town, and understands the kinds of pressure put on employers in today's economic climate.
However, he cautions the pressures are "three fold on employees trying to balance their books as well." He says the increasing cost of health care is problematic and the union is asking our employers to "get on board with the effort to provide national health insurance."
Pamela Owens works at the Renaissance Center and said the strength of the contract will affect "the way I run my house, the way my kids go to school, the way I put food on my table." She has four children between the ages of 10 to 18 and health care is a very important issue. "One of my kids plays basketball; it's so easy to get hurt. Top of the line issue for me is health care."
Owens has worked at the Renaissance Center for 24 years. "In 24 years I've only gotten $6.00 in raises. They talk about economic hard times. What about when the times were good? They gave us a dime here and dime there for 24 years. I'm tired of Parkay, I want butter too," she declared.
Brenda Bevels is a steward at the Detroit Metro Airport and on the bargaining committee. She also worries about the hardships health cuts would bring. "I have to take medication. I have high blood pressure. My mom is diabetic. Health care needs to be affordable."
She said it's getting more difficult to get by. The money she and the others spend on prescriptions, rent, insurance and other bills means they are "just fighting to survive."
Her attitude on contract negotiations is "we are going to be fighting very hard. We don't want to cut. Our livelihood is going down. We want to add."
Once they reached the end of their walk, the marchers gathered in Hart Plaza for a short rally.
Bashir told the crowd' "I understand Detroit is having a tough time economically. The whole country is."
He called on the union's membership to be active in helping turn things around. "It won't get better when good people step back. If you believe is some scripture, your contract should be just under that scripture because it will determine your economic life going forward."
On the walk back to the union's headquarters Kimble told this reporter Detroit's future is bleak if people can't make enough to live comfortably. "These folks are barely living from paycheck to paycheck. One piece of paper [the contract] will determine whether or not their future is going to have a happy ending."
Photo: John Rummel/PW