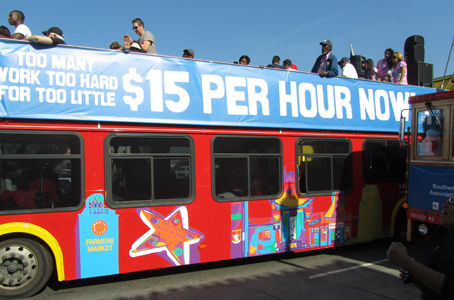 LOS ANGELES – Far from the glittering concert halls of Hollywood where Academy Awards will soon be handed out, the streets of Los Angeles filled Monday with over 3000 marchers and tens of thousands of observers of all nationalities and ethnic backgrounds lined up in relaxed holiday attire along Martin Luther King Jr. Blvd.
The parade stretched from Figueroa St. near the University of Southern California campus several miles west to Leimert Park. The smells of impromptu barbeques in residents' front yards, and the gleeful sounds of children laughing and people cheering the marchers filled the balmy, spring-like air.
Major participants in the 30th annual King Day Parade included unions such as the Teamsters, SEIU, and the L.A. County Federation of Labor, and a number of high school marching bands performing in full regalia, college fraternities, church groups and other community organizations, an equestrian unit sponsored by a black horse riders' club, and commercial floats. Bringing up the rear were small but significant contingents of left-wing and Jewish organizations in solidarity with the underlying theme of the day, Black Lives Matter.
Los Angeles City Council President Herb Wesson, an African-American, served as the grand marshal. Police, who monitored the parade on almost every block, were well behaved and unobtrusive, though evident. There were no reported incidents, although the Los Angeles Times reported on Tuesday that in neighboring Orange County, in the city of Santa Ana, some 40 residences were hit with flyers from the Loyal White Knights of the Ku Klux Klan smearing Martin Luther King, Jr. and demeaning the King birthday holiday. Last July residents in the city of Orange also received such flyers.
Another underlying theme of the demonstration in honor of King and his message of universal love, hope and nonviolent activism was the recently released film Selma, which has been drawing good audiences in this film town. The Hollywood community has fallen under criticism this year for not including a single person of color among the Oscar nominations.
A positive mood of celebratory solemnity characterized the day.
Photo: The L.A. County Federation of Labor bus, recalling the bus Rosa Parks rode to demand an end to segregation, promotes the $15 an hour campaign. Eric A. Gordon/PW.