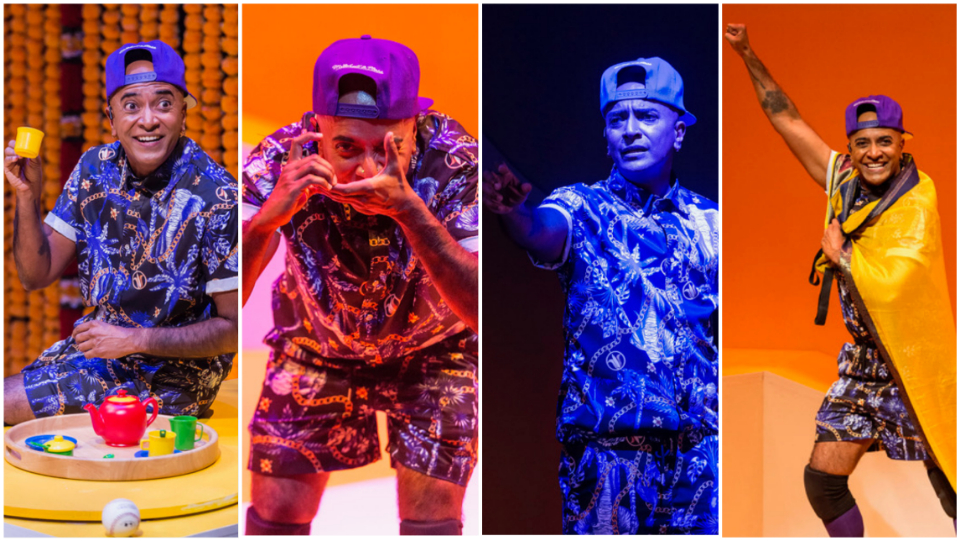 CULVER CITY, Calif. — You've probably often wondered—as I have—how a queer/transgender female-to-male U.S.-born Tamil Sri Lankan-American gets on in this troubled, racist patriarchal world.
Well, all your questions can now be answered. All you have to do is hurry over to the Kirk Douglas Theatre by July 10th with a $30 bill in hand, to see trans actor/writer/comedian D'Lo perform his boundary-smashing, poignant, and uplifting one-man show To T, or Not To T? A Comedic Trans Journey through (T)estosterone and Masculinity.
Surprise! Who could have known? It turns out that, uh, like most important art, the specific becomes the universal once you peel back the cultural dress and uncover the human skin beneath it.
To T, in its original Los Angeles LGBT Center production, kicks off this season's Block Party: Celebrating Los Angeles Theatre, a program of Center Theatre Group that remounts some of the most ambitious and accomplished plays that have graced L.A.'s small stages over the past year and really deserve a bigger production and wider audience. We attended the opening night performance on June 29.
Written and performed by the one and only D'Lo, the act mines his personal autobiography for all its hilarity and pathos, shaped and directed by his longtime collaborator Adelina Anthony, s self-described "award-winning Two Spirit Xicana lesbian feminist artist living and working on Tongva lands…. She practices the Indigenous tenet: Story is Medicine."
What is utterly charming about this 80-minute piece is that some of that twenty-dollar academic argot that comprises much of the jargon for people on the left simply spills off his tongue as though he had learned these words at his amma's knee. I lost count after the first half-dozen mentions of "patriarchy." Each time we grin in appreciation for such vocabulary having crossed the fourth wall.
As the show progresses, we learn a great deal about D'Lo—his immigrant family origins, his parents, his sister, cousins and relatives, his friends and chosen community, his early confusion in life being raised as a tomboy, and as the title states, his operations, and medical treatment. The show begins and ends with his commitment ceremony.
But in a word of advice to his audience whenever the topic should arise, "Do not ask about our genitalia. Do not reduce us to the junk under our clothing." Gender and identity go much farther and deeper than that. It is taking society a long time to understand that, and some probably never will.
The scenic design, a stage for the space age, is by Tanya Orellana, with projections by Meena Murugesan. As we wait for D'Lo to appear, fleeting images of "ancestors" flit by on the back panel. I recognize James Baldwin, Bessie Smith, and Josephine Baker passing like intergalactic ships in the infinite skies.
The title of D'Lo's show is an obvious bow to the Bard, but it's more than a joke. The actor includes the beginning lines of Hamlet's great soliloquy (more than once, actually), and we are meant to understand that transforming our gender presence in the world truly is as much of a life-and-death question as being itself was for the Danish prince.
D'Lo's title also contains other depths of meaning. Not far into the play, he recalls that he decided to transition over a cup of tea. And isn't the whole show an intimate session of "spilling the T," i.e., the Truth?
When D'Lo started puberty, he says, that was a transition itself, not just into womanhood, but from his childhood behavior and self-image as a boy into the body of someone he didn't want to be. He adopts a succession of identities—bisexual, gay, queer, trans. His father's hopes and expectations are dashed. Not only does his daughter now identify as a son, but D'Lo also didn't want to become a doctor. Even worse, he became an artist!
On a trip to Bali, D'Lo discovers there are other, gentler ways to be a man. And he has a problem with those who say he's abandoned women by transitioning out. He doesn't understand why they don't get it—that he's become the kind of feminist man they say they want more of! "You're losing us?" you cry? "Feels like we're losing you!"
As those closest to him attend his commitment ceremony and show their acceptance, D'Lo muses: You see, "we're all transitioning."
Performances run through July 10, Tues. through Fri. at 8 p.m., Sat. at 2 and 8 p.m., and Sun. at 1 and 6:30 p.m. Tickets are available through CenterTheatreGroup.org, Audience Services at (213) 628-2772, in person at the Center Theatre Group Box Offices (at the Ahmanson Theatre) at The Music Center, 135 N. Grand Ave. in downtown L.A., or at the Kirk Douglas Theatre (open 2 hours prior to curtain) at 9820 Washington Blvd. in Culver City 90232. Center Theatre Group continues to require masks, along with proof of full vaccination, and a government- or education-issued ID at all its venues.