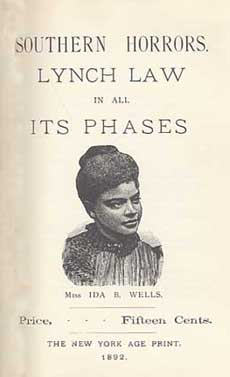 Most people associate this date with the birthday, in 1809, of President Abraham Lincoln. If you are particularly well informed you know that the great 19th-century scientist Charles Darwin ("The Origin of Species") was born on the exact same date.
What you may not realize is that the founding of the National Association for the Advancement of Colored People (NAACP) took place, significantly on Lincoln's centennial birthdate, in 1909.
Among its founders was Ida Wells-Barnett, born a slave in 1862, who became an investigative journalist, a tireless crusader against lynching, a suffragist and advocate for women's rights. Another founding member was the historian and scholar W. E. B. DuBois.
The NAACP, with chapters in many parts of the country, has fought all forms of racial oppression, both through community action and its legal department, which brought a number of lawsuits challenging segregation and voting disenfranchisement in the civil rights era and beyond.
The NAACP is still one of the premier national civil rights organizations. Its North Carolina chapter president, the Rev. William Barber, has led the Moral Mondays movement to protest the Republican-led state government's moves to suppress the vote in North Carolina and otherwise install a hard right-wing agenda. Demonstrations take place every Monday to call attention to the ways that agenda hits labor and all oppressed communities.
A recent campaign of the NAACP in California has highlighted the solar industry and pointed out that people in poorer communities, without the wherewithal to convert their homes to solar power, are in effect subsidizing the rich though their high energy bills.
On Friday, Feb. 6, the NAACP Image Awards, held in Pasadena, Calif., gave the film "Selma" its best picture nod, David Oyelowo (Rev. King) best actor, Carmen Ejogo best supporting actress, and Common, best supporting actor.
Photo: Wikipedia