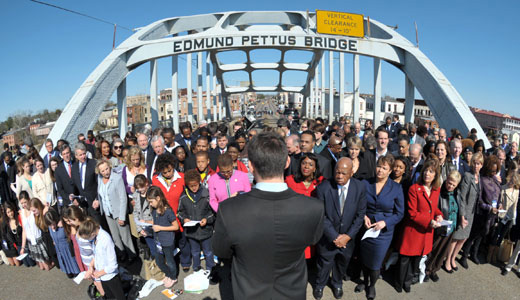 Twenty-six year old civil rights protester Jimmie Lee Jackson died this day, Feb. 26, 1965, from gunshot wounds inflicted by Alabama State Trooper James Fowler. Jackson's murder provided the catalyst for the famous Selma to Montgomery march, also called "Bloody Sunday" as protesters were attacked while crossing the Edmund Pettus Bridge. In response to the state violence, President Lyndon Johnson asked Congress to pass a comprehensive voting rights bill. Congress passed the Voting Rights Act of 1965 and President Johnson signed the act into law on Aug. 6, 1965.
Today, the 1965 Voting Rights Act continues to face attacks from restrictive voter ID laws and other voter suppression schemes to legal challenges. Shelby County, Alabama, sued the Department of Justice over the law's Section 5, which requires counties and states with a history of racism and discrimination to seek Department of Justice clearance before changing any voting rules or districts. The case is now before the Supreme Court. In 2009, the high court upheld Section 5 of the Voting Rights Act, but left the door open to jurisdictions being able to "bailout" of the preclearance mandate.
Voting rights opponents claim the section is "outdated," however recent elections have been gerrymandered to weaken African American and minority representation. The NAACP Legal Defense Fund states in its amicus brief to the Supreme Court that Section 5 is still necessary because "notwithstanding undeniable progress, striking voting discrimination continues and is concentrated in the covered jurisdictions."
Most recently in the town of Calera, Shelby County, the DOJ had to block its redistricting plan because it erased the only majority black district and with it the city's only black representation on city council.
It was less than 50 years ago when Jimmie Lee Jackson was killed during a peaceful protest in nearby Perry County, Ala. Jackson, a deacon of the St. James Baptist Church in Marion, Ala., had been inspired by the Rev. Martin Luther King Jr., and the civil rights movement to get active. Jackson tried for four years to register to vote, a right he was systematically denied during that time.
According to the account in Wikipedia, the night of Feb. 18, 1965, 500 protesters left Zion United Methodist Church in Marion and attempted a peaceful walk to the Perry County Jail about a half a block away where young civil rights worker James Orange was being held. Jackson was marching with his mother Viola Jackson, and his 82-year-old grandfather, Cager Lee, when Marion City police officers, sheriff's deputies, and Alabama State Troopers brutally attacked the protesters. Among those beaten were two United Press International photographers, whose cameras were smashed, and NBC News correspondent Richard Valeriani, who was beaten so badly that he was hospitalized.[3] The marchers turned and scattered back towards the church.
Jackson and his family ran into a restaurant behind the church, pursued by troopers. Police clubbed the octogenarian grandfather to the floor in the kitchen. As the police continued to beat him, his daughter Viola attempted to pull the police off. She was also beaten. Jackson attempted to protect his mother; one trooper threw him against a cigarette machine. A second trooper shot Jimmie Lee twice in the abdomen. Fowler later admitted to being that trooper. Although shot twice, Jackson fled the café amid additional blows from police clubs and collapsed in front of the bus station. Jackson died at Good Samaritan Hospital in Selma. After his death, Sister Michael Anne, an administrator at Good Samaritan, said there were powder burns on Jackson's abdomen, indicating that he was shot at very close range.
A grand jury declined to indict Fowler in September 1965. Some 42 years after the cold-blooded killing, in May 2007, Fowler was finally charged with first and second-degree murder and surrendered to authorities.
Fowler pled guilty to manslaughter, and was sentenced to six months in jail in 2010. Perry County commissioner, Albert Turner Jr., called the agreement "a slap in the face of the people of this county."
Many say the conservative Supreme Court could issue another "slap in the face" if it overturns a section of the Voting Rights Act still necessary to help ensure equal access to the ballot and democratic representation.
Editor's note: This article was originally published Feb. 26, 2013. Since then the Supreme Court did gut the Voting Rights Act. The labor movement, along with numerous other social justice movements and organizations, elected officials, and prominent individuals are mounting national and statewide campaigns to restore and improve the Voting Rights Act and repeal legislation that denies anybody their right to vote.
Photo: The Congressional Faith & Politics Institute group gathers on the Edmund Pettus Bridge prior the 47th recreation of the "Bloody Sunday" civil rights march from Selma to Montgomery in Selma, Ala., March 4. Kevin Glackmeyer/AP