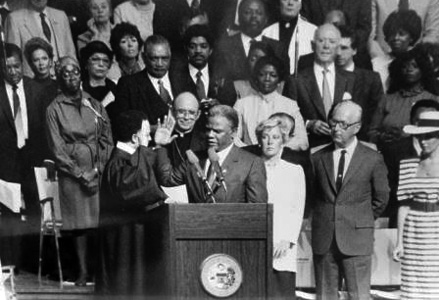 On February 22, 1983, Washington won the Democratic mayoral primary in Chicago and later was elected the first African-American Mayor of Chicago, serving from 1983 until his death in 1987.
Born in Chicago in 1922, Washington grew up in the Bronzeville neighborhood, at the time the center of black culture in the entire Midwest.
He attended DuSable High School, then a new segregated high school, and was a member of the first graduating class. He worked at a meat packing plant for a time before getting a job at the U.S. Treasury.
In 1942, Washington was drafted into WWII and sent overseas as part of a segregated unit of the Army Air Forces Engineers. Washington rose to the rank of First Sergeant in the Air Force. The three years Washington spent fighting for his country in the South Pacific while experiencing racial prejudice and discrimination, helped shape his views on racial justice.
In the summer of 1946, Washington enrolled at Roosevelt College (now Roosevelt University) the first integrated private college in Chicago, and one of few in the nation. 75% of the student had enrolled because of the nondiscriminatory progressive principles.
At Roosevelt, Washington was named to a committee that supported citywide efforts to outlaw restrictive covenants, the legal means by which minorities were prohibited from purchasing a home in predominantly white neighborhoods.
In 1948, Washington was elected the third president of Roosevelt student council. Under his leadership, the student council successfully petitioned the college to have representation on Roosevelt' faculty committees. At the first regional meeting of the newly founded National Student Association in 1948, Washington and nine other delegates proposed student representation on all faculty committees, and a "Bill of Rights" for students. but both measures were defeated.
Washington went to the state capital to protest Illinois legislators' coming probe of "subversives," that would outlaw the Communist Party and require loyalty oaths for teachers. He led students' opposition to the bills, but they passed in 1949.
Washington then studied at Northwestern University School of Law in Chicago where he was the only black student in his class. In 1951, his last year, he was elected treasurer of the Junior Bar Association (JBA). During the evenings and weekends, Washington worked to supplement his GI Bill income. He received his J.D. in 1952.
Harold Washington spent many years in Chicago's predominantly black wards working within the tangled power politics of the Democratic Party machine run by Mayor Richard J. Daley. He later helped found the Chicago League of Negro Voters in 1960, although he was elected to the state House on the Daley slate.
Washington's years in the House were marked by constant tension with Daley and the rest of the machine leadership. In 1967, he was ranked by the Independent Voters of Illinois (IVI) as the fourth-most independent legislator in the house and named Best Legislator of the Year.
In the House, he continued work on the Fair Housing Act, and worked to strengthen the state's Fair Employment Practices Commission (FEPC). He also worked on a state Civil Rights Act, which would strengthen employment and housing provisions in the federal Civil Rights Act of 1964. In 1976, Washington was elected to the Illinois Senate. There his main focus was to pass 1980's Illinois Human Rights Act.
In 1980, Washington was elected to the U.S. House of Representatives for Illinois' 1st congressional district. His major congressional accomplishment involved legislation to extend the Voting Rights Act. And he railed against GOP President Ronald Reagan's deep cuts to social programs on the Congress floor.
For the February, 1983, Democratic mayoral primary, Chicago community and labor organizers registered more than 100,000 new African American, Latino and poor and independent white voters. Washington won with 37% of the vote, versus 33% for Byrne and 30% for Daley.
Although winning the Democratic primary was normally tantamount to election in heavily Democratic Chicago, after his primary victory Washington found that his Republican opponent, Bernard Epton (earlier considered a nominal stand-in), was supported by many conservative white Democrats and machine ward organizations, including the chairman of the Cook County Democratic Party, Alderman Edward "Fast Eddie" Vrdolyak.
In his campaign, Washington stressed such things as reforming the Chicago patronage system and the need for a jobs program in a tight economy. In the April 12, 1983, mayoral general election, Washington defeated Epton 51.7% to 48.0%, to become mayor of Chicago. Washington was sworn in as mayor on April 29, 1983, and resigned his Congressional seat the following day.
Among his accomplishments as Mayor of Chicago, Harold Washington
Created the Ethics Commission
Issued an executive order increasing minority business contracts
Opened government with a Freedom of Information executive order
Led fight for ward redistricting; more black and Hispanic representation
Fought for equal provision of public services; neighborhood street, curb and gutter repair
Opened the city'In budget process for public input and participation
Encouraged neighborhood festivals and projects
Led movement for Illinois's Dr. Martin Luther King, Jr. Holiday Bill
For more on the legacy of Harold Washington, visit Chicago's Harold Washington Library Center, or go online here.
Video: Harold Washington remembered