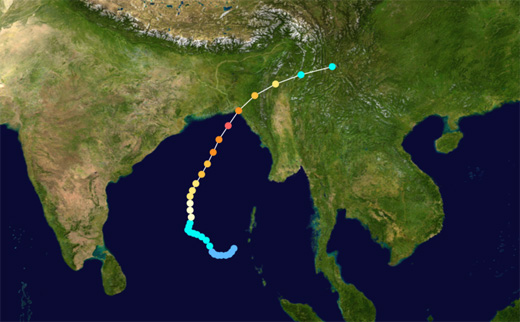 On this day in 1991, a powerful tropical cyclone with winds over 150 mph hit Bangladesh. It was one of the deadliest on record. At least 138,000 people were killed by the storm and most food crops were washed away or destroyed.
The storm surge caused the embankment, as well as whole villages, to be swept away. For an additional three to four weeks after the storm had dissipated, mass land erosion resulted in more and more farmers losing their land, causing a rise in unemployment. In several areas up to 90 percent of crops had been washed away. The shrimp farms and salt industry were left devastated.
Fatalities: around 25,000 dead in Chittagong, 40,000 dead in Banshkali and 8,000 dead in Kutubdia . Most deaths were from drowning, with the highest mortality among children and the elderly.
Although cyclone shelters had been built after the 1970 Bhola cyclone, many had just a few hours of warning and did not know where to go for shelter. Others who knew about the storm refused to evacuate because they did not believe it would be as bad as forecast. Even so it is estimated over 2 million people did evacuate from the most dangerous areas, possibly mitigating the disaster substantially.
Image: The 1991 Bangladesh cyclone track. Wikimedia Commons.