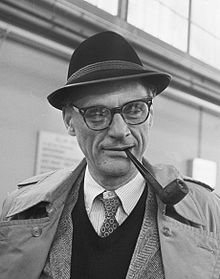 October 17 is the 100th birthdate of American author and playwright Arthur Miller. Among his most popular plays are All My Sons (1947), Death of a Salesman (1949), The Crucible (1953) and A View from the Bridge (1956). He also wrote several screenplays and was most noted for his work on The Misfits (1961). Death of a Salesman is on the short list of finest 20th-century American plays.
Miller was often in the public eye, particularly during the late 1940s, 1950s and early 1960s. During this time, he was awarded the Pulitzer Prize for Drama; testified before the House Un-American Activities Committee (HUAC); and was married to Marilyn Monroe.
Arthur Asher Miller was born in Harlem, in upper Manhattan. His father was successful in the women's clothing business, but lost almost everything in the Wall Street Crash of 1929. The family moved to Gravesend, Brooklyn, where Arthur delivered bread every morning before school to help the family. After graduating from Abraham Lincoln High School, he worked at several menial jobs to pay for his college tuition.
At the University of Michigan, Miller studied journalism and English, worked for the student paper, the Michigan Daily, and wrote his first play, No Villain. The award he won for it brought him recognition and led him to consider a career as a playwright. After his graduation in 1938, he joined the Federal Theater Project, a New Deal agency established to provide jobs. He chose the theater project despite the more lucrative offer to work as a scriptwriter for 20th Century Fox. However, Congress, worried about possible Communist infiltration, closed the FTP in 1939. Miller worked in the Brooklyn Navy Yard while continuing to write radio plays, some of which were broadcast on CBS.
In 1940, he married Mary Grace Slattery. Miller was exempted from military service during World War II because of akneecap injury. His first producedplay, The Man Who Had All the Luck, won the Theatre Guild's National Award, but closed quickly.
In his book Trinity of Passion, historian of writers on the left Alan M. Wald conjectures that Miller was "a member of a writer's unit of the Communist Party around 1946," using the pseudonym Matt Wayne, and editing a drama column in the New Masses magazine.
In 1947, Miller's tragicAll My Sons was a success on Broadway, earning him his first Tony Award, for Best Author. In the aftermath of World War II the play focused on profiteering from shoddy manufacture of war materiel.
In 1948, Miller built a small studio in Roxbury, Conn. There he wrote Death of a Salesman,which premiered on Broadway on February 10, 1949, directed by Elia Kazan, and starring Lee J. Cobb as Willy Loman. This contemporary American tragedy, an object lesson in the emptiness of the American Dream, won a Tony Award for Best Author, the New York Drama Circle Critics' Award, and the Pulitzer Prize for Drama, the first play to win all three of these major awards. It has been produced all over the world in many languages, has been filmed and televised, and several times revived on Broadway.
Marilyn, HUAC and "The Crucible"
In 1952, director Elia Kazan appeared before HUAC and named eight members of the Group Theatrewho had been fellow members of the Communist Party. Miller and Kazan had been close friends throughout the late 1940s and early 1950s. After speaking with Kazan about his testimony, Miller traveled to Salem, Mass., to research the witch trials of 1692. The Crucible, in which Miller likened HUAC to the witch hunt in Salem, opened on Broadway on January 22, 1953. Though only moderately successful at the time, todayThe Crucible is Miller's most frequently produced work and was adapted into an opera by Robert Ward, which won the Pulitzer Prize for Music in 1962.
Kazan defended his own actions through his film On the Waterfront, in which a dockworker heroically testifies against a corrupt union boss. With this film, the composer of the score, Leonard Bernstein, also made his accommodation with the "witch hunters."
HUAC took an interest in Miller himself not long after The Crucible opened, denying him a passport to attend the play's London opening in 1954.When Miller applied in 1956 for a routine renewal of his passport, HUAC used the opportunity to subpoena him to appear before the committee. Before appearing, Miller asked the committee not to ask him to name names, to which the chairman, Francis E. Walter, D, Pa., agreed.
When Miller attended the hearing – to which Monroe accompanied him, jeopardizing her own career – he gave the committee a detailed account of his political activities. Reneging on the chairman's promise, the committee demanded the names of friends and colleagues who had participated in similar activities. Miller refused to comply, saying,"I could not use the name of another person and bring trouble on him." A judge found Miller guilty of contempt of Congress on May 31, 1957. Miller was sentenced to a $500 fine or thirty days in prison, blacklisted, and denied a passport. In 1958, his conviction was overturned by the court of appeals, which ruled that Miller had been misled by the HUAC chairman.
In 1957 his drama A View from the Bridge, about immigration, out-of-control male anger, and snitching opened.
In June 1956, Miller left his first wife and on June 29 married Marilyn Monroe. They had first met in 1951, when they had a brief affair, and had remained in contact since.Miller began work on The Misfits, starring his wife, but shortly before the film's premiere in 1961, the pair divorced. Less than two years later, Monroe was dead. Inge Morath worked as a photographer documenting the film's production – which was the last appearance for both Monroe and Clark Gable, and one of the last for Montgomery Clift.
Miller married Morath in 1962 and they remained together until her death in 2002.
In 1964 After the Fall was produced, interpreted as a deeply personal view of the author's marriage to Monroe. The play reunited Miller with his former friend Kazan, who collaborated on both the script and the direction. After the Fallunleashed a flurry of publicity and outrage at putting a Monroe-like character, called Maggie, on stage. That same year, Miller produced Incident at Vichy.
In 1965, Miller was elected the first American president of PEN International, a position which he held for four years. Miller's penetrating family drama, The Price, debuted in 1968, becoming Miller's most successful play since Death of a Salesman.
In 1987, Miller's autobiographical work, Timebends, was published. Before it appeared, Miller was famous for not talking about Monroe in interviews; in Timebends Miller relates his experiences with Monroe in detail.
Arthur Miller's career as a writer and dramatist has maintained steady since his death.The University of Michigan opened the Arthur Miller Theatre in March 2007, the only theatre in the world, per his express wish, that bears his name.
Miller was honored many times over during his lifetime. He was inducted into the American Theater Hall of Fame in 1979.In 1993 he received the Four Freedoms Award for Freedom of Speech and was awarded the National Medal of Arts.In 2001 the National Endowment for the Humanities (NEH) selected Miller for the Jefferson Lecture, the U.S. federal government's highest honor for achievement in the humanities. Miller's lecture, "On Politics and the Art of Acting,"analyzed political events (including the U.S. presidential election of 2000) in terms of the "arts of performance," and drew attacks from conservatives.
Three of Miller's nonfiction works center on life in socialist countries. In Russia (1969), the first of three books created with his photographer wife Inge Morath, offers Miller's impressions of Russian society. That same year, Miller's works were banned in the Soviet Union owing to his campaign for the freedom of dissident writers.Chinese Encounters (1979) is a travel journal with photographs by Morath. It depicts China in the state of flux which followed the Cultural Revolution. Miller discusses the hardships of many writers, professors, and artists as they try to regain the sense of freedom and place they had lost during that precarious time.Salesman in Beijing (1984) details Miller's experiences with the 1983 Beijing People's Theatre production of Death of a Salesman. He describes the idiosyncrasies, understandings, and insights encountered in directing a Chinese cast in a quintessentially American play.
Miller died at his home in Roxbury, Conn., on February 10, 2005, aged 89.
Adapted from Wikipedia.
Photo: Arthur Miller | Wikipedia (CC)