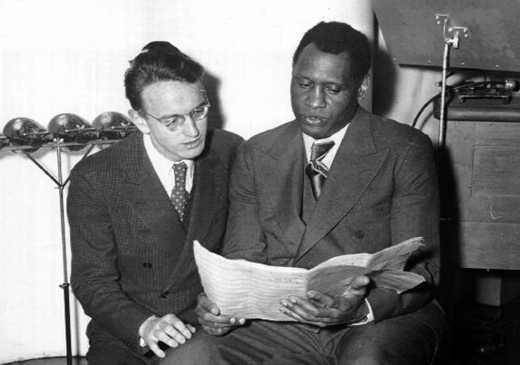 On this date in 1910, composer Earl Robinson was born in Seattle. He received an undergraduate music degree from the University of Washington in 1933. The following year, finding little other work, he sailed on a passenger cruise to Asia and back as the shipboard entertainer, singing popular songs and playing salon, classical and dance music. The ship took him to Tokyo, Kobe, Shanghai, Hong Kong and Manila.
Shanghai, he writes in his autobiography, "was an eye-opener in my political education. The city was divided up into several foreign concessions – German, British, French. I took a rickshaw to the American concession, located behind a wall twenty feet high. There, in this city of eight million Chinese, I actually saw a sign posted: 'No Chinamen or dogs allowed.' Fifteen years later I quoted this to people who wondered about China going Communist."
With his newfound consciousness, Robinson headed for the East Coast, picking up regional folksongs along the way. In New York he threw himself into labor struggles, contributing songs and skits to the workers theater movement. He also befriended the leading radical composers of the day, such as Aaron Copland, Elie Siegmeister and Marc Blitzstein.
At Camp Unity, a Communist camp in New York State, he spent the summer of 1936 as the musical coordinator, arranging performances using songs from the Industrial Workers of the World (IWW) era, and the newer songs just emerging from the contemporary leftwing movement. Robinson's special gift, which distinguished him among his fellow composers, was his early orientation toward the American folk idiom, which he adapted with agility. At Camp Unity he met the lyricist Abel Metropol, better known by his pen name, Lewis Allan, and they became frequent collaborators over the next forty years.
One song they composed together that summer starts off:
I always read the paper "for people who think." / I never dreamed that I was even pink / Till one lovely evening in the public parks / I met a stalwart fellow whose kisses left their – Marx. / I kissed a communist, was my face red!
That same summer Robinson chose a poem by Alfred Hayes, previously published in New Masses, and in 45 minutes set it to music:
"I dreamed I saw Joe Hill last night /Alive as you and me. / Says I, "But Joe, you're ten years dead." "I never died," says he. / "I never died," says he.
That song took off like a prairie fire and became for generations the unofficial national labor anthem.
Robinson composed music for the Federal Theatre Project. In one revue, Sing for Your Supper – the last show produced by the FTP before Congress shut down the program – Robinson's extended "Ballad for Americans," set to lyrics by John Latouche, became a hit. It reached a national radio audience when it was broadcast on November 5, 1939, on CBS, with the American People's Chorus and the world-famous African-American soloist Paul Robeson. Then the 11-minute number really took off, selling thousands of sheet music copies, appearing in movies, and picked up by many other singers. Choral groups around the country programmed it. The rich reverberance of Robeson's wall of sound singing "I am…America" was a powerful blow against racism and a robust, class-conscious affirmation of multiculturalism and the "nobodies" who built our country. In 1940 both the Republican and the Communist national conventions featured the "Ballad" on their program (!).
Robinson's longer cantata, 1944's "The Lonesome Train," written to Millard Lampell's libretto about President Lincoln's funeral train wending its way back to Springfield, Illinois, is in many ways a more substantial composition. It was superbly recorded, and came into noble service on airwaves all over the land when President Franklin Delano Roosevelt died the following year.
Earl Robinson was a Communist Party member from the mid-1930s to the mid-1950s, and suffered greatly from the Hollywood Blacklist, which deprived him of film scoring jobs, a career he had started having some success with. His song "Black and White," to David Arkin's lyric, celebrated the 1954 Supreme Court decision on school desegregration.
Although almost completely unknown today, probably his most successful work from an artistic viewpoint was the folk opera Sandhog, to Waldo Salt's libretto, concerning the lives of the workers who built the subway tunnels in New York City. Later compositions focused on the environment and his evolving spirituality, and include an especially gifted Banjo Concerto. Robinson died in a head-on car crash caused by a drink driver on July 20, 1991.
Eric A. Gordon worked as co-writer with the composer on "Ballad of an American: The Autobiography of Earl Robinson" (Scarecrow Press, 1998).
Photo: Wikimedia (CC)