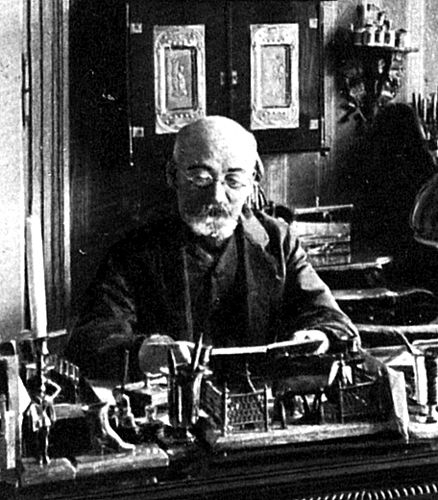 Zamenhof Day (in Esperanto: Zamenhofa Tago), also called Esperanto Day, is celebrated each year on December 15, the birthday of Esperanto creator Ludwik Lejzer Zamenhof. Esperanto is the most successful constructed language in the world.
The history of celebrating Esperanto on Zamenhof's birthday can be traced back to 1878, when at a party for his 19th birthday he presented to his friends his Lingwe uniwersala, the first version of his international language. By 1887, this language had evolved into what is now recognized as Esperanto.
Today, many Esperanto supporters buy an extra Esperanto book around this time of year. Esperanto gatherings and parties throughout the world celebrate the occasion, which also offers a reason for Esperantists to get together during the holiday season.
Born in 1859 in the town of Białystok in the Russian empire, Zamenhof was a Polish Jewish physician, inventor, and writer. He grew up fascinated by the idea of a world without war and believed that this could happen with the help of a new international auxiliary language. In addition to the Yiddish-speaking Jewish majority, the population of Białystok was made up of Catholic Poles and Belarusians, with smaller groups of Russians, Germans, Lipka Tatars, Lithuanians and others. Zamenhof was saddened and frustrated by the many quarrels among these groups. He supposed that the main reason for the hate and prejudice lay in the misunderstanding caused by the lack of one common language. If such a language existed, Zamenhof postulated, it could play the role of a neutral communication tool between people of different ethnic and linguistic backgrounds. The word "Esperanto" means "hopeful." In fact, the very name Zamenhof means "seed of hope."
By the time Zamenhof completed his formal schooling, he was fluent or well versed in Yiddish, Russian, Polish, and the Belarusian dialect of his home town. From his father he learned German and French. In school he studied the classical languages: Latin, Greek, Hebrew, and Aramaic. He later learned some English (though in his own words not very well) and had an interest in Lithuanian and Italian.
In 1887, his book International Language: Introduction and Complete Textbook was published in Russian under the pseudonym "Doktoro Esperanto" (Doctor Hopeful). Zamenhof initially called his language "Lingvo internacia" (international language), but those who learned it began to call it Esperanto after his pseudonym, and this soon became the official name for the language. For Zamenhof this language, far from being merely a communication tool, was a way of promoting the peaceful coexistence of different people and cultures.
After a wave of pogroms against Jews within the Russian empire in the 1880s Zamenhof took part in the early Zionist movement, but left it in 1887. In 1901 he published a statement called "Hillelism," in which he argued that the Zionist project could not solve the problems of the Jewish people. In 1914, he politely declined an invitation to join a new organization of Jewish Esperantists, saying, "I am profoundly convinced that every nationalism offers humanity only the greatest unhappiness…. It is true that the nationalism of oppressed peoples – as a natural self-defensive reaction – is much more excusable than the nationalism of peoples who oppress; but, if the nationalism of the strong is ignoble, the nationalism of the weak is imprudent; both give birth to and support each other…."
Besides his linguistic work, Zamenhof published a religious philosophy he called Homaranismo (loosely translated as humanitarianism). He died in Warsaw in 1917.
Zamenhof and his wife Klara raised three children, Adam, Sofia and Lidia. All three died in the Holocaust.
In 1905 Zamenhof received the French Légion d'honneur for creating Esperanto, as well as other prestigious recognition both during his lifetime and after. Hundreds of city streets, parks, and bridges worldwide have been named after him. The Zamenhof family house and the Białystok Esperanto Centre are important tourist sites in his native city, now in the northeast of modern Poland.
Adapted from Wikipedia.
Photo: Zamenhof at his desk in Warsaw apartment, 1910. Licensed under Public Domain via Commons. "1910-Universo-p322-llzdet" by Unknown – Universo (arkivoj de UEA). Licensed under Public Domain via Commons. Licensed under Public Domain via Commons.