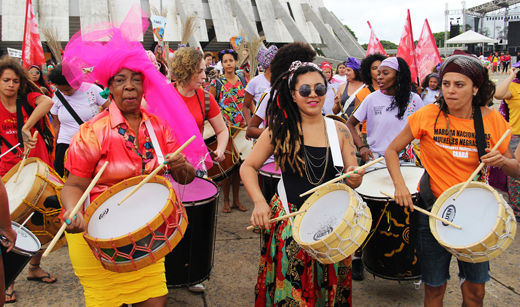 A staggering one in three women have experienced physical or sexual violence in their lifetime – a pandemic of global proportions. Unlike an illness, however, perpetrators and even entire societies choose to commit violence – and can choose to stop. Violence is not inevitable. It can be prevented. But it's not as straightforward as eradicating a virus. There is no vaccine, medication or cure. And there is no one single reason for why it happens.
As such, prevention strategies should be holistic, with multiple interventions undertaken in parallel in order to have long-lasting and permanent effects. Many sectors, actors and stakeholders need to be engaged. More evidence is emerging on what interventions work to prevent violence – from community mobilization to change social norms, to comprehensive school interventions targeting staff and pupils, to economic empowerment and income supplements coupled with gender equality training.
Prevention is the 2015 theme of the International Day for the Elimination of Violence against Women. November 25 marks the kickoff of the UNITE to End Violence against Women Campaign's 16 days of action. This year, at the official commemoration at UN Headquarters in New York, the first UN Framework on Preventing Violence against Women will be launched and discussed, a document coming out of the collaboration of seven UN entities: UN Women, ILO, OHCHR, UNDP, UNESCO, UNFPA and WHO. The framework develops a common understanding for the UN system, policymakers and other stakeholders on preventing violence against women and provides a theory of change to underpin action.
Historically, the date is based on date of the 1960 assassination of the three Mirabel sisters, political activists in the Dominican Republic; the killings were ordered by Dominican dictator Rafael Trujillo. In 1981, activists marked November 25 as a day to combat and raise awareness of violence against women more broadly, and on December 17, 1999, the date received its official United Nations resolution.
From November 25 through December 10, Human Rights Day, the 16 Days of Activism against Gender-Based Violence aim to raise public awareness and mobilize people everywhere to bring about change. You are invited to "Orange the world," using the color designated by the UNITE campaign to symbolize a brighter future without violence.
Events this year have already included: a benefit concert for the UN Trust Fund to End Violence against Women set against an orange stage at Carnegie Hall in New York, and the lighting of the Peace Palace in The Hague, Netherlands. Orange events are planned in more than 70 countries around the world ahead of and throughout the 16 days. They will include the orange lighting of major landmarks like Niagara Falls, the European Commission building (Belgium), the Council of Europe building (France), the archeological ruins at Petra (Jordan), the Christ the Redeemer statue in Rio de Janeiro (Brazil), and the Palais de Justice (Democratic Republic of the Congo). Other events planned range from the "oranging" of bus stops in Timor-Leste (East Timor), to marathons in Venezuela, to spontaneous orange flash mobs in Indonesia.
See more here.
Adapted from unwomen.org and Wikipedia.
Photo: #orangetheworld – Brazil – Black Women's March against Racism and Violence in Brasilia, Brazil, November 18. Daughters, mothers, grandmothers, midwives, ministers, academics, activists, domestic workers and a diverse range of women came from all over the country. United Nations Development Programme | Tiago Zenero