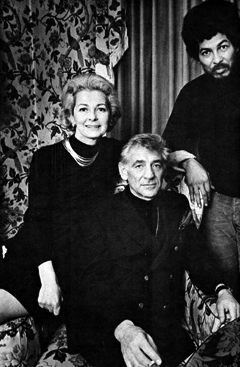 On August 25, 1918, Leonard Bernstein was born in Lawrence, Mass. He became the most prominent American-born conductor and a supremely talented musician, educator and composer.
Bernstein conducted virtually every leading orchestra in the world, made hundreds of recordings, and enjoyed a long tenure with the New York Philharmonic. For a time, his conducting career seemed compromised by his attraction to writing for the Broadway musical stage, which was considered not classy enough for élite symphonic audiences and corporate boards. But he pursued his dream of writing for popular audiences, and is remembered for such works as "On the Town," "Wonderful Town," "Candide," and his masterpiece, "West Side Story." He also wrote film scores, symphonies, choral works and chamber and solo compositions.
Only with the recent availability of Bernstein's FBI dossier, and with the 1997 opening of his archive at the Library of Congress, would it be possible to fully document his long history of political and social engagement. Up to this point, Bernstein's activism had been known piecemeal and anecdotally. New York magazine writer Tom Wolfe used the term "radical chic" in a 1970 article, later appearing in book form, that savagely satirized Bernstein for hosting a swank fundraiser at his home for the Black Panther Party, then under murderous government attack, suggesting that his values and the Panthers' were totally incongruous.
With the resources made newly available, political scientist Barry Seldes released his 2009 study "Leonard Bernstein: The Political Life of an American Musician" (University of California Press: Berkeley).
Upon graduation from Harvard in 1939, Bernstein immediately fell in with older composers who became his mentors, men such as Marc Blitzstein, Aaron Copland, Elie Siegmeister, and Earl Robinson, all of whom were either Communists or close to the party. The FBI started tracking Bernstein.
Earlier biographies tended to minimize Bernstein's politics, but Seldes shows how his social outlook fundamentally informs many of his key works. Seldes uncovered every FBI attempt to pinpoint Bernstein's Communist affiliations. It started when an informant told the FBI that Bernstein "was the director of the local communist John Reed Society" while at Harvard in the late 1930s, and continued for much of the composer's life, from his support for Spanish Civil War refugees, for Ben Davis for New York City Council in 1945, for radical composer Hanns Eisler, for the Progressive Party and the Henry Wallace campaign in 1948, and a constellation of "people's" organizations with self-evident proximity to the Communist Party.
In the end the FBI could apparently never finger Bernstein as a party member, much as it would have relished confirming the hearsay, and Seldes accepts that indeed he had not been. But even if never a member, it is obvious that a handsome, brilliant, articulate artist like Bernstein was helpful to a broad range of important left causes for over a decade.
Bernstein's 1952 one-act opera "Trouble in Tahiti," still staged here and there, is a tragicomic reflection on consumerism, alienation and U.S. militarism right at the peak of the Korean War.
As the object of increasing surveillance, Bernstein was listed prominently in the anti-Communist organs Red Channels and Counterattack. It ended with an affidavit that he signed on August 3, 1953, affirming that he had not been a Communist, only a naïf who lent nominal support to a variety of front groups throughout the 1940s. From there his career resumed and flowered.
Seldes is especially insightful in his cultural exploration of the Bernstein "rehabilitation": In his analysis the neoliberal cultural Cold Warriors allied with the CIA and the State Department won this particular battle against the domestic McCarthyite witchhunters in the FBI and HUAC. The turnaround was a testament to the subtly shifting dynamics of Cold War politics in the mid-1950s, influenced by the powerful commercial interests of the "celebrity machine," the CBS media empire and the New York Philharmonic.
Bernstein used his fame and the end of the blacklist to spring back into political life from the Kennedy presidency on. In 1965 he marched for civil rights in Alabama with Dr. Martin Luther King, Jr., and became a fervent peacenik during the Vietnam War, prominently supporting the Gene McCarthy presidential bid. He was a close personal friend of Father Philip Berrigan of the draft records-destroying Catonsville 9, and relied on his advice for the controversial "Mass" he premiered in Washington's new Kennedy Center. And Bernstein took a great deal of political heat for the Black Panthers benefit. In 1979 he signed a protest petition along with other American intellectuals against continued Israeli occupation of the West Bank.
Bernstein died 25 years ago, on October 14, 1990. His brother Burton, a staff writer for The New Yorker magazine, wrote of him, "Just as long as people care a damn about something finer in life than power and money and their imagined superiority over others there will always be Lenny around to educate, entertain, edify, move and inspire – to change us all in some wonderful, subtle way."
Adapted from the author's "Leonard Bernstein's Radical Politics," Jewish Currents, Winter 2009-2010.
Photo: New York magazine photograph of Leonard Bernstein, his wife Felicia Montealegre and Don Cox, Field Marshal of the Black Panther Party in the Bernsteins' apartment in Manhattan, January 14, 1970. Licensed under Fair use via Wikipedia.