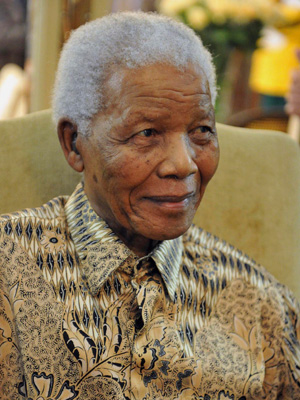 On July 18, nearly 12 million children across South Africa sang Happy Birthday to kick off the nationwide celebrations of Nelson Mandela's 94th birthday,
Mandela was elected South Africa's first black president in 1994 after spending 27 years in prison for his fight against racist apartheid, and was awarded a Nobel Peace Prize for his work towards world peace. He retired from political life in 1999, establishing the Nelson Mandela Foundation to fight poverty, AIDS and illiteracy in Africa.
Today communities in South Africa and around the world are dedicating 67 minutes of the day to volunteer work and projects for the needy – one minute to mark each of Mandela's 67 years in public service. Mandela's grandson, Mandla Mandela, handed out books to children during the birthday celebrations in Mvezo, South Africa,
In many districts, South Africa came to a virtual standstill while strangers greeted each other in the streets, and even toddlers at one pre-school waved at passersby and sang: "We love you, Tata," or "great father," a supreme term of endearment.
Tokyo Sexwale, a longtime ally in the African Nation Congress, described Mandela as a global statesman who inspired the world.
Ahmed Kathrada, one of Mandela's oldest friends, said Madiba, as he is affectionately known by his Xhosa name, championed the dignity of all.
"Nelson Mandela set an example to show us that reconciliation is possible," said 10-year-old Thakgalo Ditabe. She said she wanted Mandela to know how much he meant to her.
Ntando Ntuli, 12, said with pride: "He is my hero because he fought for us. He is an icon, the king of Africa."
Nobel laureate Archbishop Emeritus Desmond Tutu said the greatest gift the nation could give Mandela on his birthday would be "to emulate his magnanimity and grace."
In the U.S., the solidarity struggle against apartheid took many forms. Particularly militant were the longshoremen who refused to handle cargo from apartheid South Africa.
One of the first things Nelson Mandela did after he was finally released from jail was thank the ILWU, and he became an honorary member of Local 10 in June 1990.
Photo: Former South African President Nelson Mandela. Elmond Jiyane, GCIS/AP