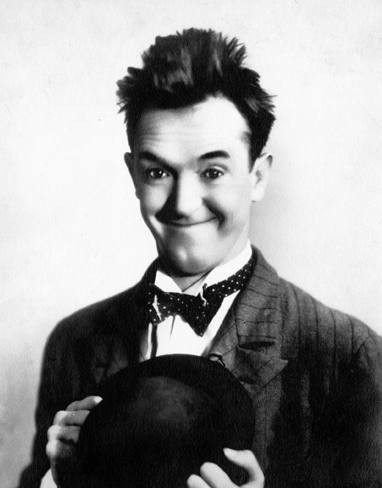 On June 16, 1890, Arthur Stanley Jefferson, world famous under his professional name Stan Laurel, was born at Ulverston, Lancashire (now Cumbria), England. The town sits slightly south of the Lakes District National Park, about 45 miles south of the Scottish border. His parents were both active in the theatre. His father managed Glasgow's Metropole Theatre, where Laurel began work in pantomime and music hall sketches.
In 1910, using the name "Stan Jefferson," he joined Fred Karno's troupe of actors, which also included a young Charlie Chaplin. For some time he acted as Chaplin's understudy. Chaplin and Laurel arrived in the United States on the same ship from Britain with the Karno troupe and toured the country. Laurel worked briefly alongside Oliver Hardy in 1921, before the two were a team, in a silent film short The Lucky Dog (1921).
By 1924, Laurel had given up the stage for full-time film work. When he signed with the Hal Roach studio, he began directing films, intending to work primarily as a writer and director. But once he reappeared with Hardy in Slipping Wives, Duck Soup and With Love and Hisses, the two became friends with inimitable comic chemistry, and huge audience pleasers at the box office. Together they produced a huge body of short films, successfully transitioning to talkies with the short Unaccustomed As We Are (to public speaking) in 1929. Saps at Sea (1940) was their last film for Roach.
During and after World War II they continued making films, but these were less successful.
In 1947, Laurel returned to England when he and Hardy went on a six-week tour of the United Kingdom. The duo were mobbed wherever they went. The tour included Laurel's homecoming to Ulverston – where today there's a small museum dedicated to him – and a Royal Command Performance for King George VI and Queen Elizabeth in London. Their popularity led them to spend much of the next seven years touring the UK and Europe.
Beginning in the mid-1950s both Laurel and Hardy started suffering health setbacks. Oliver Hardy died in August 1957. Laurel was too ill to attend the funeral and never again performed on stage, or acted in another film.
In 1961, Stan Laurel was honored by the Academy of Motion Picture Arts and Sciences with a Lifetime Achievement Oscar for his work in comedy over 35 years in 182 films. He lived his final years in a small flat in Santa Monica, California, spending his time answering fan mail and calls placed to his listed phone number.
The catchphrase most used by Laurel and Hardy on film is: "Well, here's another nice mess you've gotten me into!" first used by Hardy in The Laurel-Hardy Murder Case in 1930. It's a clue to the team's appeal, which peaked during the Depression years. Their 30-minute film The Music Box won the 1932 Oscar for Best Live Action Short Subject. It featured them as a pair of furniture movers in a classic Sisyphean effort of hoisting a player piano up a long, steep outdoor flight of stairs.
The short resonated with audiences who were struggling with the massive loss of jobs after the 1929 stock market crash, and feeling the sense of hopelessness and uselessness to their attempts to get back on their feet. The "Sad Sack" clown image, developed on film by Charlie Chaplin and Buster Keaton alongside Laurel & Hardy, depicted the all too human condition and the tragic lot of the common man, gracefully celebrated by these comedians with physical pranks and pratfalls, woeful expressions, absurdist word play and the willful, mutual destruction of property. These maladroits, down on their luck, with no place to go but up, gave cheer to millions. The best of their humor long outlives them.
Laurel died on Feb. 23, 1965, in Santa Monica, Calif.
Laurel and Hardy is the official website, containing a wealth of information. The Laurel and Hardy Museum is the website for the museum in Georgia (Oliver Hardy's birthplace). Also see http://www.laurel-and-hardy.com.
Photo: Young Stan Laurel, about 1920. Unattributed, public domain.