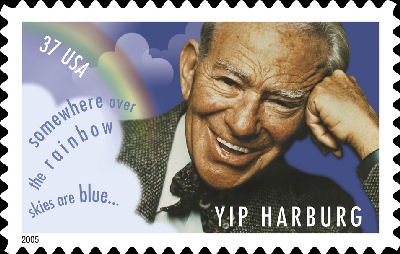 It is a quirk of culture that most popular songs are known by their composer, although lyricists are songwriters too. Few have had as much impact, musically and socially, as the man who wrote "Brother, Can You Spare a Dime?" "April in Paris," songs for the 1943 all-Black movie "Cabin in the Sky," the musical "Finian's Rainbow," as well as the lyrics and much of the screenwriting for "The Wizard of Oz." He and composer Harold Arlen won a 1939 Oscar for "Over the Rainbow." Harburg wrote more than 600 songs for shows and films.
According to the American Film Institute's list of Top 100 Movie Songs, "Over the Rainbow" is number one, known by millions of people all over the globe. "Ding-Dong! The Witch Is Dead," which got a sudden burst of airplay in the UK upon the news of Margaret Thatcher's demise, is also on that list.
Songwriter E.Y. ("Yip") Harburg was born April 8, 1896, on New York's impoverished Lower East Side to immigrant Russian Jewish parents. In his youth he found the teeming life of the theater a more satisfying environment than his parents' religion.
Debuting one month before the 1932 presidential election, "Brother, Can You Spare a Dime?" became a huge national hit, echoing the despair of the working class. Some historians credit that song with helping Franklin D. Roosevelt's sweeping agenda. As a successful lyricist for Broadway and Hollywood, he often embedded social messages into his songs, about women's rights, labor, racism, war and social class. "I am a rebel by birth," Yip said. "I contest anything that is unjust, that causes suffering in humanity."
The pretty ballad "Happiness Is a Thing Called Joe" from "Cabin in the Sky" landed Harburg in big trouble during the McCarthy years. HUAC believed he was making propaganda for Joseph Stalin. Although a frequent supporter of liberal causes, Harburg was never a Communist. "There were so many new issues coming up with Roosevelt in those years," he said, "and we were trying to deal with the inherent fear of change – to show that whenever a new idea or a new change in society arises, there'll always be a majority that will fight you, that will call you a dirty radical or a red."
The wildly successful "Finian's Rainbow," produced in 1947 with music by Burton Lane, was a searing socialist attack on capitalism and racial inequality and enjoyed a smash run of 725 performances on Broadway.
Yip published two books of poetry, the 1965 "Rhymes for the Irreverent" and "At This Point in Rhyme" in 1976. He also wrote a "Birthday Song" honoring the 15th anniversary of the Marxist publication Monthly Review in 1964. Still working as he approached his 85th birthday, Yip Harburg died on March 5, 1981. He believed in beauty and hope, and knew that there is a place in the human heart where "dreams really do come true."
The 2005 U.S. postage stamp commemorating Yip Harburg has the familiar words: "Somewhere over the rainbow, skies are blue…." The 1993 biography, "Who Put the Rainbow in The Wizard of Oz? was written by Harold Meyerson and Yip's son Ernie Harburg. For more information contact the Yip Harburg Foundation at www.yipharburg.com.
Adapted from "The Theater Was His Temple" by Dan Barker, published by the Freedom From Religion Foundation, Inc., April 2005. Barker is co-president of the Freedom From Religion Foundation. His musicianship and songwriting are featured in the foundation's CDs "Beware of Dogma" and "Friendly Neighborhood Atheist."