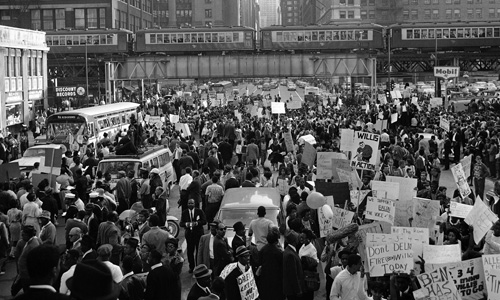 On October 22, 1963, a coalition of civil rights groups organized Freedom Day, a mass boycott and demonstration against segregated schools and inadequate resources for black students. Almost half of Chicago's public school students (estimated at 200,000 students) skipped class, leaving many schools on the predominantly black South and West Sides virtually empty.
In 1963, public schools in Chicago's black neighborhoods were often outdated and always overcrowded. The Chicago Board of Education's answer to overcrowding was to have double-shifts at some schools. Double-shifts meant that students in affected schools attended less than a full day of class. In another measure, at some schools the Board sanctioned the construction of mobile classroom units.
In addition to overcrowding, CPS faculty was segregated, and the history curriculum then did not mention African Americans.
The climax of Freedom Day was the march by students, parents, teachers and supporters to the downtown office of the Chicago Board of Education. Thousands took to the streets, carrying signs that voiced their frustrations. Police met the nearly 10,000 protestors and prevented them from entering the Chicago Board of Education building.
One group organizing Freedom Day was the Coordinating Council of Community Organizations. They helped black parents stage sit-ins against overcrowded schools and pursued legal action against school segregation. In 1964 Al Raby, a black schoolteacher, was elected convener of CCCO.
Another group involved in Freedom Day was the Congress of Racial Equality or CORE, founded in Chicago in 1942.
The film in progress, '63 Boycott, chronicles the Chicago Public School Boycott of 1963. A project of Chicago's documentary powerhouse Kartemquin Films, it features then and now interviews with organizers and participants of the boycott with never-released 16mm footage of the march and student interviews. '63 Boycott and a companion website will provide a modern perspective on the impact and legacy of this history as it reconnects the participants to each other and the event itself.
In September of 2012, the attack on public education in Chicago led to a strike of nearly 30,000 teachers, nurses, librarians, counselors, social workers, aides and paraprofessionals.
The Chicago Teachers Union was fighting for a collaborative voice in any education reform and sought quality, fully funded public education, with smaller class sizes, fully staffed schools and a curriculum rich in art, music, physical education and language at every school.
Teachers saw their fight as bettering not only their pay and benefits, but more importantly working and learning conditions benefiting the students.
Contributing to this story: Chicago History Museum's Facing Freedom website (with photos and newsreel footage), The Encyclopedia of Chicago, Wikipedia.
Photo: Crowd fills LaSalle Street between City Hall and building housing Board of Education as thousands of demonstrators marched in Chicago on Oct. 22, 1963, protesting school segregation. Paul Cannon/AP