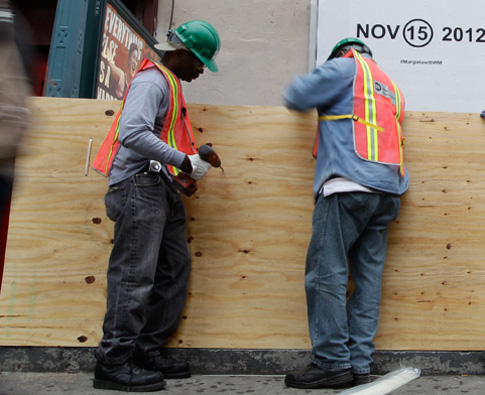 On December 20, 2005, thousands of workers began what was to be a three-day strike of the New York City transit system over retirement, pension and wage issues.
Transport Workers Union Local 100 President Roger Toussaint delivered a terse statement, saying the workers would return to their jobs, and thanking the city's commuters for their patience.
"Local 100 had to walk out to stop the Metropolitan Transportation Authority's 11th hour pension ambush. We walked out strong, and we walk back stronger," read a statement on the Local 100 website.
New York City Council members and African American clergy denounced attacks on the majority Black and Latino union by Mayor Bloomberg, Gov. Pataki and former Mayor Ed Koch as racist and inflammatory. The mayor characterized the strikers as "thugs" and Koch compared them to terrorists.
Support came in to the TWU office from every municipal union, including the police, who were widely reported as friendly to the strikers and whose president walked the picket line. Firefighters, called by MTA managers to put out picket line bonfires, refused to do so.
Strikers interviewed at picket sites in the Bronx, Manhattan and Brooklyn all talked about the overwhelmingly positive response of passers-by, of contributions of pizza, donuts and coffee, and of people coming to walk the picket line with them during lunch hours and after work.
Video: TWU Responds to Hurricane Sandy
Photo: Metropolitan Transportation Authority workers cover an entrance to the Canal St. A, C, and E station with plywood to help prevent flooding, Oct. 27, in New York. Mary Altaffer/AP