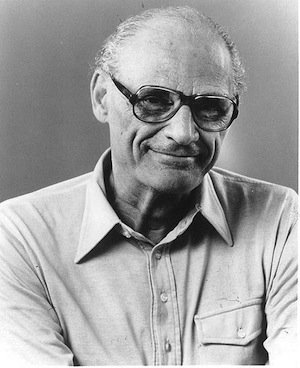 In the height of the Cold War anticommunist witchhunts on June 21, 1956, playwright and a giant of American theater, Arthur Miller, defied the House Committee on Un-American Activities and refused to name any suspected communist.
Miller's courage and defiance of McCarthyism won him a conviction for contempt of court, which was later reversed by the Supreme Court. His passport had already been denied when he tried to go to Brussels to attend the premiere of his play The Crucible, about the Salem witch trials.
Thousands of others suffered under one of the most undemocratic political attacks in U.S. history, indicted, hounded out of jobs by the FBI, imprisoned for thinking, deported and attacked by government-instigated mobs, like in the case of artist Paul Robeson at Peekskill. Robeson also had his passport taken away.
Miller was born in 1915 to a well-off German-Jewish family with a prosperous clothing store. However, the store went bankrupt after the stock market crash in 1929, and the family moved to Brooklyn. Miller finished high school at 16 and decided to become a writer after reading Dostoyevsky's The Brothers Karamazov.
Miller worked for two years in an automobile-parts warehouse before he attended the University of Michigan, where he studied journalism and playwriting. His student plays, largely studies of Jewish families, won awards. His first literary success was a novel called Focus (1945), about anti-Semitism. His first hit Broadway play, All My Sons, was produced in 1947. In 1949, Death of a Salesman was produced and won a Pulitzer Prize.
In 1956, Miller divorced his first wife and married movie star Marilyn Monroe. The couple remained married until 1961, the same year she starred in the movie he wrote for her, The Misfits. In 1962, he married his third wife, photographer Ingeborg Morath, and continued to write hit plays. Miller died on February 10, 2005 at age 89 of congestive heart failure. Arthur Miller, the man who wrote "Death of a Salesman," died Feb. 10.
To Miller's work and courage in the face of political attack, as Linda Loman told the sons of Willy Loman that sad and epic American dreamer in "Death of a Salesman": "Attention must be paid."
Three other major events happened today in history. In 1997, an estimated 100,000 unionists and other supporters marched in solidarity with striking Detroit News and Detroit Free Press newspaper workers.
More than 100 years earlier, ten miners accused of being militant "Molly Maguires" were hanged in Pennsylvania in 1887. A private corporation initiated the investigation of the 10 through a private detective agency. A private police force arrested them, and private attorneys for the coal companies prosecuted them. "The state provided only the courtroom and the gallows," a judge said many years later.
And in 1964, three civil rights field workers were kidnapped and killed by the Ku Klux Klan after investigating the burning of an African American church. Michael Schwerner and Andrew Goodman, both white New Yorkers, had traveled to heavily segregated Mississippi in 1964 to help organize civil rights efforts on behalf of the Congress of Racial Equality (CORE). The third man, James Chaney, was a local African American man who had joined CORE in 1963. The disappearance of the three young men garnered national attention and led to a massive FBI investigation that was code-named MIBURN, for "Mississippi Burning."
Photo: Arthur Miller (WikiMedia/CC)