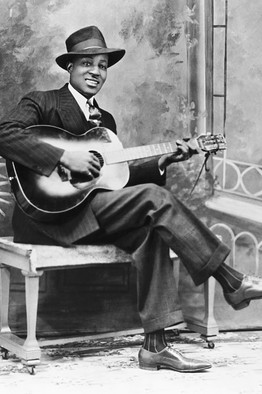 Lee Conley Bradley, who became known to the world as blues singer Big Bill Broonzy, was born on June 26 in 1893, as he later said, or possibly in 1905 as family records suggest. In addition to singing the blues, he was also a prolific songwriter and guitarist. His long and varied career marks him as one of the key figures in the development of blues music in the 20th century.
Big Bill Broonzy was one of 17 children born to Frank Broonzy (Bradley) and Millie Belcher. He grew up in Arkansas where he started playing music at an early age. When he was 10 he made himself a fiddle from a cigar box and learned how to play spirituals and folk songs from his uncle. As a teenager he worked as a sharecropper, then was drafted into the Army, serving two years in Europe during World War I. After experiencing racism on his return to Arkansas after the war, Broonzy moved to Chicago in 1920. He began his musical career there, playing country blues to mostly African American audiences. His first record, "Big Bill's Blues," was released in 1927.
Through the 1930s and 1940s he moved to a more urban blues sound popular with working class African American audiences. He is considered a pioneer of the Chicago blues style.
In the 1950s a return to his traditional folk-blues roots made him one of the leading figures of the emerging American folk music revival and an international star.
In 1957 Broonzy was one of the founding faculty members of Chicago's Old Town School of Folk Music. At the school's opening night on December 1, he taught a class titled "The Glory of Love."
He died of throat cancer in 1958.
Broonzy copyrighted more than 300 songs during his lifetime, including both adaptations of traditional folk songs and original blues songs. As a blues composer, he was unique in reflecting the many vantage points of his rural-to-urban experiences.
In 1980, he was inducted into the first class of the Blues Hall of Fame along with 20 other of the world's greatest blues legends.
Big Bill Broonzy plays "Hey Hey":
Photo: Studio portrait of Big Bill Broonzy. Wikipedia