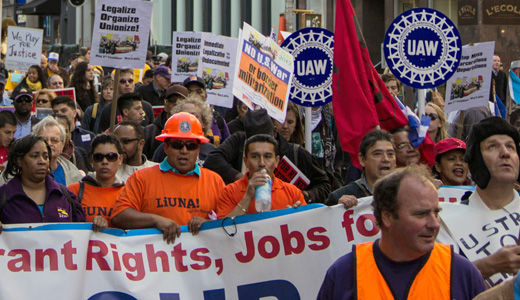 Probably no single event has influenced the history of labor in the United States, and even the world, more than the Chicago Haymarket affair. It all began with a simple rally on May 4, 1886, but the consequences are still being felt today.
In the summer of 1884, the Federation of Organized Trades and Labor Unions, the predecessor of the American Federation of Labor (AFL), set May 1, 1886, to kick off a nationwide movement for the eight-hour day.
In 1886, on May Day, 340,000 workers in 12,000 factories across the country lay down their tools. Chicago, with its strong labor movement, had the nation's largest demonstration, according to reports, with 80,000 people marching up Michigan Avenue arm-in-arm, singing and carrying the banners of their unions. This solidarity shocked some employers, who feared a workers' revolution, while others quickly signed agreements for shorter hours at the same pay.
But on May 3, the peaceful scene turned violent when the Chicago police attacked and killed picketing workers at the McCormick Reaper Plant at Western and Blue Island Avenues. This attack by police sparked a protest meeting, planned for Haymarket Square on the evening of May 4.
At Haymarket Square a bomb was thrown as the Chicago police launched an attack on a mass rally in support of an eight-hour workday and the strikers at McCormick.
Eleven people died, mostly from gunfire, and scores of workers were injured.
Workers were selected at random to take the blame, put on trial and most of them executed.
To honor the memory of these "Haymarket martyrs, "May 1 was declared an international holiday of the working class all around the world. It has now become the most observed holiday of the calendar year.
Read more about Haymarket, May Day and the struggle for time here.
Photo: 2013 May Day march and rally in New York City. Courtesy John Graham