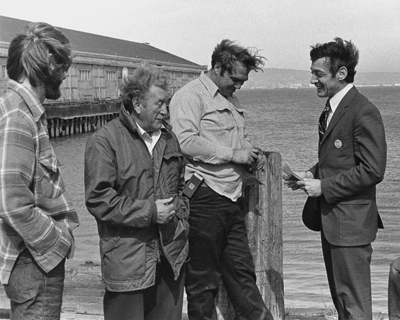 On this day in 1977 Harvey Milk was elected to the San Francisco Board of Supervisors. He was the first openly gay person elected to public office in California, thereby establishing a new "constituency" in American politics that candidates and legislators would need to take into consideration. Today there are thousands of openly LGBTQ officeholders, and flagrant homophobia is limited to the right-wing fringe.
Born in 1930, Milk served in the Navy during the Korean War, and went into a conservative banking career. He was already 40 in 1970 when he reacted with revulsion against the U.S. widening the Vietnam War by its invasion of Cambodia. After he moved to San Francisco he founded a camera store and became a savvy community activist. Before long he was referred to as "the mayor of Castro Street."
The new fearlessness of LGBTQ folk inevitably prompted a conservative backlash. In 1978 the big issue in California was Proposition 6, the Briggs Initiative, which would have banned gays and lesbians from teaching and other employment in public schools. In the movement to fight Prop 6, the gay movement in San Francisco, led by Harvey Milk, reached out to labor, which had its own battles against the anti-union (and anti-gay) Coors Brewing Co. The unity Milk forged between labor and the GLBTQ movement led to a successful boycott of Coors beer, and to a defeat of Prop 6.
Harvey Milk lasted only 11 months as a supervisor before being assassinated on November 27, 1978, along with San Francisco Mayor George Moscone, by a crazed anti-gay fanatic. In 2009 Milk received a posthumous Presidential Medal of Freedom, and in 2014 a "forever" U.S. postage stamp was issued in his honor.
Photo: Harvey Milk, far right, campaigns for the California State Assembly with longshoremen in 1976 (Daniel Nicoletta/CC)